Project November 7, 2008
The Next Wave: Climate Refugees in the South Pacific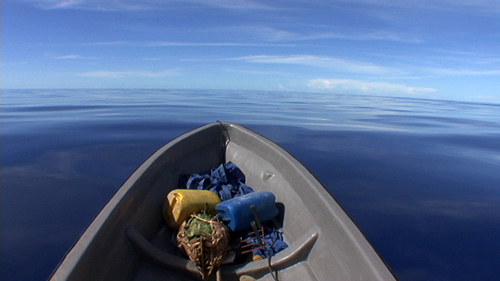 They call themselves the forgotten people. The Carteret Islanders inhabit some of the most remote and beautiful islands in the South Pacific, a low-lying atoll 60 miles off the coast of Papua New Guinea. The islanders, a matrilineal society of 2,500 people, are known for their rich tradition of music, dance, and storytelling. For centuries, they have lived on a diet of fresh fish, bananas and breadfruit, and without modern conveniences, including electricity and running water. However, their idyllic life is changing dramatically.
Rising sea levels, storm surges, and changes in the underwater environment are destroying this far-flung island chain, eroding the shoreline at a rate of 8.2 mm per year. As the seawater surges beyond the shore, increased soil salinity contaminates the roots of plants. Once pristine beaches are now littered with fallen coconut trees, their roots gnawed away by the salt and inland gardens have turned to swamps, creating a fresh breeding ground for malaria-carrying mosquitoes. The islands will not vanish without a fight. For twenty years, the islanders have fought to contain the ocean.
They built clamshell and rock dams, similar in size to stone walls that define property boundaries around wealthy American estates, and planted trees along the shoreline to obstruct the encroaching sea's path. Despite these efforts, the islanders expect the atoll to be underwater by 2015. The Carteret Islands may be the first island chain to disappear in our lifetime, but other nations face a similar fate. One-tenth of the global population—634 million people—live in low-lying coastal areas; 75 percent of these people live in Asia, in the poorest pockets of the globe with limited resources. Christian Aid, the British-based aid agency, predicts climate change will displace 250 million people by 2050.
RELATED ISSUES