Project April 15, 2010
Kyrgyzstan: Revolution, Take Two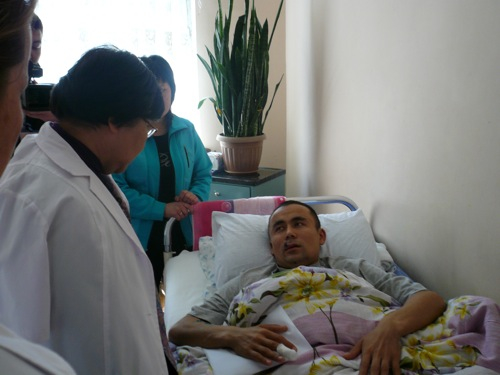 For the Central Asian republic of Kyrgyzstan the storyline of the April 2010 overthrow of a president wasn't new.

Five years ago, opposition groups chased out another president from the same boxy palace, and vowed to root out corruption and nepotism. As protesters celebrated with wine in the offices of the deposed president in 2005, Chingiz, an employee in the old administration hung back in the anteroom and offered this observation: "You see how many new leaders have piled in here? Tomorrow they'll rip each other's throats out."

That's exactly what happened after the so-called Tulip Revolution of 2005. Opposition leaders bickered and fought, while newly installed president Kurmanbek Bakiyev, a one-time hope of Central Asian democracy, turned increasingly autocratic. Critics noted that on his watch, nepotism and corruption surpassed the excesses of the previous regime, while government opponents began to suffer suspicious deaths.

Will the revolution of 2010 be any different from the revolution of 2005, or will it simply replace one plodding government with another? Central Asia has no history of democratic transfers of power.

Further complicating Kyrgyzstan's fate is its unusual geopolitical standing: both the U.S. and Russia maintain military bases here, and have both tried to influence political outcomes. U.S.-funded local media helped fan the flames of the 2005 revolt, while Russian state media attacked Mr. Bakiyev's government before its fall. It is no secret that he was disliked in Moscow in part because he failed to expel the U.S. military base.

As this impoverished nation awaits the outcome of its latest revolution, the reins are once again in the hands of Roza Otunbayeva, a soft-spoken career diplomat who also played a crucial role in the 2005 uprising.
×

PART OF: Kyrgyzstan: Revolution, Take Two

May 14, 2010

×

PART OF: Kyrgyzstan: Revolution, Take Two

May 14, 2010

×

PART OF: Kyrgyzstan: Revolution, Take Two

May 10, 2010