Project January 13, 2015
Hispaniola's Unsteady Land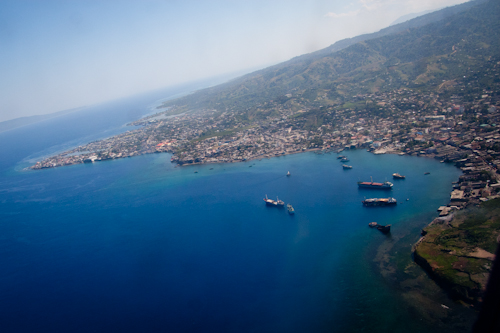 Two lakes that form the border between Haiti and the Dominican Republic have been rising uncontrollably, swallowing 40,000 acres of farmland, displacing entire communities and flooding the highway that serves as the lifeblood of trade between the two. The strange thing is, researchers have been unable to determine why the water is rising in the first place. Many hypothesize that it's related to climate change, but the evidence is counter-intuitive: Unlike ocean levels, which are rising due to climate change, lakes across the globe tend to shrink.

Displaced from their farmland, many people are turning to a more nefarious occupation: charcoal. Illegal loggers are cutting down trees to smuggle an estimated 50,000 tons of the stuff each year to Haiti. They transport it under the cover of darkness on small boats across one of the same, rising lakes. As the land becomes deforested, the soil retains less water, accelerating the cycle.

Meanwhile, six years after the earthquake, Haiti's leaders have a vision that manufacturing and tourism will ensure the country's economic future. But Haitians themselves are caught in the middle. On the small island of Ile a Vache, a new airport threatens to displace hundreds of rightful landowners in the name of tourism. And in the country's north, a free-trade zone that overtook 600 acres of fertile farmland has failed to attract more than a few companies to fill the space.

Lack of clarity around Haiti's land laws is a major barrier to building—or rebuilding—Haiti. These barriers keep poor families from finding a place to live or farm, and they prevent wealthy ones from opening businesses that would employ the former. Acquiring land is too expensive for most Haitians, and often too complex: only five percent of Haiti's total land is accounted for in official registries, according to the United Nations.
RELATED ISSUES