Project September 25, 2007
Fort Bragg East: Rebuilding Afghanistan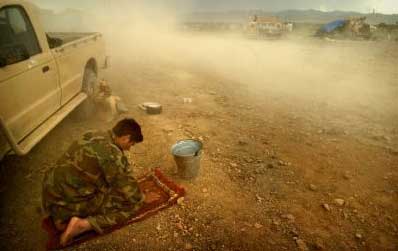 Across Afghanistan suicide attacks are on the rise and in much of the country U.S.-allied forces confront a revived Taliban. A surprising exception is the eastern province of Khost, a hotbed of insurgent activity and al-Qaida ties since before 9-11 but today an unlikely oasis of hope in a troubled land. With the help of security and aid money from American soldiers based in Khost, Afghans and the Khost governor have managed to bring hope to a region once known as the most volatile area in Afghanistan.

Paved roads now stretch on for miles, markets are bustling, and the smell of raw sewage no longer hangs in the air. Many of the U.S. troops in Khost come from the 82nd Airborne Division, which has deployed to the central Asian country five times, including earlier this year. Some of them are skeptical as to whether Khost will long escape the instability of other Afghan provinces. Others view Khost as a harbinger of hope, proof that forging real alliances between U.S. military forces and Afghan civil authorities can produce lasting peace.

Reporter Kevin Maurer and photographer Andrew Craft traveled in Khost with a Pulitzer Center grant on behalf of their newspaper, the Fayetteville Observer, which serves the Fort Bragg community where the 82nd Airborne Division is based.
×

PART OF: Fort Bragg East: Rebuilding Afghanistan

December 16, 2007

×

PART OF: Fort Bragg East: Rebuilding Afghanistan

December 15, 2007