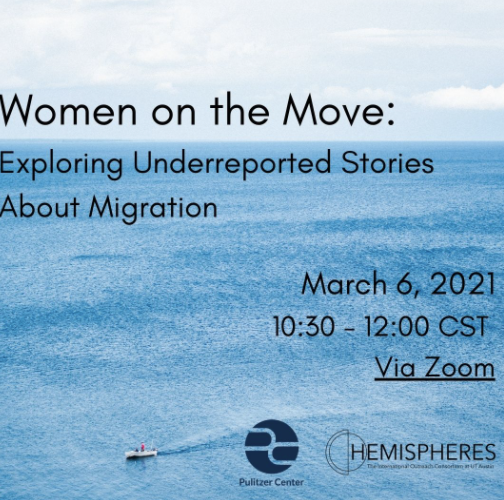 Please join the Pulitzer Center and Hemispheres: The International Outreach Consortium at University of Texas-Austin, on Saturday, March 6 at 11:30 am CT for an interactive session exploring curricula and reporting resources connected to "Women on the Move," a recent collaboration between National Geographic and The Everyday Projects that documents the life-changing and often perilous journeys of eight female migrants through photography and print journalism.
Project contributor and photojournalist Danielle Villasana will describe her process reporting on the story of one transgender woman's journey from Honduras to Mexico, review the process of developing "Women on the Move" with the support of seven other photojournalists, and engage in a Q&A with participants.
Pulitzer Center education staff will then present lessons and activities that can be used to engage students in the project resources, and other underreported news stories about the experiences of women worldwide.
*Please note that registering for this event will require the use of a personal Zoom account for ease of access.
This event is the first of two events that the Center will host in partnership with Hemispheres to celebrate Women's History Month. The second event, an interactive workshop exploring methods for creating original poems inspired by reporting on underreported issues affecting women worldwide, will be held Saturday, March 20 at 11:30 am CT. Click here to register.
RELATED ISSUES