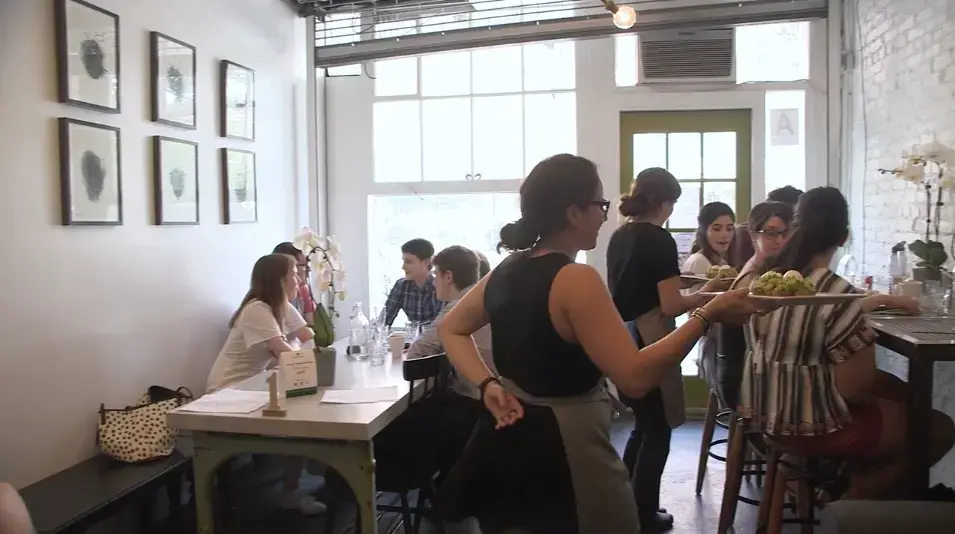 Join documentary filmmakers Thea Piltzecker and Liz Scherffius for a screening of  A Table for All at the Pulitzer Center in Washington, D.C., on Thursday, January 24, 2019.  
A conversation with the filmmakers follows the screening, concluding with a light reception.  
The short documentary follows refugees and asylees to the United States as they reinvent themselves and find common ground in a Brooklyn kitchen. The culinary training program at Emma's Torch restaurant helps recent arrivals find work and a sense of home around the table. As the blooming cooks learn to prepare American dishes, they teach each other about their favorite foods, and build a menu that reflects their diversity of experiences. 
Watch the film's trailer here.
Piltzecker is a documentary journalist based in New York. She has worked on documentaries that have aired on PBS, Vice, and NBC, and is an adjunct professor at Columbia Journalism School. Scherffius is currently an associate producer and researcher at Zero Point Zero Productions, and has worked as a BBC video journalist in North America and on-air foreign correspondent in Argentina and Ecuador.
Both received their master's degrees in December 2017 from the documentary filmmaking program at Columbia University's Graduate School of Journalism, a Campus Consortium partner. Piltzecker and Scherffius were part of the 2018 cohort of Pulitzer Center Campus Consortium reporting fellows. 
Reserve your seat today to attend this screening of A Table for All.
RELATED ISSUES