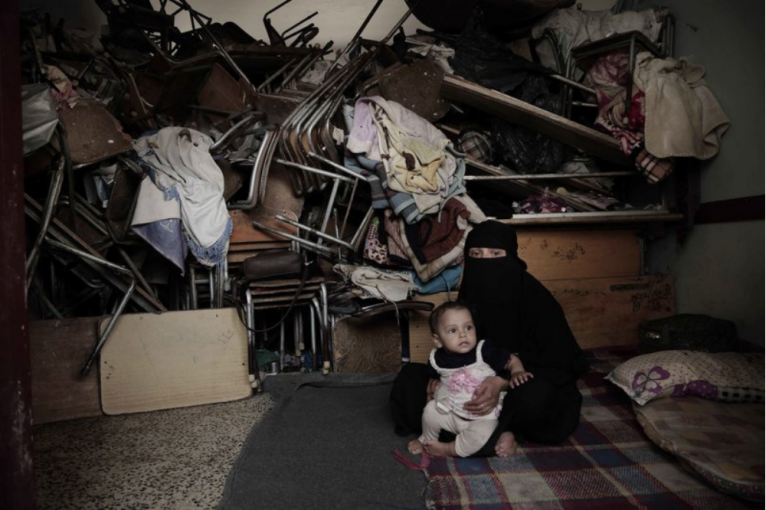 From September 12 to September 15 and September 19 to 22, 2019, Pulitzer Center grantee Nariman El-Mofty's Pulitzer Prize-winning project will be featured at Photoville 2019. This year, the Pulitzer Center is once again curating its own exhibit. Photoville is a free, annual photography exhibition that repurposes shipping containers to display work from over 600 visual artists.
El-Mofty's project, Jalila: Surviving War and Famine in Yemen, details the lives of Jalila and Hagar, a baby and mother that El-Mofty met while at a clinic in Hodeidah. Hagar is a mother of eight who skips meals to allow more food for her children but, rather than perpetuate the narrative of victimization, El-Mofty hopes her work humanizes the people she photographs.
El-Mofty is a photojournalist based in Cairo for the Associated Press. Recently, her team at the AP was honored with the 2019 Pulitzer Prize in International Reporting for their year-long coverage of conflict and crisis in Yemen. Their reporting was supported with a grant from the Pulitzer Center. Previously, El-Mofty won the Overseas Press Club Olivier Rebbot Award, also for her coverage of war in Yemen, and was a 2017 Magnum Foundation fellow. 
Pulitzer Center staff will be onsite on September 19 for Photoville's Education Day to present and discuss El-Mofty's project with students from New York City schools. 
RELATED ISSUES