COAL+ICE and the Pulitzer Center present an evening devoted to telling the stories of climate change in the Arctic with a focus on the stories of Indigenous communities. Through arts, photography, podcasts, and exhibitions, "Seeing Change" is an exploration of storytelling on the front line of climate change.
The event will feature COAL+ICE photographer Camille Seaman's photographs from the Arctic, journalist/podcaster Alice Qannik Glenn's reporting on contemporary Native life in urban Alaska, and documentary photographer and filmmaker Louie Palu's melting ice block work from Arctic Passage, followed by a conversation between the artists. The event will also highlight a selection of work from the Pulitzer Center and Indigenous Photograph's call for submissions from Indigenous photographers covering climate change around the world.
Camille Seaman strongly believes in capturing photographs that articulate that humans are not separate from nature. She was born in 1969 to a Native American (Shinnecock tribe) father and African American mother. Her photographs have been published in National Geographic magazine, Italian Geo, TIME, The New York Times Magazine, among many others. She frequently leads photographic workshops. Her photographs have received many awards, including a National Geographic Award and the Critical Mass Top Monograph Award. She is a TED Senior Fellow, a Stanford Knight Fellow, as well as a Cinereach Filmmaker in Residence Fellow.
Pulitzer Center grantee Alice Qannik Glenn is an Iñupiaq born and raised in Utqiaġvik, Alaska. She hosts and produces Coffee & Quaq, a podcast that celebrates and explores contemporary Native life in urban Alaska. Her episodes have played widely across Alaska, and her work has been featured in Alaska Magazine, Anchorage Daily News, AK Humanities FORUM Magazine, and more.
She currently serves on the board of Alaska Native Media Group, and is one-third of Native Time, a collaborative media platform that highlights the real Alaskan experience through multi-media productions. In 2021, she won the Covering Climate Now award for "AK Natives on the Front Line".
Louie Palu, a Pulitzer Center grantee, is an award-winning Canadian documentary photographer and filmmaker whose work has appeared in publications and exhibitions internationally. Over the course of four years, Palu made more than 150,000 photos in the high Arctic, first supported by a Guggenheim Fellowship and the Pulitzer Center, then followed by an assignment for National Geographic magazine. The project, which came to be called Arctic Passage, considered the history of the Arctic and the changing geopolitics of the polar region in the face of climate change. He is the recipient of numerous awards, including the Arnold Newman Prize for New Directions in Photographic Portraiture for his work on Arctic Passage.
Pre-registration and proof of vaccination are required for entry. Masks must be worn at all times in the tent.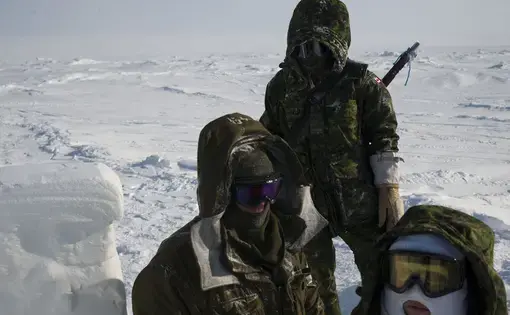 An examination of the ongoing geopolitical transformation of the Arctic along the old Cold War...
RELATED ISSUES