Join us on Wednesday, November 19, at the West End Cinema to see "Seeds of Hope" and hear from award-winning filmmaker Fiona Lloyd-Davies about her Pulitzer Center-supported reporting project. The film conveys the stories of Congolese women who have survived rape and war to come together to rebuild their sense of security, dignity and self-worth through farming and community.

With "Seeds of Hope," Lloyd-Davies takes us to a region known as the most dangerous place in the world for women, eastern Democratic Republic of Congo. She tells the story of Masika Katsuva, herself a survivor of multiple rapes, who has provided refuge to thousands of women and children. Together they help each other heal and build a farming community sowing seeds of hope.

"Seeds of Hope" gives viewers a human perspective on Eastern Congo's rape epidemic, where sexual assault has become so widespread—an estimated 48 Congolese women are raped every hour—it can be hard to fully understand the devastation through statistics alone. In this documentary, we also meet the perpetrators of rape, among them soldiers from the Congolese army. These men give extraordinarily open testimony as to why they rape and their attitudes towards their horrific acts.

The film is part of the Pulitzer Center-supported reporting project by Lloyd-Davies, "Congo: Consequences of a Conflict with No End."

Pulitzer Center Executive Director Jon Sawyer will moderate the post-screening discussion with Lloyd-Davies and Rosalie Nezien, program officer for civil and political rights issues in the DRC, Senegal and Cote d'Ivoire for American Jewish World Service. AJWS supports grassroots communities in Africa, Asia and the Americas that are "working to create a just and equitable world where human rights are universally recognized, where poverty, discrimination and violence no longer exist and where individuals are free to flourish and live their lives with dignity."

Before coming to AJWS, Nezien worked at the Firelight Foundation for two years where she supported grassroots organizations involved in the response to and prevention of HIV and AIDS in eastern and southern Africa. She has also worked with Plan International and BØRNEfonden in her native country of Burkina Faso. The screening, discussion and reception are supported by the Pulitzer Center in collaboration with AJWS.

"Seeds of Hope"
6 PM Screening
7:15 PM Discussion with filmmaker Fiona Lloyd-Davies and AJWS Program Officer Rosalie Nezie
Reception follows
West End Cinema
2301 M Street NW
Washington, DC 20037

Tickets are $5 general admission and on sale at http://www.westendcinema.com/

If you have any questions, please contact the Pulitzer Center at rsvp@pulitzercenter.org—specify in subject line: "November 19 "Seeds of Hope" screening and talk. Feel free to also let us know you'll be attending, but make sure you buy your tickets!

This event is part of a North America visit by Lloyd-Davies and is an expanded version of our special series on issues affecting women and children, which kicked off in April 2014 with two-time Pulitzer Prize-winning photographer Larry C. Price and his work on child labor in the gold mining industry.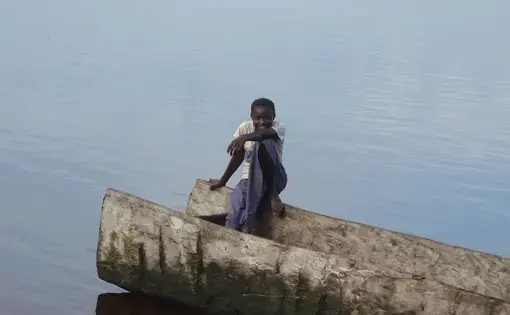 Children in the DRC who have lost families, homes and schools prove to be resilient as well as...