Join the opening of the 10th annual Photoville festival on Saturday, September 18, 2021, for an event titled "10 Under 10."
This event is a series of 10 stories from 10 partners—each in less than 10 minutes. The evening "10 Under 10" program will feature longtime friends and partners, community-based photographic organizations, and stalwarts of the visual storytelling community. 
In "Who Tells the Stories of Our Time?" Jon Sawyer, executive director of the Pulitzer Center, will share reflections on the Center's support of photojournalism projects that elevate the voices—and vision—of underrepresented communities, including a collaboration with Diversify Photo on the Eyewitness Photojournalism Grant. The program will highlight the critical role photographers play as journalists and educators in informing the public of the underreported and systemic issues of our time, and will feature the film Dialogue with Plants by grantees Florence Goupil and Teo Belton. 
Photoville amplifies visual storytellers and connects them to a worldwide, diverse audience through its photo festival and year-round activation of public spaces and educational community programming. In addition to Dialogue with Plants, the festival will highlight the three recipients of the Pulitzer Center's inaugural Eyewitness Photojournalism Grant, with support from Fujifilm. They are Joana Toro, Sarahbeth Maney, and Eli Hiller.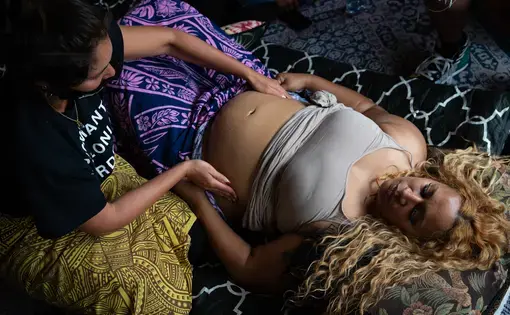 Reclaiming Her Space: Birthing Through a Pandemic follows Sophia Tupuola, 32, a new mother and first...
RELATED ISSUES