Event
Journalism and Justice: Teacher Fellowship Info Session
Event Date:
September 9, 2021 | 6:00 PM EDT TO 7:00 PM EDT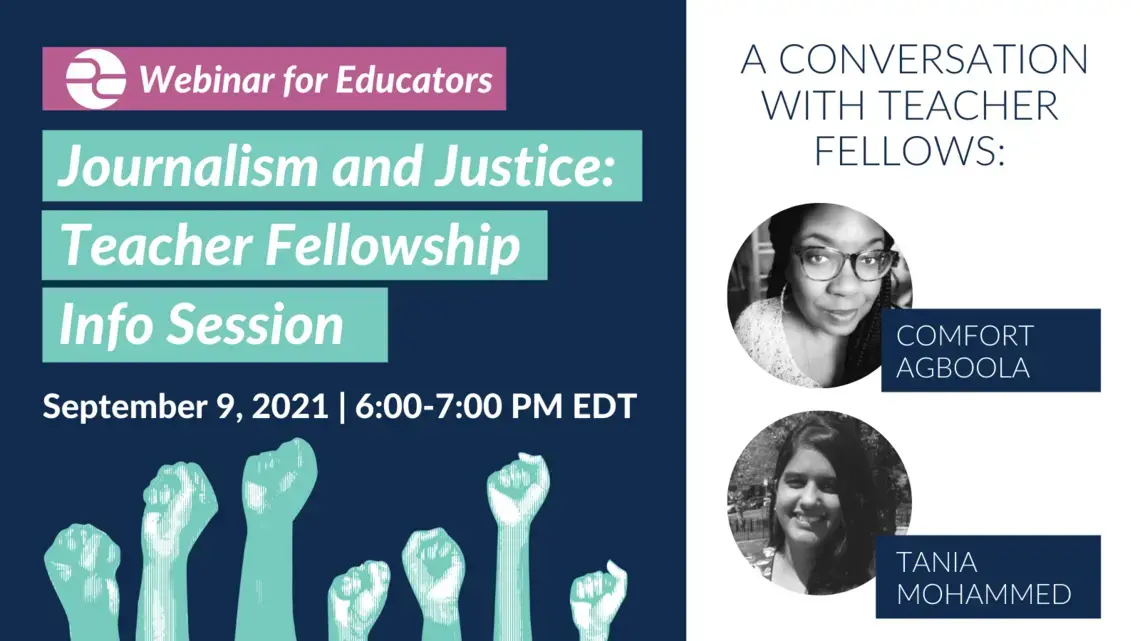 How can engagement with underreported global news stories support existing curricula, while also preparing students to engage curiously, critically, and empathetically with the world? Join us for a conversation with Pulitzer Center Teacher Fellows Comfort Agboola (fifth grade teacher in Chicago, IL) and Tania Mohammed (high school teacher in Brooklyn, NY), and you will be able to…
Learn about the inspiring short units these teachers developed in spring 2021,
Get ideas for how to engage with underreported news stories in your classroom, and
Find out how you can apply to become a 2021-2022 Pulitzer Center Teacher Fellow!
Fellows will share innovative units that introduce underreported global issues into the elementary and high school classroom. They will share their experiences using this curriculum to strengthen media literacy, critical thinking, and empathy, as well as students' responses. Agboola's unit focuses on hope and community action in the face of national inequities. Mohammed's unit focuses on the choices people make at different stages of the migration process.
Agboola, Mohammed, and the Pulitzer Center education team will also share details about the 2021-2022 Teacher Fellowship, offer tips for applying, and answer participants' questions. The Pulitzer Center Teacher Fellowship is a paid, virtual opportunity to develop, teach, and publish an original short unit with the support of other passionate educators, award-winning journalists, and the Pulitzer Center education team.
This info session is open to all education professionals, regardless of interest in or eligibility for the 2021-2022 Pulitzer Center Teacher Fellowship. You can find more details about the Fellowship, including eligibility requirements and a link to apply, at this page.