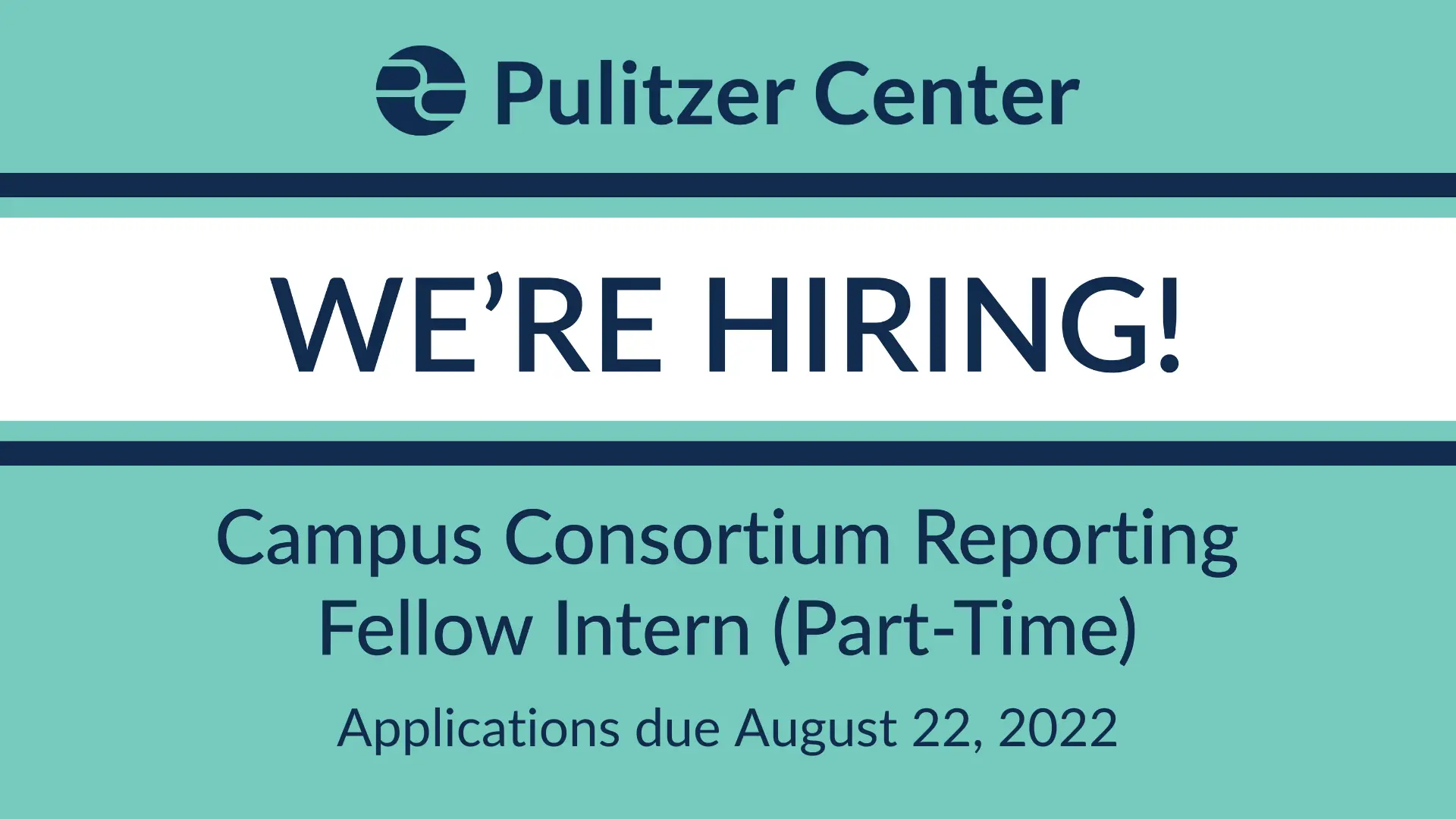 Are you excited about connecting college students and recent graduates to the most important global issues of our time? Are you interested in helping to administer Reporting Fellowships for students and to broaden the reach of their journalism? Are you passionate about helping emerging journalists further develop their careers?
The Pulitzer Center Campus Consortium team seeks a part-time intern who will help us grow the reach and efficacy of our work. This is a great opportunity for a person to work with a strong team, develop editorial, multimedia, and graphic design skills—and to increase their knowledge of global issues, including those related to climate change, refugees and migration, and public health. The intern will work closely with our Reporting Fellow program. Details about the program follow: The Pulitzer Center awards Reporting Fellowships to students at Campus Consortium partners for both global and local reporting projects on a wide range of critical issues. They benefit from Pulitzer Center mentorship, networking opportunities, and journalism resources. Most importantly, they become part of a vibrant community. Their articles, photo essays, video, audio, and interactives are featured on the Pulitzer Center website and in other news outlets.
The Reporting Fellow intern's main responsibilities will include:
Supporting the director and editorial coordinator for the Reporting Fellow program
Promoting the work of Reporting Fellows through social media
Assisting in organizing events for Reporting Fellows, including Zoom sessions with professional journalists
Helping to organize and participate in Washington Weekend (October 14-16, 2022). This is a convening of our 50+ Reporting Fellows in Washington, D.C.
Participating in meetings of the Reporting Fellow selection committee
Documenting Reporting Fellow program activities through blog posts, video, and/or other media
Supporting the design and distribution of Reporting Fellow info session flyers and other materials
Following up with Reporting Fellows to assist them in completing their projects
Building blogs and stories and posting them to the website
Providing copy-editing assistance
Assisting with award submissions
Other duties as assigned
Desired qualifications
Excellent written, verbal, and communication skills
Excellent judgment and creative problem-solving skills
Journalism experience
Familiarity with Canva, graphic-design skills, and video-editing experience are not required, but are considered a plus.
For more information about the Pulitzer Center, visit pulitzercenter.org and our education page.
Interns may work remotely but will have access to our Washington, D.C., office. Preference will be given to applicants in the D.C. area. College students and recent graduates are welcome to apply.
Stipend
Interns receive $15.81 per hour for 20 hours per week. Internships average approximately one semester—roughly six months—with the possibility of extension. The number of hours is flexible.
How to apply
Please apply by August 22, 2022, using this form. Applications will be reviewed and interviews scheduled on a rolling basis, giving an advantage to early applicants.
The Pulitzer Center is an equal opportunity employer. The Center is committed to fostering an inclusive environment where the individual differences among us, whether in terms of race, religion, color, age, gender, national origin, sexual orientation, physical challenge, or marital or family status, are (i) understood, respected, and appreciated, (ii) recognized as a source of strength, and (iii) valued as qualities that enrich the environment in which we work. See our Diversity, Equity, and Inclusion statement for details.