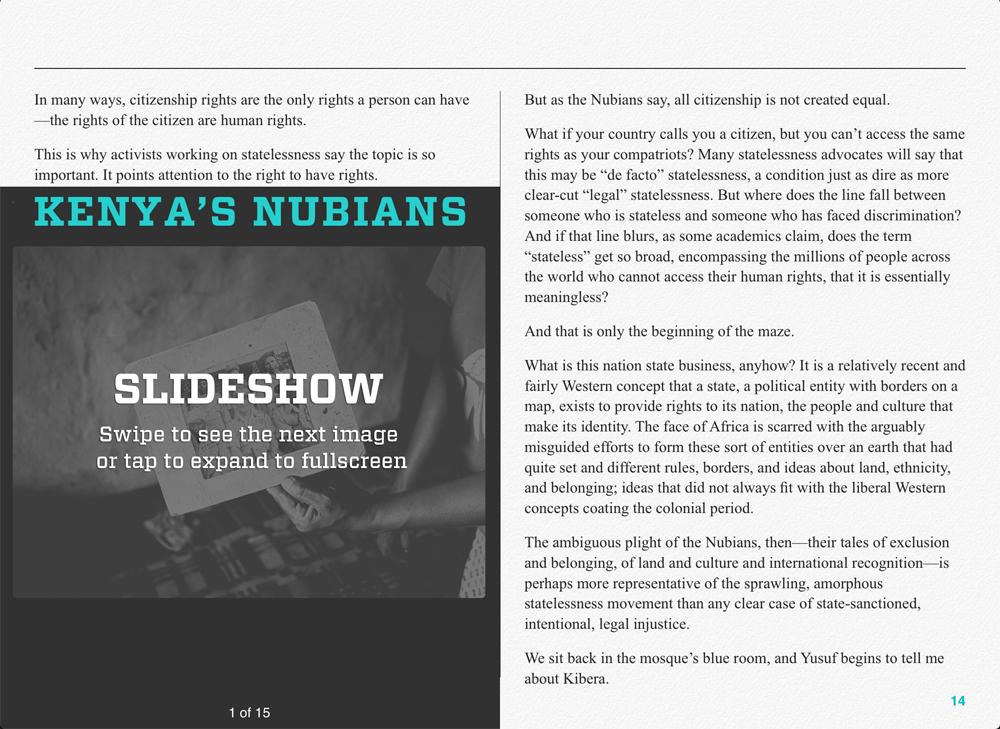 "In Search of Home," a Pulitzer Center e-book for iPad, is a multimedia exploration of the global phenomenon of statelessness. The estimated 12 million people who are stateless worldwide do not have citizenship to any country. Often they are living in a country they consider to be their own, yet for a variety of reasons, whether rooted in religion or ethnicity or some other cause, they are unable to obtain citizenship in the country where they live, or anywhere else. This limbo can leave people unable to access education, work in the legal economy, health benefits and more. The book focuses on the Rohingya from Burma, the Nubians of Kenya, and people of Haitian descent living in the Dominican Republic.

"In Search of Home" features the stunning photography of Greg Constantine and eloquent essays by Stephanie Hanes. Constantine is visiting schools around the US in April to talk about his work on statelessness. To prepare for the visit, students and teachers can download "In Search of Home". The Educator's Guide to In Search of Home (available for download below) has questions and assignment ideas to help guide classroom discussions before, during and after the visit.

Although "In Search of Home" focuses on stories from men and women in Burma, the Dominican Republic, and Kenya, the book is a jumping point for analyzing issues of immigration in the United States and around the world. For example, "In Search of Home" depicts the plight of Dominican-born Haitians denied full citizenship for generations because of their ethnicity. Questions of identity as it relates to citizenship in "In Search of Home" can be paralleled to discussions about the DREAM Act, comprehensive immigration reform, and definitions of "nationality."

Click here to download the full Educator's Guide.

The book is available on the iBookstore; educators can contact their Apple Program Manager for volume purchases and discounts.

Interested in having Constantine come to your classroom virtually or in-person? Contact Amanda at [email protected]. Questions or comments about our e-books? Contact Caroline at [email protected].
RELATED ISSUES

Issue
Migration and Refugees
Migration and Refugees

Religion