Warm up: Students explore printed images from the Everyday Africa feed and use visual thinking strategies to identify themes
Introducing the Lesson: Students explore a video from photojournalist Allison Shelley that introduces four types of photos that photojournalists take to tell compelling stories: portraits, action, details, and landscape shots
Extension Activities: Students practice planning the themes and types of photographs that they would use to compose photo stories that communicate their everyday lives. Students also practice evaluating how images can be curated to communicate different stories.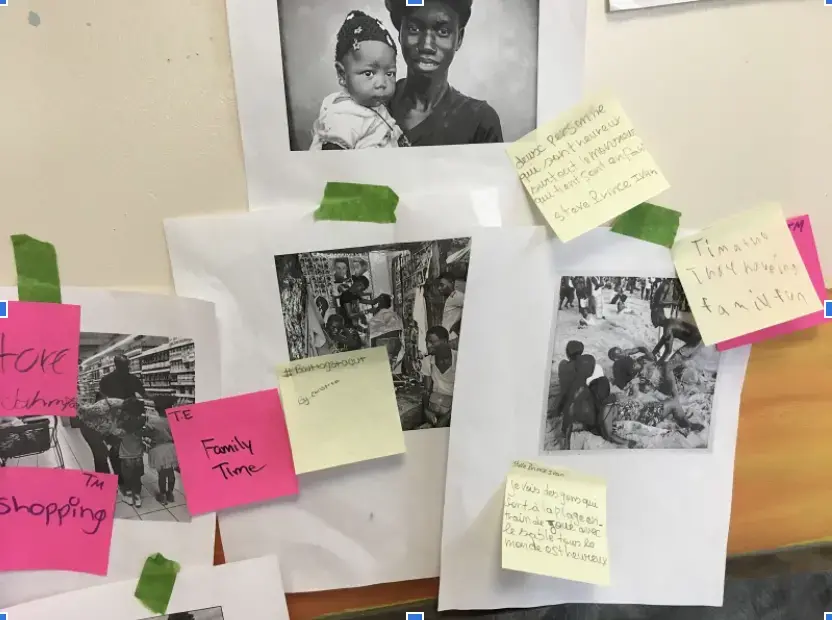 Note for educators: This is the second of seven lessons in the Everyday DC photojournalism unit, and all seven lessons can be found here. 
Objectives:
Students will be able to evaluate how images are used to represent different themes in other communities and explore how students visualize these themes in their own communities.
Warm-up: What types of photos do photojournalists use to tell stories?
Students explore printed images from the Everyday Africa feed and use visual thinking strategies to identify themes (people/jobs/recreation/etc.) used to represent everyday life across Africa. Students evaluate the images using the following prompts:

What do you see in the image?
What story do you think this image tells about this part of the African continent? Use evidence from the image to justify your responses.
Introducing the Lesson: Telling Stories with Photographs
Students watch this video from Pulitzer Center grantee and photojournalist Allison Shelley, where she shares images from her own work for the Everyday Africa project to explore four types of photos that photojournalists use to communicate stories:

Portrait: Images of people
Landscape: Images that capture a place
Action: Images of people doing things
Detail: Images that share an object, or a close-up of a place
 

 

Using images from the warm-up, and other images from the Everyday Africa Instagram feed, students identify the different kinds of photos that journalists use to tell stories (e.g. portraits, action, details, establishing shots/landscapes).
In pairs, or on their own, students examine images taken by students in Washington, D.C. as part of the Everyday DC photojournalism unit and respond to the following as they review each image:

What type of photo is this?
What do you see in the image?
What story do you think this image tells about everyday life in Washington, D.C.?
How do your predictions compare to the caption that accompanies the photo?
Optional: Students can schedule a virtual visit with a Pulitzer Center journalist as part of this lesson to learn more about how they captured images for the Everyday Africa Instagram feed. See Educator Notes for details.
Extension Activity 1: Planning images for photo stories
Ask students to consider the following questions:

'Who' is missing from common media narratives about your community?
'What'?
'Where'?

From this list, ask students to compose a plan for 5-10 images that they think would best capture their ideas. The list should include the subject of each photo, and the type of photo.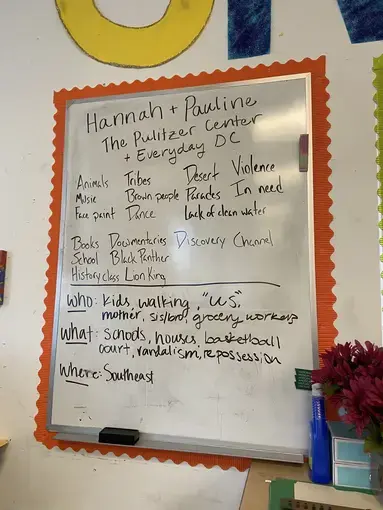 Optional Extension Activity: Practicing curation 
Students take turns reorganizing select images from the Everyday Africa project on a bulletin board, or at their desks, to practice sequencing photos in different ways to tell different stories. Before they get started, ask students to discuss the following questions:

What is curation?
Have you ever been to an art gallery or exhibit before? 

How was it organized?
What themes were most apparent when you walked through it?
Why do you think the art was placed where it was in the gallery? 

Here is how Shakayla, a student from Washington, D.C. who helped curate the third annual Everyday DC exhibition in March 2019, described the work of a curator: "As a curator, my job was to basically figure out what central ideas we wanted to people to know about DC based on our photographs, and then group photographs together to help shape their perspectives about our city...One big take away I learned from this process was how to capture someone's attention simply by grouping a few images together to make the viewer think." Click here for a glimpse at the exhibition.

Students choose their photos from a bank that is also visible to the class. As different students get a chance to reorder the bulletin board "exhibition," discuss the following questions:

How does ordering pictures differently change the exhibition's narrative?
Which images connect to certain themes? Why?
Why do some images not fit well together?
Optional: This extension activity can also be repeated for lessons 2-7 of the Everyday DC Photojournalism Unit to reinforce the way that images can be ordered in different ways to tell different stories.
Assessment:
Students evaluate how different communities are represented and how that representation relates with everyday experiences in communities.
Sample rubric:
Standard

Exceeds Expectation

Meets Expectation

Needs Improvement

VA:Pr6.1.8a: Analyze why and how an exhibition or collection may influence ideas, beliefs, and experiences.

 

 

 

 

 

VA:Cn11.1.8a: Distinguish different ways art is used to represent, establish, reinforce, and reflect group identity.

 

 

 
This lesson plan adapts exercises and activities developed as part of the Everyday DC unit, which was written by Pulitzer Center and D.C. Public Schools. Here is the original PDF for this lesson, which was designed by Fareed Mostoufi (Pulitzer Center on Crisis Reporting) & Andrew Westover (DCPS).
This photography and curation unit is inspired by the Everyday Africa project created by journalists Peter DiCampo and Austin Merrill and supported by the Pulitzer Center on Crisis Reporting. Everyday Africa, a collection of images shot on mobile phones across the continent, is an attempt to redirect focus toward a more accurate understanding of what most Africans experience on a day-to-day basis: normal life. 
The Everyday DC cornerstone unit is an opportunity for students to apply photography, photo analysis, and investigative reporting skills to the creation of photo essays that reflect their everyday realities as residents of Washington D.C. Students will create group photo exhibitions that they feel accurately and responsibly represent their communities. Participating schools had the opportunity collaborate with DCPS and the Pulitzer Center to select students who will help curate a district-wide Everyday DC exhibition featuring images from all schools participating in the unit. For support creating a photojournalism project with your students, contact education@pulitzercenter.org
DCPS Standards: 
Analyze why and how an exhibition or collection may influence ideas, beliefs, and experiences.
Identify and interpret works of art or design that reveal how people live around the world and what they value.
Additional Resources:
For an easily accessible PDF containing images from Everyday Africa, please click here.
For a PDF containing images from last year's Everyday DC exhibition, please click here.
REPORTING FEATURED IN THIS LESSON PLAN