This unit was created by Dr. Meghan Gowin, an elementary school teacher in Forth Worth, TX, as part of the 2021-2022 Pulitzer Center Teacher Fellowship program. It is designed for facilitation across approximately six 45-minute class periods.
For more units created by Pulitzer Center Teacher Fellows in this cohort, click here.
Objectives:
Students will be able to…
Describe the characteristics of underreported stories and explain how journalists locate them in communities.
Describe the characteristics of photojournalism.
Analyze the various ways that photojournalists use photography to document activism in local and global communities. 
Identify youth activists in their local communities.
Create a photography project that  documents the lived experiences of activists in their local communities.
Unit Overview:
"Mirrors and windows" is a phrase that has been used to describe the ways in which students can witness the lives of others and explore similarities and differences of the human condition through literacy. During this unit, students will answer the following essential questions:
How have underreported stories of youth-led social justice movements been represented through photojournalism?
How have photojournalists portrayed the activism of youth domestically and abroad?
How have youth domestically and abroad acted as agents of social change in recent times?
How can local youth activism be visually portrayed through photography?
This unit focuses on developing students' critical consciousness by examining how young people have led liberation movements across the U.S. and the world. Students will utilize photojournalism to examine underreported stories about youth resistance movements over the last five years. They will begin by examining the characteristics of underreported stories and learn about how they can identify these stories in their communities. Next, students will explore the discipline of photojournalism and the various techniques used to document the lived experiences of youth activists in domestic and global settings. Finally, students will spend time creating their own photography projects that witness the lived experiences of youth activists in their own communities. This recursive process of "windows and mirrors" will allow students the possibility to critically examine what social activism looks like through the prism of both/and.
Performance Task:
Students will identify an underreported issue that matters to them. They will then produce a photo essay project to demonstrate their understanding of the objectives of the unit. 
Each student will choose a peer in their community (a classmate, another student in the school, or a relative under age of 18) who demonstrates the characteristics of being a social or political activist. 
Students will then compile 3-5 photographs of their chosen youth activist to tell the story of the person's lived experiences. 
Each photograph will include a brief caption or narration (1-2 sentences) that further explains the person's story, what the person advocates for, why the person became an advocate, and what they hope will be the impact of their advocacy. The project will be created in Google Slides.
Five-lesson unit plan for teachers, including pacing, texts and multimedia resources, guiding questions for group discussions, and performance task instructions and grading rubric for the unit.
Unit Resources:
Texas Essential Knowledge and Skills (TEKs):
Social Studies

4.21 The student applies critical-thinking skills to organize and use information acquired from a variety of valid sources, including electronic technology. 
4.21D-The student is expected to  identify different points of view about an issue, topic, historical event, or current event.
4.22D- The student is expected to create written and visual material such as journal entries, reports, graphic organizers, outlines, and bibliographies.

English Language Arts

4.6B- The student is expected to generate questions about text before, during, and after reading to deepen understanding and gain information.
4.6E- The student is expected to make connections to personal experiences, ideas in other texts, and society.
4.6H- The student is expected to synthesize information to create new understanding.
4.7B- The student is expected to write responses that demonstrate understanding of texts, including comparing and contrasting ideas across a variety of sources.
4.7E- The student is expected to interact with sources in meaningful ways such as note taking, annotating, freewriting, or illustrating.
Common Core Standards:
English Language Arts

RI.41- Refer to details and examples in a text when explaining what the text says explicitly and when drawing inferences from the text.
RI.4.2-  Determine the main idea of a text and explain how it is supported by key details; summarize the text.
RI.4.9 - Integrate information from two texts on the same topic in order to write or speak about the subject knowledgeably. 
RI.3.7- Use information gained from illustrations (e.g., maps, photographs) and the words in a text to demonstrate understanding of the text (e.g., where, when, why, and how key events occur).
RI.5.6-  Analyze multiple accounts of the same event or topic, noting important similarities and differences in the point of view they represent.

Writing

W.4.2-  Write informative/explanatory texts to examine a topic and convey ideas and information clearly.
W.4.7- Conduct short research projects that build knowledge through investigation of different aspects of a topic.

Speaking and Listening

SL.4.1-  Engage effectively in a range of collaborative discussions (one-on-one, in groups, and teacherled) with diverse partners on grade 4 topics and texts, building on others' ideas and expressing their own clearly.
SL.4.2- . Paraphrase portions of a text read aloud or information presented in diverse media and formats, including visually, quantitatively, and orally.
The following photojournalism projects were created by students from Uplift Ascend Preparatory Charter School in Forth Worth, TX at the end of this unit. The projects reflect interviews students conducted with their classmates about issues they are passionate about.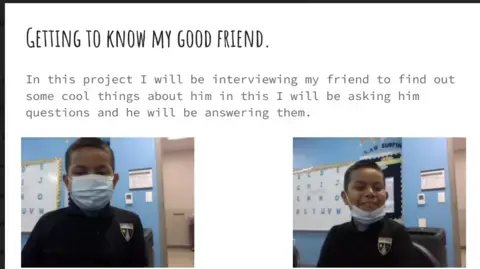 Click here for examples of how students from Forth Worth, TX engaged with the hashtag graphic organizers while exploring images from the Everyday Africa project.
REPORTING FEATURED IN THIS LESSON PLAN