Pulitzer Center Update April 19, 2021
Zooming with 55 Reporting Fellows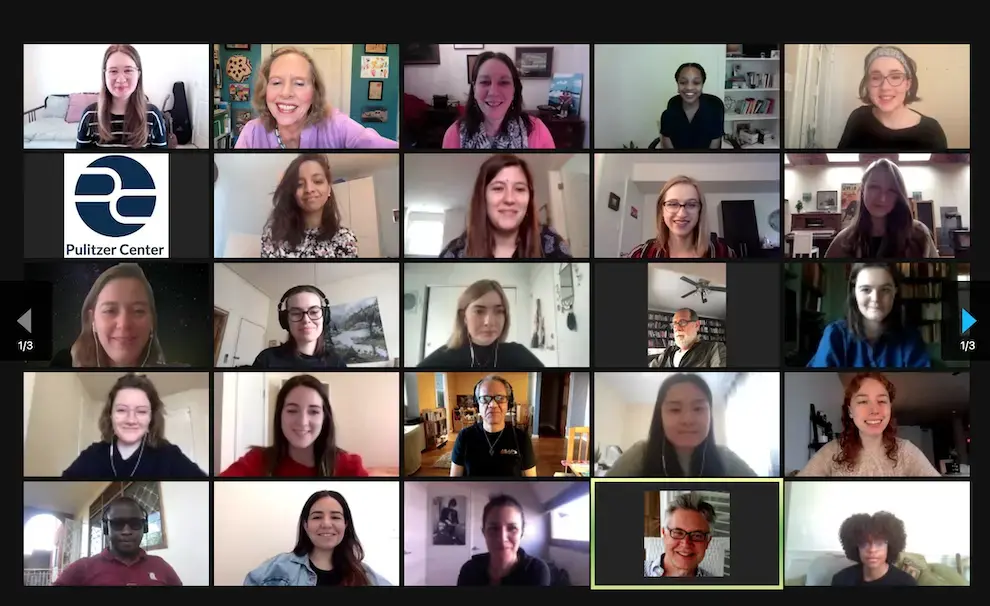 Reporting Fellows gathered on Zoom on April 17 to present their work and discuss underreported issues. Screenshot by Kem Knapp Sawyer. United States, 2021.
Reporting Fellows gathered on Zoom on April 17 to present their work and discuss underreported issues. Screenshot by Kem Knapp Sawyer. United States, 2021.



Fifty-five Reporting Fellows came together on Saturday, April 17, for our first-ever virtual "mini conference." They shared reporting experiences, frustrations, and triumphs.
Throughout the day, Fellows split into groups to discuss the themes of their reporting: mental health; justice; human rights; environment; global health; and identity, racism, and equity. They touched on building trust with sources, meeting unexpected challenges, pitching, and working with editors.
They exchanged interview tips (talk to sources while they're driving—they won't cut you off so quickly). They discussed the importance of personal connections in providing access: A former dancer from Venezuela is reporting on how politics have transformed ballet in her country; a Fellow of Turkish origin is examining rising nationalism in Bulgaria.
In previous years, most Pulitzer Center Fellows traveled outside the U.S., but this year many reported closer to home—subjects ranging from a food revolution in New York's Latino community, to the rise of female imams in the U.S., an Indigenous Mexican community radio station in California, and the protest photos you don't see.
Zoom brought us together on Saturday, as it has throughout the pandemic—we held a virtual orientation in June and other Zoom sessions with our Campus Consortium Advisory Council, our editorial team, Dalia Mogahed from the Institute for Social Policy and Understanding, documentary filmmaker Bill Gentile, independent journalists Jacob Kushner and Wudan Yan, and editors David Rohde from The New Yorker, Kainaz Amaria from Vox, and Sam Dolnick from The New York Times.
It was a tough year for many of the Fellows as the pandemic ravaged routines and took lives. They witnessed events that shook us all to the core—the death of George Floyd, the storming of the Capitol, the gun violence epidemic, the mass shootings—more than 100 in the first few months of this year. They also saw the world transformed: the Black Lives Matter movement, the election of the first female, Black, South Asian vice president, the vaccine rollout.
All the while, they dealt with much uncertainty—they proved flexible and creative. And they wrote amazing stories. I'm proud of all the work they've done (and will do) and of all the advice they gave each other at the conference.
We're planning in-person events in the future and hope to bring our Campus Consortium Fellows together in October for Washington Weekend. Many in-person and virtual alum reunions lie ahead!
Thanks to Libby Moeller, our Reporting Fellows editorial coordinator, and the Campus Consortium team for making all this possible—and to all the Campus Consortium Fellows and our post-grads from Columbia and Medill journalism schools for inspiring each other to do good work. May you continue to reach out to your peers and stay in touch with each other. You are forming bonds that will last a lifetime.