Pulitzer Center Update March 15, 2022
Your Work/Environment: Pulitzer Center Invites Journalists to Join Virtual Climate Reporting Initiative Kickoff Event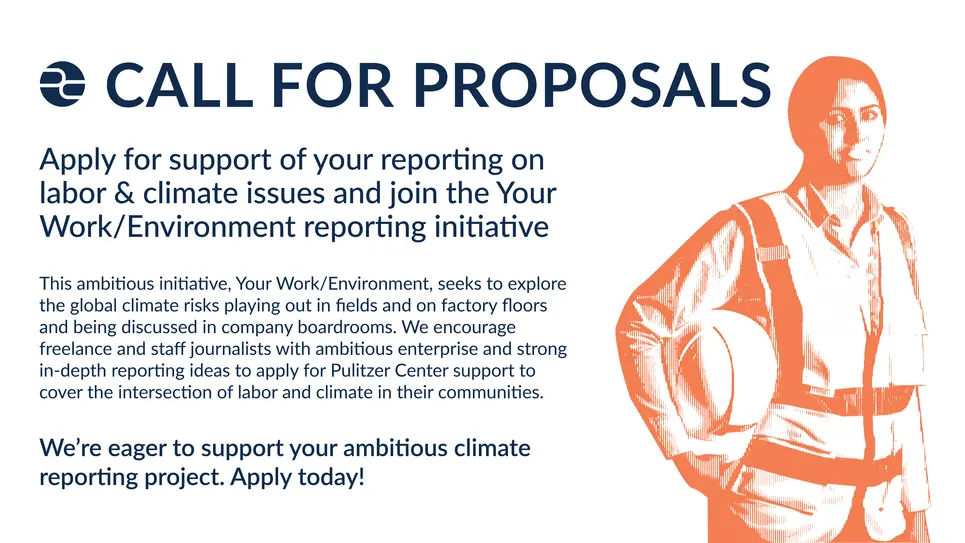 Join the Pulitzer Center and a panel of top experts from Bangladesh, Brazil and the United States in a virtual conversation about Your Work/Environment, a new initiative aimed at encouraging reporting on climate change and its impact on workers and the workplace. The 90-minute discussion will begin on Wednesday, March 30, 2022, at 9:00am EDT. Please RSVP here.
Global climate risks are playing out in fields and on factory floors and increasingly being discussed in company boardrooms. Attendees to this Pulitzer session will hear what jobs and employment sectors, what factory practices, what sorts of manufacturing – from computer chips to batteries to food production to fast-fashion – are threatened or face change.
The panelists will consider how climate change has been covered in the media and respond to questions about what is missing from the reporting landscape. This event will feature presentations and discussion with the following speakers as well as audience Q&A:
"We hope journalists from around the world who are eager to learn how climate is fundamentally changing how we work will join us for this conversation and consider applying for Pulitzer support for their climate-related reporting projects," said Steve Sapienza, Pulitzer senior editor who is managing the initiative with climate/labor editor Christine Spolar.
The Pulitzer Center encourages freelance and staff journalists with potential enterprise and in-depth reporting ideas to seek support for projects focused on the intersection of labor and climate in their communities. We are particularly interested in reporting from regions in Southeast Asia, Europe, Africa, and South America. All types of formats are welcome: print, digital, broadcast TV, radio, and film projects, as well as data and computer-assisted journalism. The grants will be in the range of $10,000-$25,000 per project, depending on the scope and complexity of the project, the media formats involved, and the distribution plan.
Journalists seeking further advice on applying for a Pulitzer Center grant, please visit our Writing a Successful Grant Proposal tipsheet.
This grant opportunity is now open, and applications will be reviewed on a first-come, rolling basis. We will prioritize proposals that can be completed, including publication, in 1-4 months. APPLY HERE
Funding for this initiative is supported by the Laudes Foundation. The Pulitzer Center and its news partners have full editorial control over the reporting produced. The Pulitzer Center and Laudes are committed to supporting journalists from diverse backgrounds and of all nationalities.
RELATED INITIATIVES