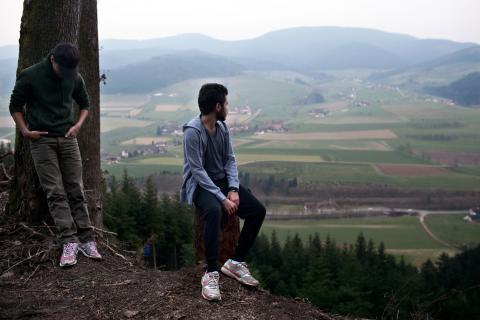 LEAVING SYRIA

Nearly three million Syrians have fled the fighting in their homeland. Thousands of them have found their way to Europe, but they have not found a warm welcome. In a multi-part project for NPR, Joanna Kakissis and Holly Pickett look at the plight of this ever expanding diaspora.

One of the few places that has welcomed the Syrians is Sweden, a country that prides itself on its tolerance. Next year, Joanna reports, the Scandinavian country expects to take in some 95,000 refugees, most of them from Syria. The U.S., by contrast, has resettled a total of 121 Syrians since the start of fighting more than three years ago.

"But the arrival of so many refugees [in Sweden] is testing the country's famously tolerant identity," says Joanna. "Swedes voted out centrist Prime Minister Frederik Reinfeldt this September after he gave a speech asking people to 'open their hearts' to those fleeing war. Instead, an anti-immigrant party, the Sweden Democrats, won seats in parliament and helped bring down the center-left government of Prime Minister Stefan Lofven earlier this week."

RELIGION AND SCIENCE

In America, religion and science often seem to be at war with each other. But in Ethiopia, "both religion and science are bred in its bone, and the union doesn't seem to be a matter of either side compromising," observes Pulitzer Center grantee Amy Maxmen in an essay for Nautilus.

Ethiopia, of course, is a place that figures prominently in both Old and New Testament narratives. And as home to the bones of some of our earliest antecedents, it is also a holy land to paleontologists and evolutionary biologists.

Amy writes that "on a recent reporting trip to Ethiopia, I was struck by how evolution and religion coexist peacefully in the nation. Every day on my walk to Ethiopia's National Museum, which houses the ancient bones of ape-like human predecessors, I passed a throng of women praying outside of St. George's Cathedral, across the street from the museum."

RUSSIAN HOMOPHOBIA IN CRIMEA

The group that had the most to lose with Russia's annexation of Crimea was the local LGBT community, which had settled comfortably in the balmy, cosmopolitan and generally tolerant cities of the Black Sea peninsula.

But as Dimiter Kenarov reports in the Huffington Post, life for Crimea's LGBTs changed overnight "when anonymous, heavily-armed troops in balaclavas (Russian special operation forces, as was later confirmed) invaded Crimea at the end of February in response to the government coup in Kiev, which had removed the pro-Russian president Viktor Yanukovych from power."

Dimiter speaks with one young transgender person who was forced to flee to Kiev and now lives in a shelter. "Former neighbors turned on each other and people separated into Russian and Ukrainian. Even the LGBT community split in the middle," he told Dimiter. "It was stunning to me how many LGBT members in Crimea supported joining Russia, although they knew about Russia's 'gay propaganda' laws, which criminalize open displays of homosexuality."

Until next week,

Tom Hundley
Senior Editor
RELATED ISSUES