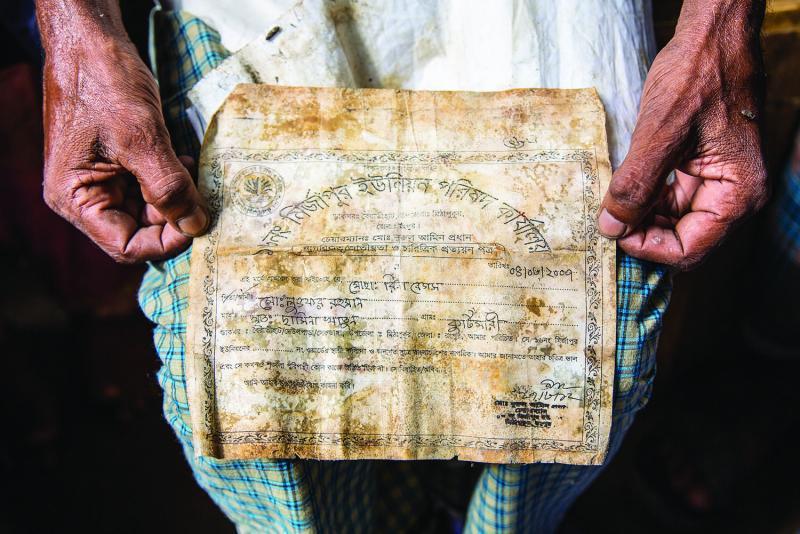 RELIVING RANA PLAZA

We are proud of Pulitzer Center grantee Jason Motlagh's meticulously reported and profoundly moving reconstruction of the Rana Plaza disaster that appears in the spring issue of the Virginia Quarterly Review.

More than 1,100 Bangladeshi garment workers, most of them women, lost their lives when the eight-story Rana Plaza factory collapsed April 24th last year. Jason was at the scene soon after the disaster and we sent him back a few months later to construct detailed narratives of the people most affected by the disaster.

The result is journalism of the highest order. We agree with VQR publisher W. Ralph Eubanks who says that "while the main strength of the article resides in the scenes Motlagh renders in painstaking detail, when his writing is paired with photographs—his own as well as those of Atish Saha—the words become even more powerful."

In a separate piece this week for The Washington Post's "Outlook" section, Jason notes that in the year since the Rana Plaza disaster, significant reforms in the Bangladesh garment industry have been put in place. "But we'd be foolish to believe that the industry has thoroughly cleaned up its act or that it will continue to try to as Western concern flags," he says.

HI-TECH POLLUTERS

In terms of industrial pollution, we usually don't associate Silicon Valley with western Pennsylvania's Mon Valley or West Virginia's Chemical Valley. But iPhones and laptops are eventually discarded and often end up as a new kind of industrial waste in places like India.

In a photo essay for Bloomberg, Pulitzer Center grantee Sean Gallagher documents the recent emergence of an informal industry of e–waste recyclers on the outskirts of Kolkata. "[I]t's common to find women, young men and children picking away at piles of electronics, breaking them down into increasingly smaller pieces that are then separated and collected," writes Sean. "But as the villagers spend their days dismantling by hand devices that contain toxic materials, there's a growing concern about the long-term health effects on the workers."

VLADIMIR PUTIN'S MAP OF THE WORLD

Maps are redrawn to reflect the waxing and waning ambitions of nations and politicians. Ordinary people generally try to just stay put in the place they know.

As Pulitzer Center grantee Dimiter Kenarov writes in this dispatch for The Atlantic, "Few places in the world have had more colorful and mutable maps than the Crimean peninsula, where borders have shifted yet again after Russia annexed the region from Ukraine in mid-March, following a referendum. As if living in a world of Zeno's paradoxes, Crimeans have suddenly found themselves in a new country and even a new time zone. But this is nothing new."

Vladimir Putin is now eyeing the eastern half of Ukraine, where large numbers of Russians live. He has massed 40,000 troops on the border and it now seems only a matter of time before the maps will be redrawn again.