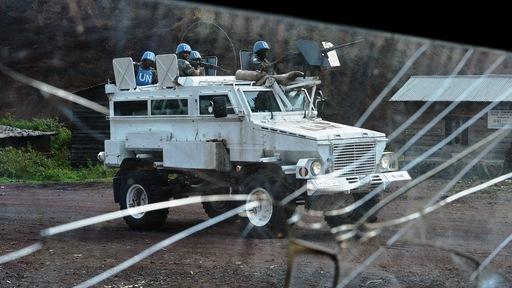 A TURN FOR THE BETTER IN CONGO

Setting aside a dismal record of failure, incompetence and indifference, UN peacekeeping troops and the army of the Democratic Republic of Congo seem to have finally joined forces to protect civilians from the various armed groups that have terrorized the region for nearly two decades.

In a report for PBS NewsHour, Pulitzer Center Executive Director Jon Sawyer writes that the turnaround was underscored last week with the rout of M23 forces along the border with Rwanda and Uganda. The M23, a rebel militia made up of Congolese army deserters, most of them ethnic Tutsi, had controlled substantial territory along Congo's eastern border and briefly occupied Goma, the region's major city.

Gen. Carlos Alberto dos Santo Cruz, the Brazilian who took command of the UN's Congo force this summer, stressed the dramatic change in UN posture. "The posture now is to go and neutralize the threat," Santos Cruz told Jon. "We go to where the threat is and we neutralize the threat . . . We need to take action. It's a different dynamic, a completely different idea."

While in the Congo Jon worked with Kem Knapp Sawyer on a separate project, "Congo's Children," exploring the impact of Congo's many conflicts on its children. Kem's portrait of Marceline, a Goma schoolgirl, was featured in The Washington Post. A narrative slideshow of the trip Jon and Kem made by pirogue up the Congo River introduces an innovative photography platform created by web designer Dan McCarey.

BLOWIN' IN THE BRAZILIAN WIND

As Brazil emerges as a global economic force, it must find new ways to generate power for a country of 200 million with a rapidly expanding middle class. "For decades, the answer appeared to be hydroelectric dams that would tap the world's greatest rivers. But dams sputter in droughts, and the construction of massive hydroelectric projects has generated relentless environmental protests that have been embarrassing to the government," says Pulitzer Center grantee Juan Forero.

In the first of a series of Washington Post articles on Brazil's energy needs, Juan reports that the howling gusts of wind that blast the semi-arid hills of Brazil's Bahia state may be the best bet.

"A string of wind-turbine parks is being erected in Brazil's windiest stretches, in what planners see as the beginning of an extraordinary transformation.," writes Juan. "No one expects that wind will outpace dams as the main source of electricity here. But the goals remain audacious for a country that projects an annual increase in electricity consumption of up to 5 percent in coming years."

Juan also notes that the shift to wind could also produce other benefits in a country that is frequently criticized for contributing to climate change by tolerating the destruction of vast swaths of its tropical rainforest. "Industry and government officials say the growing number of wind farms in Brazil — 140 of them — shows how a country far from the epicenter of renewable energy development in Europe can quickly turn to wind and provide lessons to South America."
RELATED ISSUES

Governance

Women

Issue
Conflict and Peace Building
Conflict and Peace Building