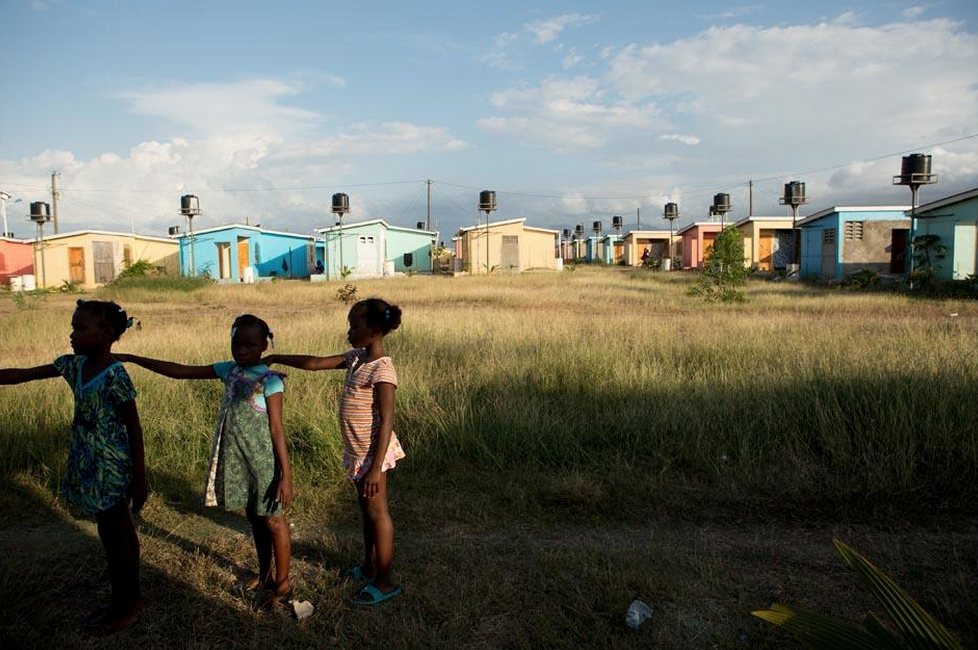 HONEYMOON IN HAITI

A much younger Bill and Hillary Clinton spent their honeymoon in Haiti. For a few inhabitants of this desperately impoverished Caribbean island, the honeymoon never ended. As Pulitzer Center grantee Jonathan Katz notes in a feature story for Politico Magazine, "the world's most powerful couple have an abiding interest in this out-of-the-way place; the island where Bill Clinton four decades ago recommitted himself to politics after an eye-opening journey and an evening with a Vodou priest. During her tenure at State, Hillary traveled to Haiti four times, as often as she did Japan, Afghanistan or Russia."

Jonathan and photojournalist Allison Shelley document the key role the Clintons have played in Haiti over the decades, from picking its national leaders to driving hundreds of millions of dollars in private aid, investment and U.S. taxpayer money toward its development. The couple's network of power and money can be felt in almost every aspect of the Haitian economy.

"The island nation, in many ways, represents ground zero for the confusing and often conflict-ridden intersection of her State Department, the Clinton family's foundation and both of their foreign policies," writes Jonathan. "The legacy of the Clintons' efforts here is decidedly mixed, a murky story filled with big promises and smaller results. Despite the huge amounts of aid and investment, the sweeping visions they've offered of transformative prosperity—promises delivered by a broad network of friends they recruited and deals they negotiated—have been tripped up by realities on the ground."

NICARAGUA'S RISKY DIG

They thought the Panama Canal was folly. Now this—a canal across Nicaragua. Pulitzer Center grantee Chris Kraul reports in Yale Environment 360 that preliminary work has already begun on "a controversial and wildly ambitious project to build a 173-mile canal—more than three times the length of the Panama Canal—that would connect the Pacific and Atlantic oceans via the Caribbean Sea."

According to Chris, "the $50 billion canal project is the brainchild of Chinese businessman Wang Jing and has the full support of the Nicaraguan government, which claims that the canal will give a huge boost to the country's economy, the second poorest in the Western Hemisphere after Haiti." Not surprisingly, there are many doubters. Wang Jing's finances are not exactly transparent and many experts warn that the canal could be an environmental catastrophe, threatening a host of ecosystems across the country.

"The scale of the canal is so grand, the price tag so high, the economics so uncertain, the background of Wang Jing so murky, and the potential environmental damage so extensive that many question whether the canal will ever be built," writes Chris. "Some skeptics think that rather than building the canal, Wang Jing has set his sights on building nine 'sub-projects' that the Nicaraguan government has given him the exclusive right to develop in and around the canal zone. These projects include a major airport near the city of Rivas and a nearby free-trade zone that will resemble the one in Colon, Panama."

PERSEPHONE MIEL FELLOWS

We are delighted to announce this year's Persephone Miel fellows. Most years, the fellowship goes to a single candidate, but this year we have selected three outstanding journalists from a highly competitive pool of more than 170 applicants. They are Yam Kumari Kandel and Shilu Manandhar from Nepal and Mary Wairimu Michengi from Kenya.

Yam, Shilu and Wairimu will be working on stories about migration issues in collaboration with the Pulitzer Center and Global Press Journal.

The Miel fellowship honors the memory of our friend and colleague Persephone Miel, former senior advisor of Internews. Persephone passed away in 2010 after a long battle with cancer. Before her death, Persephone said she wanted to be remembered by a fellowship that would help media professionals outside the U.S. report on their home countries and bring their work to a broader international audience.

We were again reminded of Persephone's legacy last week when Fatima Tlisova, a Pulitzer Center grantee and one of the inspirations for the Miel fellowship, was among three journalists who met with President Obama to mark "Free the Press," a campaign by the State Department on behalf of journalists who report in countries where press freedom is restricted.

Until next week,

Tom Hundley
Senior Editor
RELATED ISSUES