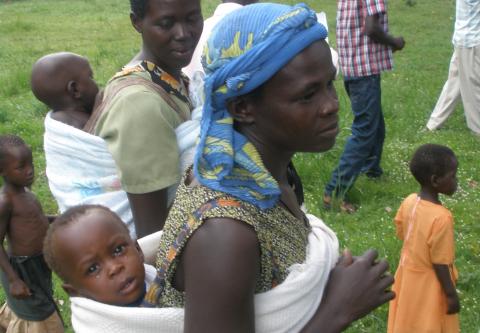 THE MOST IMPORTANT THOUSAND DAYS

Author Roger Thurow describes it as "one of the biggest new ideas in international development"—the growing realization among experts that the 1,000-day period from the beginning of pregnancy to a child's second birthday not only influences an individual's ability to grow, learn, and work—but also determines the long-term health and prosperity of families, nations, and the world as a whole.

"A growing body of research shows that success in primary school depends on good nutrition fueling cognitive development during the 1,000 days. In fact, addressing the malnutrition of the mother or child during this period—whether from a lack of food, micro-nutrient deficiencies, parasites, or illness—trumps most development and poverty-reduction efforts," Roger writes in a story for The Atlantic.

As part of a long-term project for the Pulitzer Center, Roger has been looking at the impacts of these critical 1,000 days on mothers and children in Guatemala, Uganda, India and—closer to home—on Chicago's South Side.

"The World Health Organization estimates that one in every four children under five years of age is stunted (defined as significantly below median height for a given age), and often this physical and mental damage is irreversible," writes Roger. "The consequences of stunting in the 1,000 days spread outward, from the individual (less education, lower earnings), to the family (one less full-wage earner), to the community (a diminished labor pool), to the nation (lower economic activity and growth), to the entire world (weaker global trade)."

SOUR SEAS

In the latest installment of their award award-winning project for The Seattle Times, Pulitzer Center grantees Craig Welch and Steve Ringman, report on new scientific evidence that tiny sea creatures know as pteropods are being damaged as our ocean's absorb ever increasing carbon-dioxide emissions.

The pteropods, which provide food for salmon, herring and other fish, are a critical piece of the Pacific's ecosystem. The damage is occurring at a rate much faster than scientists had anticipated.

Craig writes that the findings are "the broadest and most detailed indication ever that acidification is already damaging native creatures in the wild. It raises many new questions about whether other sea life, too, might already be harmed — directly by acidifying seas, or by subtle shifts in parts of the food chain."

HUNGRY BEARS EYE HUMANS

Pulitzer Center grantee Jonathan Vigliotti looks at another consequence of global warming—this one in Greenland where the rapidly melting icecap is forcing polar bears, an endangered species, to forage for food in human settlements.

Jonathan, a correspondent for NBC News 4 in New York, traveled to a remote outpost in Greenland where foraging bears—once rare—have become a common occurrence. Locals have formed patrols to scare off the bears, but one overly aggressive animal had to be shot. No humans have been injured.

A RANA PLAZA TIMELINE

Two weeks ago, we reported on Pulitzer Center grantee Jason Motlagh's journalistic tour de force, "The Ghosts of Rana Plaza," a reconstruction and investigation of the garment factory disaster that last year claimed the lives more than 1,100 Bangladeshi workers. The work appears in the spring issue of the Virginia Quarterly Review. You can now enhance your reading experience with an interactive timeline that traces the stories of some of the Rana Plaza disaster's key characters.