Pulitzer Center Update July 22, 2010
Students Wash Away Stereotypes at International Water Seminar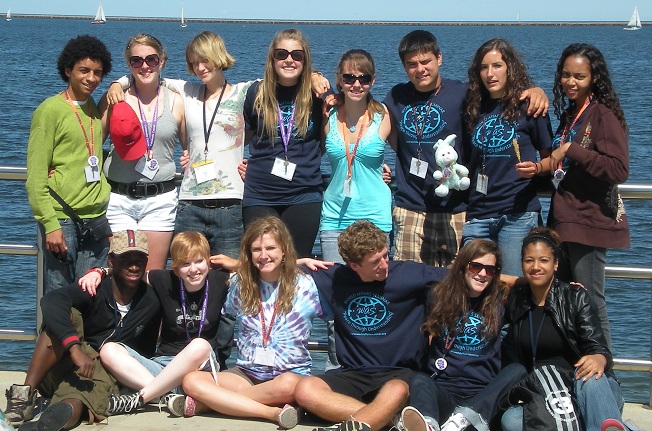 We yelled "POOP" and it was beautiful.

Three hundred and fifty high school students from across the globe declared their comfort discussing sanitation with their peers. The moment came during an introductory presentation I recently gave for the World Affairs Seminar (WAS) in Wisconsin, which featured six short films from the Pulitzer Center's online education gateway, Downstream: Water Access and Sanitation News. I had the opportunity to spend a week at the Seminar as resource for the students and staff as they studied and discussed the water and sanitation crisis. Managing Director of the Pulitzer Center Nathalie Applewhite joined us for a day to teach several video reporting workshops.

Organized by Rotary International and University of Wisconsin-Milwaukee's Institute of World Affairs, the seminar addressed the freshwater challenges we face in the coming century. Water and sanitation is an issue that affects everyone in the world, regardless of whether your water comes from multiple taps throughout your home or from a muddy pool miles from your village.

Students heard from a range of speakers who drove these points home, among them Peter Annin, author of Great Lakes Water Wars, Guido Peredo Montaño, former Managing Editor of El Diario in Bolivia, and Ray Klinginsmith, president-elect of Rotary International. But I think that more than anything, the participants took home a better sense of their place in the world as well as the feeling that they can change it.

Bringing together students from the US and abroad made for some awkward moments. One American girl asked a girl from Nigeria why she was wearing clothes. During a group discussion on how to address water access problems, another student from Nigeria had to point out that not all people in Africa live on farms.

Now before you rush to comment on the ignorance of today's youth, consider the time you may have spent as a kid marveling at foreign lands through the pages of National Geographic, or ask yourself how much you know about the urban-rural breakdown of the population in Africa. The number of agriculturalists in Mauritania, anyone?

I'll plead guilty on both counts. I remember sitting in the living room as a boy wondering why those women in Africa weren't wearing any shirts, and I didn't have a clue about farmers in Mauritania until I checked the CIA Factbook just now (it's about half of the workforce).

One of the chaperones said the Nigerian girl who was asked about her clothes was very upset and undoubtedly the American girl who asked the question was embarrassed. Yet one of the big pluses of events like the World Affairs Seminar is getting past this kind of awkwardness—whether it's talking about our bowel movements or the impact our buying decisions have on people thousands of miles away.

At the end of the week and after hours of discussion and speakers, the students presented policy ideas to provide water access for all to the fictional city of Guacharaca. The city was loosely based on Cochabamba, Bolivia, which struggled in 2000 with a controversial, and ultimately doomed, privatization of water delivery (For a look at Cochabamba check out the Pulitzer Center reports by Dan Grossman and Ruxandra Guidi on the indigenous people's conference on climate change) Even if the students' plans don't solve the problems in that region, the exercise opened their minds to the complexity of our world--and that is worth a little time spent upset and embarrassed.

On the last day of the conference, I asked students and staff what they lessons they were going to take home with them. Here are some of their responses:

Corinne (Mukwonago, Wisconsin) explains how she sees the world after she attended the Seminar.


Feranmi (Lagos, Nigeria) talks about how if everyone does their part, then difficult problems can be solved.


Rawan (Bristol, England) talks about meeting people from all over the world.


Derek Green (Concord, OH) details what students should take away from their experience at the World Affairs Seminar.
RELATED ISSUES