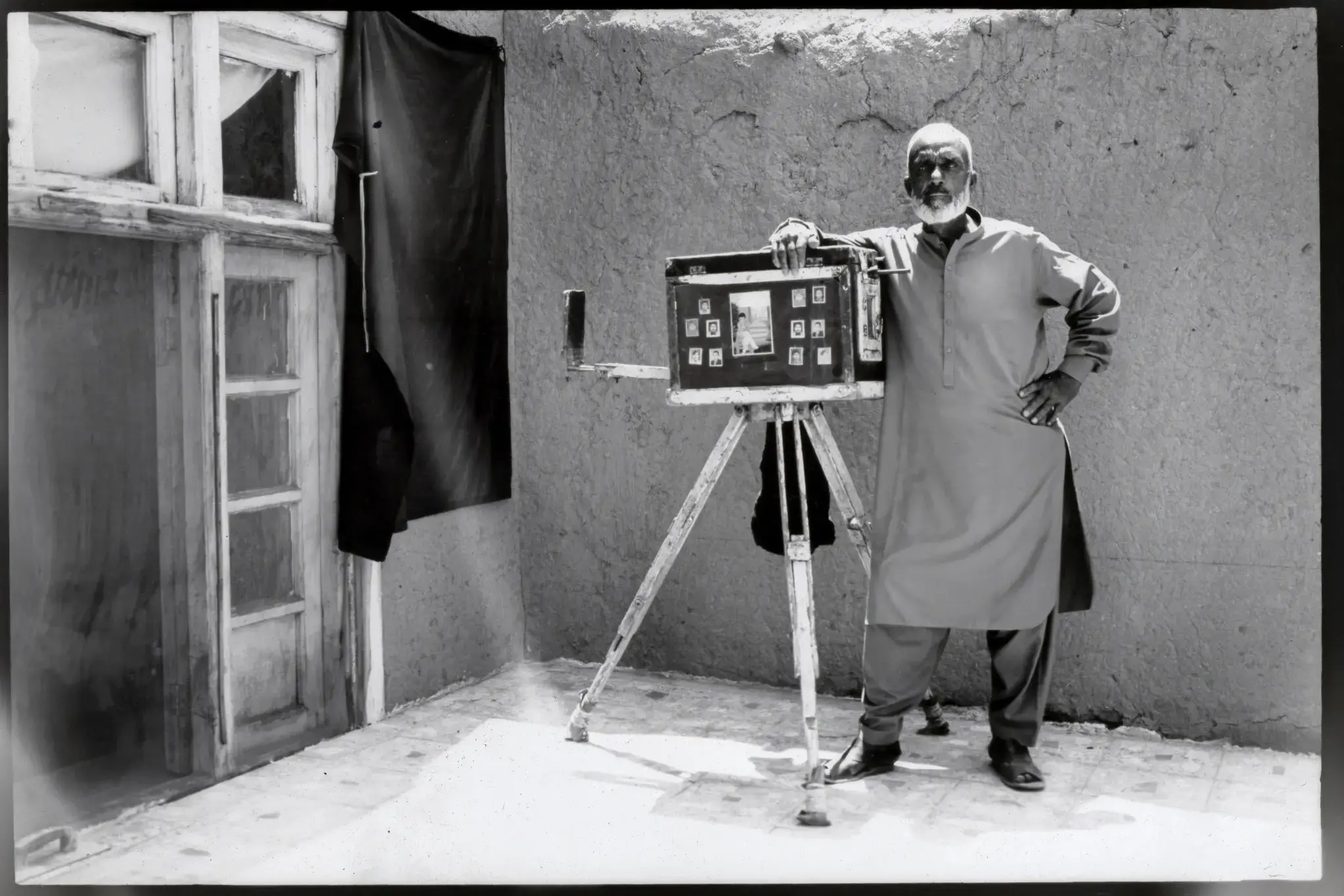 Afghanistan Through the Lens of a Traditional Instant Camera
Powerful photographs change how we think about issues and places. Associated Press photographer and Pulitzer Center grantee Rodrigo Abd does just that in a new series of striking images out of Afghanistan. In Afghanistan in a Box, Abd traveled the country with fellow grantees Bram Janssen and Elena Becatoros to capture a society in transition.
To document life in Afghanistan two years after the Taliban takeover, Abd built a traditional Afghan-style wooden box camera—a handmade camera and darkroom in one. It's a familiar tool that survived decades of conflict and change until 21st century digital photography rendered it obsolete.
Abd's intimate portraits and hazy landscapes breathe fresh nuance into a situation saturated with images of devastation. He captures a broad swath of Afghan life—women, children, families, Taliban fighters, laborers, cityscapes, and countryside. The black-and-white photographs appear vintage, at once faded and crisp. They place Afghanistan's past and present in conversation, visually and symbolically, interrogating power and historical injustice.
Men, women, and children gaze into Abd's lens with curiosity, melancholy, and determination. Authentic expressions give them agency in communicating their stories to a global audience, which is often fed stereotypes about Afghanistan. Accompanying interviews tell the stories of the people behind the images: their goals, fears, and aspirations.
"We have to have hope," said 20-year-old Zamarod, who had been studying computer science before the Taliban banned women from universities. "We hope that one day we will be free, that freedom is possible. That's why we live and breathe."
Now, like many women in Afghanistan, Zamarod works at a carpet factory, one of the only remaining jobs available to her, she explained in the mini documentary directed by Janssen. In a country where the Taliban have banned representations of women's faces, in her portrait, Zamarod stares defiantly at the camera.
Photojournalism like Afghanistan in a Box challenges us to re-evaluate preconceptions about individuals and societies facing conflict. These innovative "windows into life" aren't always shocking, like the war photography most frequently published outside Afghanistan. Instead, they ask us to contemplate and connect, a role of journalism as crucial as documentation itself.
View the full series of photographs and reportage here.
Best,

---
Impact
In February 2023, the Pulitzer Center organized a curriculum review workshop in partnership with the Directorate of School Programs and Didactic Materials (DIPROMAD) for educational improvements in the Democratic Republic of Congo (DRC). Now, recommendations from the workshop are influencing reforms made by the Directorate of Curriculum and School Material, a major department of the DRC Ministry of Education. Among the recommendations is a proposal to write a new manual on sustainable development, including forest protection and climate change issues. The first step, however, will be to improve the content of educational programming.
According to the director of DIPROMAD, a feasibility study has been conducted and an action plan has been created to achieve these goals. They have mentioned the Pulitzer Center as a key stakeholder of the DRC in environmental education.
---
This message first appeared in the October 6, 2023, edition of the Pulitzer Center's weekly newsletter. Subscribe today.
Click here to read the full newsletter.
RELATED ISSUES