Pulitzer Center Update February 23, 2023
Remembering Katherine Moore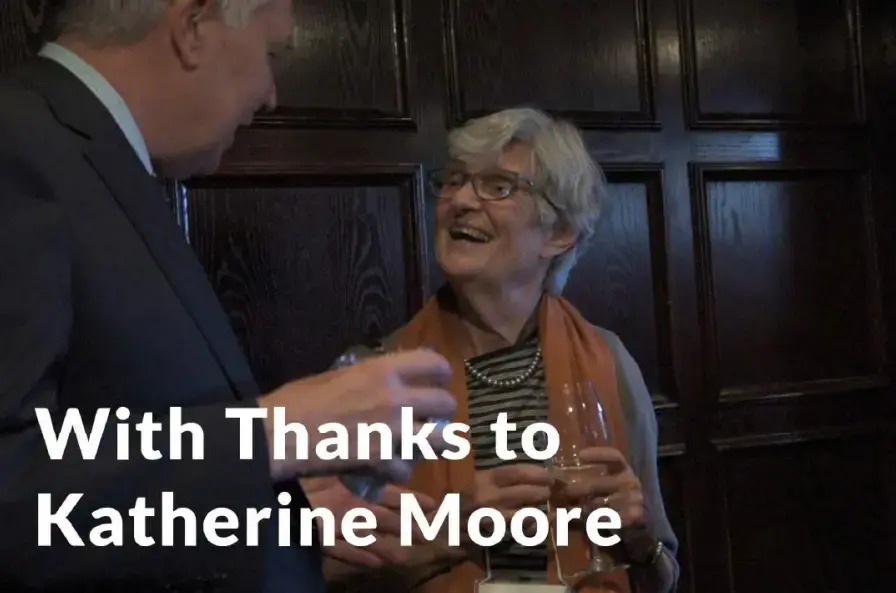 One of my many happy memories of Katherine Moore is from the fall of 2015, when she and I went to the Pulitzer Center's inaugural event at LaGuardia Community College in Queens. We had taken the subway from Manhattan, and I mistakenly had us get off a stop too early, resulting in a mile-plus walk across a bridge and over railway tracks, and a shot of Katherine and me in her first-ever selfie.
We were at LaGuardia thanks entirely to Katherine. She felt that the opportunities we were providing to students at great liberal arts universities across the country should be made available to the diverse student bodies at community colleges, too. Her donations made possible the Campus Consortium partnerships we've sponsored since at LaGuardia and at Westchester Community College—and a steady stream of spectacular projects by Reporting Fellows from those schools that have enriched our entire university program.
Katherine died on February 15 at her home in Rye, New York, at the age of 94. She joined the Pulitzer Center board of directors in 2011 following the death of her husband, David Moore, a founding member of the board and grandson of the first Joseph Pulitzer. On Katherine's retirement from the board in 2017 she was succeeded by her son, Richard Moore.
Katherine took an interest in all the Pulitzer Center's activities, but she was especially drawn to our work with younger journalists and our K-12 and university programming. If one of our journalists was engaging with a student at a high school in St. Louis, on the West Side of Chicago, or at Westchester Community College, you would often find Katherine in the room, cheering on the journalists and students all.
On her retirement from the board we gathered testimonials from some of the students who benefited from Katherine's support. Here's a sampler:
"The Pulitzer Center Fellowship was a beyond-Bollywood dream come true. It was through this Fellowship that I tasted international solo travel for the first time. Thank you with all "mera dill" [with all my heart]."
–Ambar Castillo, LaGuardia Community College 2017 Student Fellow
"I am incredibly grateful for the opportunity Katherine generously afforded me. During my Fellowship in Paris, I learned I am a lot more capable than I previously thought. The things I learned about myself and my ability to be resourceful and persistent will stay with me for the rest of my life."
–Jalesa Tucker, Westchester Community College 2014 Student Fellow 
"Being granted the Pulitzer Fellowship brings experience, cultural awareness, and possibilities. This is especially important at a community college where many students are trapped in the mentality that opportunities to do things of grandeur are not attainable. I sincerely thank you, Ms. Moore."
–Viridiana Vidales, Westchester Community College 2017 Student Fellow 
"This Fellowship gave me the opportunity to see the world through a different lens and to understand the effects of religious terrorism, which has allowed me to see the state of our geopolitical landscape in a different way than my peers. Thank you, Katherine, for giving me the opportunity to be the first Westchester Community College Student Fellow. I am forever grateful."
–Devon Smith, Westchester Community College 2013 Student Fellow
When our board chair Emily Rauh Pulitzer made a challenge grant aimed at creating a permanent endowment for the Pulitzer Center, the first significant match came from Katherine. A second gift from Katherine, equally substantial, helped us successfully complete the endowment campaign.
Our hearts go out to the entire Moore family. We join them in celebrating a life that was full of enthusiasm, compassion, and generosity of spirit. The Pulitzer Center was one of many institutions she and David embraced, supported, and made better. We'll be forever in their debt.