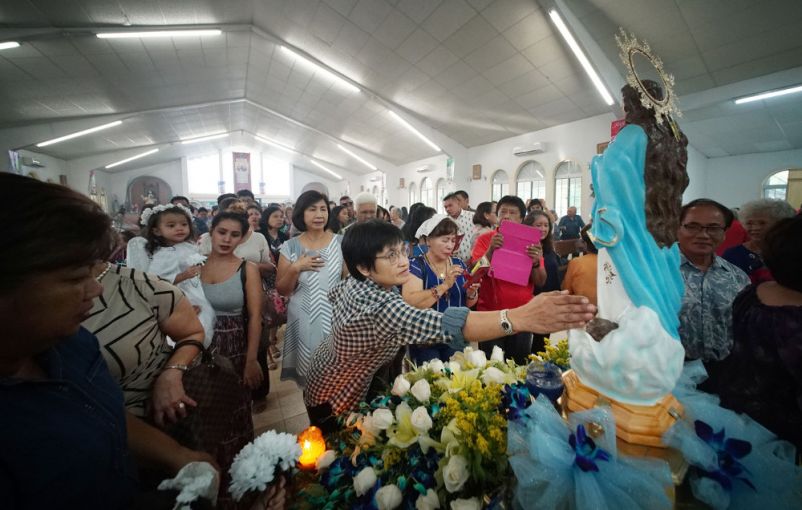 In May 2018, two Pulitzer Center grantees, Anita Hofschneider and Cory Lum, won the Small Newsroom Sally Jacobsen International Perspectives Award from the Associated Press Media Editors (APME).
Their project, "Catholic Sex Abuse in Guam," explores the impact of sex abuse perpetrated by members of the Catholic clergy in Guam. Anita Hofschneider, a reporter, and Cory Lu, a photojournalist, work for Honolulu Civil Beat, a nonprofit news outlet based in Hawaii.
The pair received the award "for examining how decades of sexual abuse by Catholic priests has torn apart the overwhelmingly Catholic community on Guam. The ability to get so many people to open up was remarkable; the straightforward writing was critical to telling a story so unsettling," the APME states on its website.
In "Guam's Day of Reckoning After Decades of Sex Abuse," Anita Hofschneider reports on the more than 100 people who are suing the Catholic Archdiocese on this Pacific island, where for centuries the church has been intertwined with local culture. After decades of silence, survivors of abuse are publically seeking justice and closure. The surfacing of this abuse is tearing apart a society in which the Catholic Church has played such an integral role for so long. The story was featured in Honolulu Civil Beat and The National Catholic Reporter in October 2017.
The Small Newsroom Sally Jacobsen International Perspectives Award honors journalists who bring exceptional insight to their overseas reporting. The award commemorates Sally Jacobsen who was the APME's executive director before she died from a recurrence of cancer in 2017.
The full list of winners is available on the APME website.
RELATED ISSUES