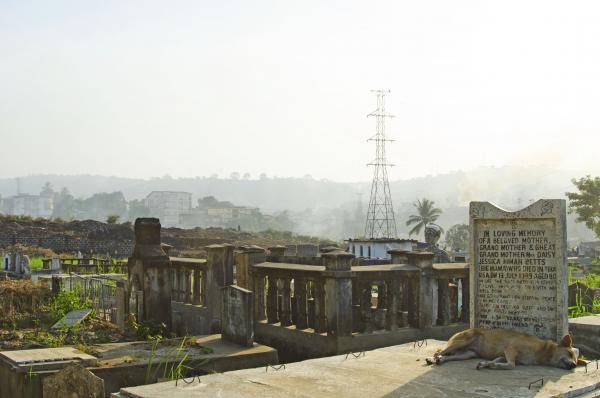 Pulitzer Center grantee Amy Maxmen is one of five recipients of the 2016 Science in Society Journalism Awards. The award, presented annually by the National Association of Science Writers, recognizes excellence in reporting on how the sciences impact society.

Maxmen's Pulitzer Center-supported National Geographic article, "How the Fight Against Ebola Tested a Culture's Traditions," won first place in the Science Reporting category. Her article focused on how the sterile burial procedures demanded by the Ebola outbreak ran afoul of traditional funerary rites in West Africa, which typically involve elaborate ceremonies.

"Maxmen unpacks the complexity in a gripping story about how burial traditions clashed with public health concerns and practices," the judges commented, also praising her for "digging beneath the straightforward medical explanations and rationales to show how cultural mores can play a key role in spreading (or stopping) a disease."

In her reporting, Maxmen summed up the dilemma with a quote from Julienne Anoko, a WHO employee with decades of experience in the region. "The problem was that the people handling the intervention only looked at this as a health issue," Anoko said. "They did not try to understand the cultural aspects of the epidemic."

Maxmen's reporting in Sierra Leone focused on how health organizations reconciled medical necessities with cultural sensibilities. For instance, when health workers refused to allow residents of one village to cut out the fetus of a pregnant Ebola victim, Anoko contacted an anthropologist familiar with the region, who was able to identify a ritual that the villagers could perform instead of removing the fetus. In other cases, workers wearing Tyvek protective suits dressed the bodies in outfits requested by the families prior to burial and allowed families to place offerings in plastic body bags with their loved ones remains.

Maxmen found that these efforts helped to dispel the fear and misinformation that had surrounded Ebola. At the end of her article, she elaborated on the experience of a Liberian burial team leader named Ali Kamara. According to Kamara, locals no longer hid victims' bodies so that they could perform rituals in secret, as they had at the start of the outbreak. By the time Maxmen visited, they called him immediately after a death, asking that he remove the body.

Maxmen and the four other recipients of this year's Science in Society Journalism Awards will each receive a $2,500 cash prize to be presented at the Science Writers 2016 meeting on Saturday, Oct. 29, in San Antonio. Texas. In addition to the Science in Society Journalism Award, Maxmen recently received the Bricker Award for Science Writing in Medicine, which "recognizes writers with the skill to craft technical advances into must-read stories and the tenacity to place them in the public spotlight." Maxmen gives the inaugural Bricker Award lecture on Thursday, Oct. 27, at the Houston Methodist Research Institute in Houston, Texas.
RELATED ISSUES