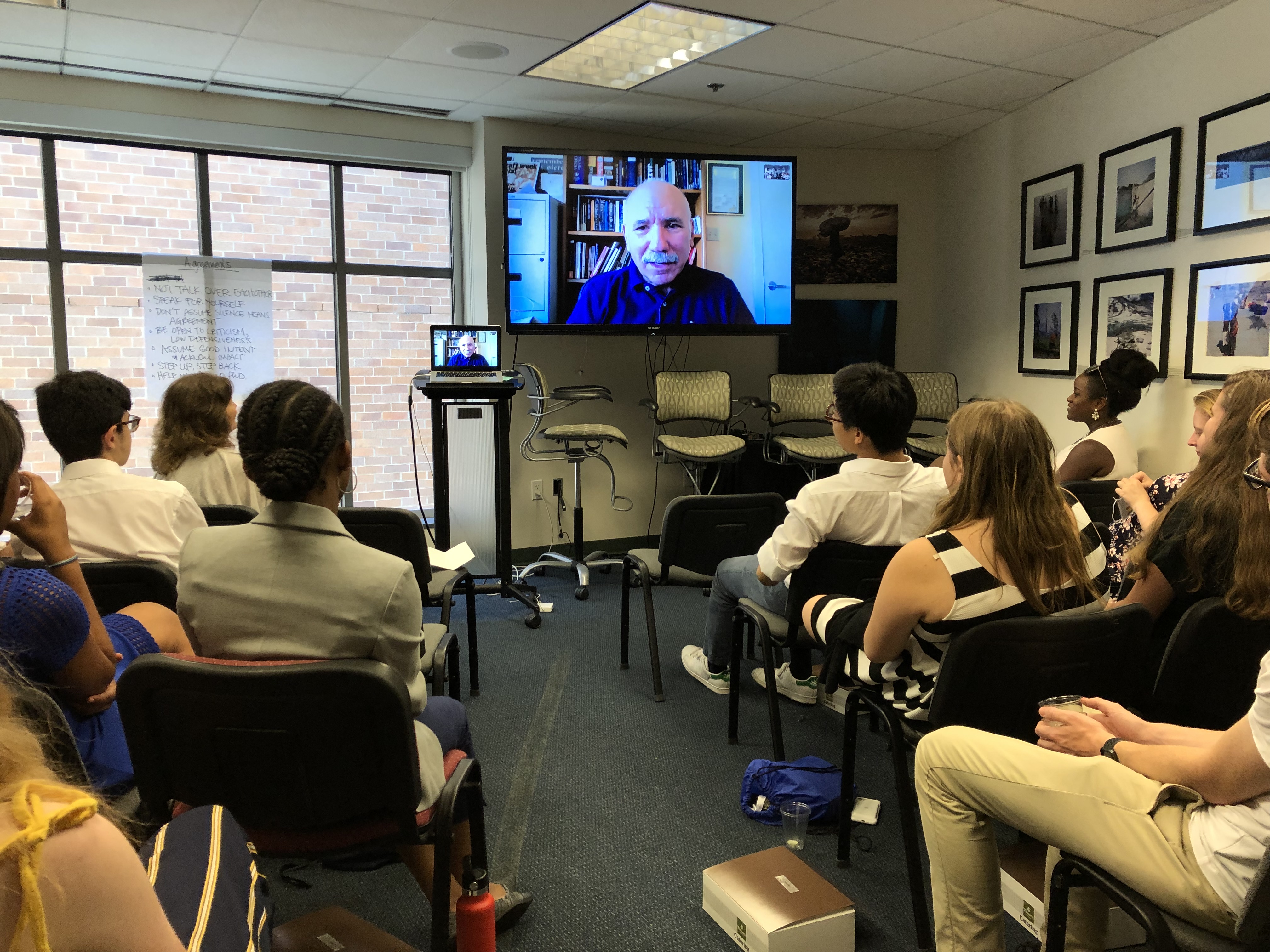 World Affairs Council Students Skype with Reese Erlich
In July 2019, Reese Erlich spoke over Skype to a group of students from the World Affairs Council (WAC) of Philadelphia, an educational nonprofit dedicated to engaging students of all ages with important matters domestically and abroad, at the Pulitzer Center's Washington D.C. offices. Erlich described his work during the Arab Spring and the Syrian uprising, and how it relates to the surfacing of populist movements in the past 15 years. Populism is a political ideology in which the leaders of that party claim to represent the common people, which is the focus of the WAC summer programming this year.
Erlich asked the students to think critically about the representation of the Middle East in the news: Is everything you see truly what is happening on the ground where reporting is occuring? He explained that people must seek a calculated balance of understanding about every news story by reading multiple sources and dispelled some common myths about reporting internationally. When asked if he was a war reporter for the U.S. in the Middle East, he replied "I'm not a war reporter… those folks have my utmost respect and admiration… but I try and get there before war breaks out to find the issues that may have given rise to [the conflict]." Erlich focuses on the personal narratives of the people around the areas of conflict and how the conflict has a larger toll on the region.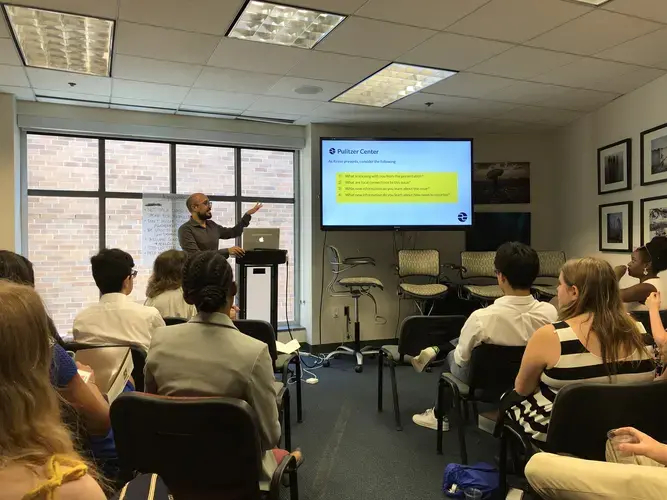 Students responded positively to the presentation, stating at the end during a group discussion that "he had multiple sides to the story—what actually happened…[he had] all the different points of view of a story…and that's what we need in [the] media." Another participant stated that this presentation showed "how journalism is an attractive field to work in…It was refreshing to take a positive [look] on journalism when we don't hear that otherwise."
More information on Erlich's reporting can be found here.
Global Kids Students Skype with Verónica Zaragovia
The following week, a group of students eager to learn about Colombia and international issues gathered around a projecter in a Catholic University classroom. These students, who come from several D.C. public high schools, were participating in a five-week foreign policy summer institute led by the education nonprofit Global Kids. Ten of the students were preparing for a ten-day service learning and leadership trip to Bogotá, and looked to Verónica Zaragovia for her insights into the Colombia peace process and local culture.
Zaragovia's reporting project focuses on the reintegration of FARC members into civil society and the impact of the peace deal on everyday lives in Colombia. In reflecting on the presentation, students noted that they appreciated Zaragovia's approach to telling stories about positive paths forward rather than just focusing on conflict and crisis, and how she shared the experiences of ordinary people, like a farmer teaching his community how to cultivate cacao. "She's making a change through news," said one student, "and people should hear about it."
Want to Skype a journalist into your classroom? Click here to learn more and schedule a visit!
RELATED ISSUES

Governance

Issue
Conflict and Peace Building
Conflict and Peace Building