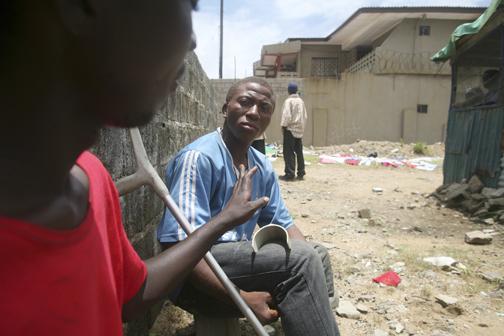 Where: Corcoran Art Gallery, gallery 31

When: Thursday, September 11, 6–8 p.m.

For more information please call (202) 298-2567 Or visit Corcoran Gallery of Art.org

Photographs by Andre Lambertson will be on display in the College corridor of the Corcoran Gallery of Art from September 3 through October 12. Mourning Stories from Which We Rise provides a glimpse into the lives of youth at risk. The New York-based photographer pays tribute to two groups of youth whose resilience and courage allowed them to rise above the marginalization they faced within their communities.

Lambertson's photographic journey took him from inner-city America to West Africa. He interviewed children from Harlem, Boston, Washington, D.C., and New Orleans. He met with Liberian children who were forced to fight against their communities during the country's 15-year civil war. Each story spoke of violence experienced firsthand, but also revealed spirit and personal reconciliation.

While in Liberia, Lambertson conducted a photography workshop for former child soldiers as part of a project sponsored by everyday gandhis, an organization that works with ex-combatants to help them become future guardians of peace. The Corcoran exhibit will also feature work of these student photographers.

Mourning Stories from Which We Rise captures the connectedness between two worlds. Lambertson speaks of the inner strength and courage of his subjects. His photographs open a window onto "the youth marching into light."

Lambertson will also lead a closed door workshop on Wednesday, September 10, 11 a.m. - 12 p.m. in the Corcoran Auditorium.
RELATED ISSUES

Women

Children and Youth