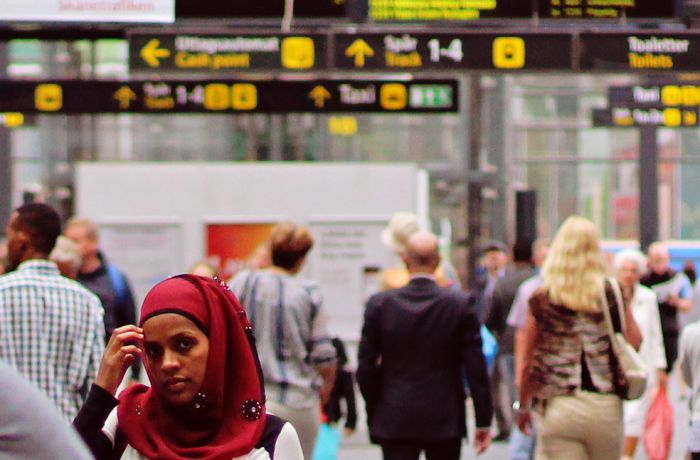 Dear Educators,

Here are this week's featured lesson plans and updates on the Pulitzer Center's education events:

News Bite Lesson: Preventing Radicalization of Muslim Youth in Sweden

What leads to radicalization and violence in a community? How can a community prevent radicalization?

This week's News Bite lesson plan explores these questions through discussion, expository writing and an analysis of Nick Shindo Street's reporting on Muslim communities in southern Sweden.

Featured Lesson: Human Adapters to Climate Change

According to a new report from the World Health Organization, approximately one quarter of all deaths worldwide can be attributed to preventable environmental factors. This lesson plan from Pulitzer Center education team alumna Amanda Ottaway uses reporting from several projects in our Climate Change Gateway to engage students in discussion and writing about the global impacts of a rapidly changing environment.

Education News: Students discuss photography and identity with Daniella Zalcman at the 2016 Global Issues Network Conference in Washington D.C.

Over 300 high school students from nearly a dozen Washington D.C. schools gathered in George Washington University's Funger Hall on March 15, 2016 for a keynote speech from Pulitzer Center grantee Daniella Zalcman. The speech was the closing of the D.C. Global Issues Network (GIN) conference, which engaged participants in student-led workshops and panels exploring sustainable solutions to pressing global issues.

Zalcman began with a brief review of how she became a photojournalist, revealing that she hadn't taken formal photography classes before starting her career in reporting. She then spoke in depth about her experience covering the lives of LGBTQ activists in Uganda and survivors of residential schools for indigenous communities in Canada.

Following the presentation, students asked Daniella about her reporting process and relationships with her subjects.

"What do you want to report next," one student asked.

"What's the hardest part of your job," another student added.

Students also asked Daniella about how she selected her reporting projects and developed relationships with the people she photographs.

"Why don't we hear these stories in our history classes," one student inquired just as the event came to a close.

Daniella returns to the field this week to continue her investigation of residential schools for Native Americans, but here is a lesson that asks students to analyze her work as part of an investigation into how schools inform the identities of students. Daniella can also continue to connect to classrooms over Skype.

If you are interested in connecting your students to a Pulitzer Center journalist in person, or over Skype, email [email protected]. A member of the education team would also be happy to reach out to you directly.

Featured Project for Students: "Niger: Baho's Last Fight" by Jillian Keenan

Click here to learn more about journalist Jillian Keenan and her reporting on youth gangs in Niger. Create your own lesson plan using Jillian's work with our Lesson Builder.

Want more education news? Sign up for our newsletter here.
RELATED ISSUES

Religion

LGBTQIA Rights