Pulitzer Center Update March 13, 2017
The New York Times Op-Docs, Pulitzer Center, and Tribeca Film Institute to Host Pitch Competition During the 2017 Tribeca Film Festival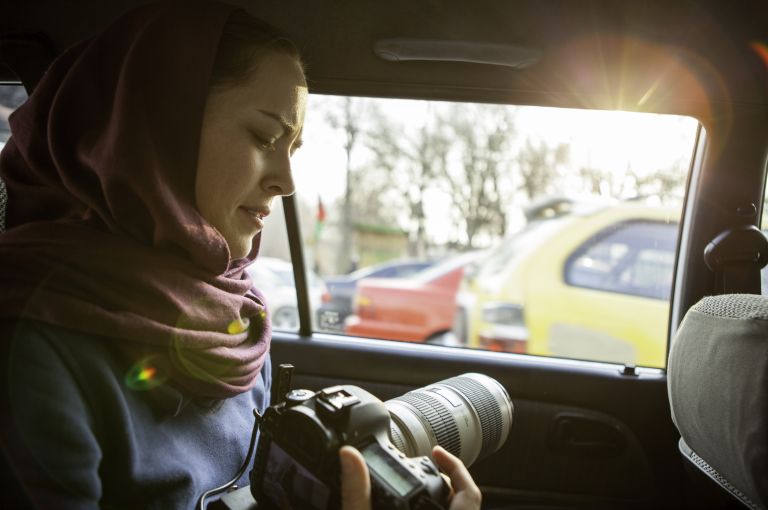 The New York Times Op-Docs today announced a new collaboration with the Pulitzer Center and Tribeca Film Institute® (TFI) inviting documentary filmmakers from around the world to apply for a new pitch opportunity during the 2017 Tribeca Film Festival. The New York Times Op-Docs Pitch calls for opinionated documentary shorts on international subjects (running one-30 minutes) that fit the editorial and creative scope of Op-Docs. Filmmakers from around the world are eligible to apply.
Finalists will be selected to present their projects at The New York Times building in New York City on April 25, 2017, before a panel of judges, including Pulitzer Center Executive Director Jon Sawyer, TFI Executive Director Amy Hobby, Op-Docs executive producer Kathleen Lingo, and veteran Op-Docs filmmakers.
The filmmaker with the winning pitch will have an opportunity to produce an Op-Doc for The New York Times with a budget from the Pulitzer Center of up to $20,000 (USD). Support for travel and accommodation to attend the pitch event in NYC will be provided by the Pulitzer Center for directors pitching (up to $1000 for domestic and $2500 for international filmmakers). Subject to The New York Times's approval, the documentary will premiere on NYTimes.com. One runner-up will receive additional funding and mentoring through TFI's newly launched IF/Then Short Documentary Program, developed with the support of the John D. and Catherine T. MacArthur Foundation.
Launched in 2011, Op-Docs is The New York Times's editorial department's Emmy-winning and Oscar-nominated forum for short opinionated documentaries. Each film is produced with wide creative latitude by both renowned and emerging filmmakers, and premieres across The Times' online platforms. The goal of each Op-Doc is to present a unique point of view.
"We are very excited for filmmakers from around the world to pitch their ideas in this public forum," said Kathleen Lingo, executive producer of Op-Docs. "The financial support offered by the Pulitzer Center along with the chance to share their work on The Times's global platform is a special opportunity for the winning project."
"TFI is pleased to participate in this unique pitch opportunity as part of our year-round work to support storytellers from all backgrounds," said Amy Hobby, executive director of Tribeca Film Institute. "We look forward to helping curate the participants, seeing the pitches and nurturing the runner-up as part of our recently expanded commitment to short filmmakers."
"We are honored to work with two organizations that are justly celebrated for their support of documentary filmmaking," said Jon Sawyer, executive director of the Pulitzer Center. "This initiative furthers our own commitment to promoting great journalism via innovative collaborations."
Applications are due by Monday, March 27, 2017 at 11:59pm EST. More information and complete application instructions are available at nytimes.com/video/opdocs/pitch (filmmakers must enter the code TFIPC in the Film Title/Subject field to be considered; proposals must address international themes.) Questions about the pitch may be sent to [email protected].
Pulitzer Center Student Pitch
In addition to the main pitch, students attending Pulitzer Center Campus Consortium colleges and universities (list of participating schools), and 2016 student fellows from those schools, are eligible to apply for a student pitch, preferably also on an international theme, which will take place immediately following the filmmakers pitch.
Three finalists will be chosen in the student category to participate in the live pitch. Support for travel and accommodation to attend the pitch event in NYC will be provided (up to $1000).
The student winner will receive up to $10,000 towards the film, depending on specific budget estimates.
Eligible student fellows should apply here, (direct to the Pulitzer Center, not through the general submission link above). Applications are due by Monday, March 27, 2017 at 11:59pm EST. Questions regarding the Pulitzer Center student pitches can be directed to Akela Lacy: [email protected].
About The New York Times Company
The New York Times Company is a global media organization dedicated to enhancing society by creating, collecting and distributing high-quality news and information. The Company includes The New York Times, NYTimes.com and related properties. It is known globally for excellence in its journalism, and innovation in its print and digital storytelling and its business model. Follow news about the company at @NYTimesComm.
About Tribeca Film Institute:
Tribeca Film Institute champions storytellers to be catalysts for change in their communities and around the world. Each year, we identify a diverse group of exceptional filmmakers and media artists and empower them with funding and resources to fully realize their stories and connect with audiences. Our education programs empower students through hands-on training and exposure to socially relevant films, offering young people the media skills necessary to be creative and productive global citizens. We are a year-round nonprofit organization founded by Robert De Niro, Jane Rosenthal, and Craig Hatkoff in the wake of September 11, 2001. Follow them: @tribecafilmins.
About Pulitzer Center:
The Pulitzer Center is an award-winnning nonprofit journalism organization dedicated to promoting in-depth engagement with global affairs through support of quality international journalism across all media platforms and an innovative program of outreach and education. The Center supports over 150 international reporting projects a year, partnering with the leading news outlets around the world to help raise awareness of the most underreported global issues of our time. Follow them: @pulitzercenter.