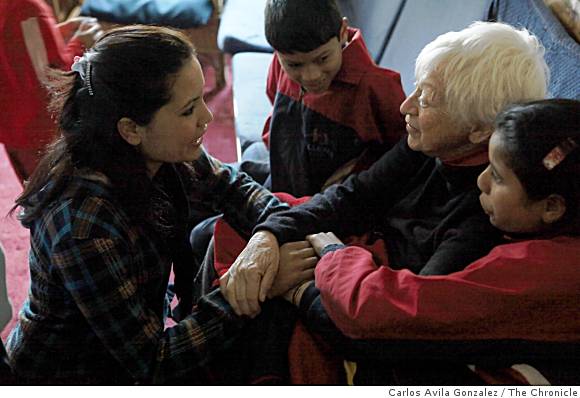 GlobalGiving is hosting Olga Murray, the founder of the Nepalese Youth Opportunity Foundation (NYOF) and main subject of Pulitzer journalist Meredith May's reporting on child servants in Nepal, on Thursday evening, June 4 in Washington, D.C.

The Pulitzer Center's short video documentary, shot by Carlos Avila Gonzales and reported by Meredith May in collaboration with the San Francisco Chronicle, takes a close look at the work being done by Olga in Nepal to free the young Kamlari girls from bondage.

The event will be held from 5:30 - 8:00 p.m. at the Thurgood Marshall Building: 1816 -12th Street NW, Washington DC (between S & T streets, just a few blocks from the Metro Green Line/U Street - Cardozo station).

Wine and snacks will be served. To RSVP, please contact Cecilia Snyder ([email protected])

Visit the Pulitzer Center's Nepal: Olga's Girls reporting project to learn more about May's reporting in Nepal. Olga was recently featured in the San Francisco Chronicle.

"Surrounded by more than 1,000 girls she free from domestic slavery, 83-year-old Olga Murray of Sausalito marched through this rural town, chanting in Nepali for an end to bonded servitude...She offers a pig or goat to parents who promise not to sell their daughters. Families can make more than they get for their daughter by breeding or butchering the animal. If they accept, Murray will also pay the girls' $100 annual school expenses. In the last eight years, 3,300 families have taken the deal. Nepalese charities replicating Murray's model have bartered another 1,700 girls out of slavery."

GlobalGiving reports that Olga claims the past 25 years of her life have been the happiest because she found this cause. "I get so much more from those kids than I give to them. It's just such a joy, a privilege to transform the lives of children."
RELATED ISSUES

Women

Children and Youth