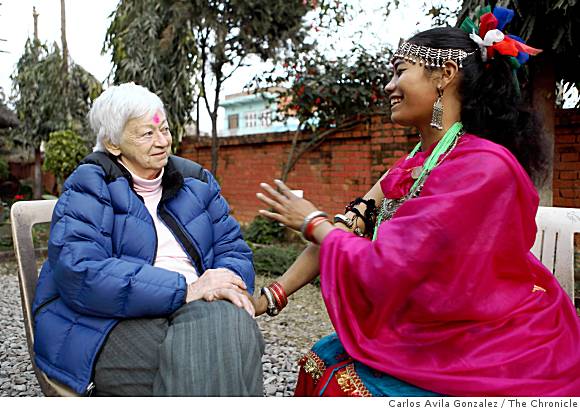 For over twenty years, Olga Murray of Sausalito, Calif., has dedicated her life to helping the children of Nepal, providing them with educations, meals, and health care they would otherwise never be able to get. She formed her nonprofit, the Nepalese Youth Opportunity Foundation, to do just that with the help of caring donors.
Her love for these children has made this 83-year-old grandmother fight one of the saddest measures of poverty in western Nepal, the selling of young girls to be domestic slaves, or Kamlaris, by parents too poor to feed their children. Some of these girls are as young as 6-years-old, and many are sold year after year until they reach adulthood when they marry and start their own families. For many of these Kamlaris, the lives they lead in their employers homes are filled with abuse, both physical and mental. Worse, some of the girls are raped by employers who feel emboldened by the girls' inability to communicate with their families because they are so far away.
Murray found that the way to end this Kamlari system was to help the families out financially, treating the cause of the problem directly. Her innovative approach was to provide the family with a piglet or goat, which they could raise and sell or slaughter for food. She also tells the parents that she will provide school for the girls. She pours her efforts into stopping the transactions during the Maghe Sankranti festival when the girls return home and parents make new deals or renew contracts.
Since her projects inception, Murray and her charity have saved over 4000 girls from slavery, many of whom have gone on to receive educations and become successful businesswomen after being trained in vocational programs. Many more have become advocates and volunteers to end the practice that once enslaved them.
Video: Carlos Avila Gonzalez / San Francisco Chronicle
Reporter: Meredith May / San Francisco Chronicle
Produced in association with the Pulitzer Center on Crisis Reporting
RELATED ISSUES