Pulitzer Center Update March 29, 2018
March For Our Lives: The Shouts Heard Around the World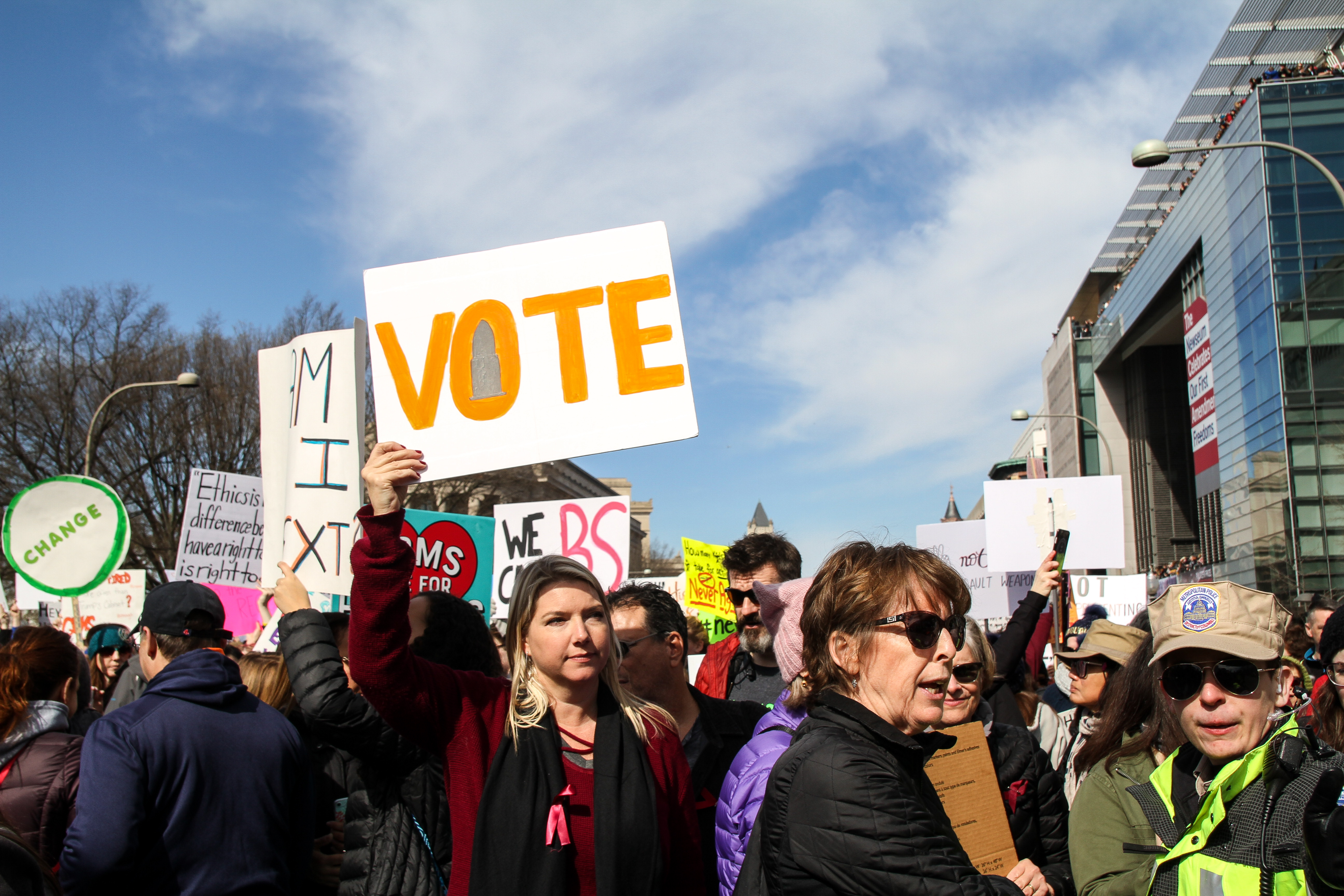 From the streets of Washington, D.C. to Tokyo, Japan, millions participated in more than 800 rallies across the globe on Saturday, March 25, 2018, as a part of the March For Our Lives movement. In Washington, D.C. alone, march organizers estimated that over 800,000 people gathered on Pennsylvania Avenue to protest the inaction of Congress regarding gun control. If those estimates are accurate, the rally garnered more people than the Women's March in 2017 or the Vietnam Demonstrations in 1969.
In attendance were some recognizable names including singer Demi Lovato, Hamilton star Lin Manuel–Miranda, Parkland student advocates Emma González and David Hobb, and Martin Luther King Jr.'s nine-year-old grandaughter, Yolanda Renee King, who echoed parts of her grandfather's speech stating, "I have a dream that enough is enough!"
Outside the Capitol, young marchers were everywhere, standing on benches or on their parents shoulders, holding their homemade signs up high. When nine-year-old Rose Fallon Roldan was asked why she was marching, she said:, "I want peace, not guns, and I want schools to be safe." Her answer was echoed by other students throughout the rally.
In recent years, social media has created a unique platform for students to voice their opinions, ones that may not be heard or taken into consideration by parents, teachers, or others in authority. Should they feel unheard, they can take to social media, tweeting, snapchatting, or posting about it on Instagram, creating their own online world where their voices and opinions can be front and center.





March For Our Lives took that conversation off of its online–only platform and brought it to life, pounding on Congress' front door. That may have helped the movement pick up momentum so quickly: students organized record-breaking rallies, are networking with each other on social media, and using media platforms to speak up and to make sure their voices are heard.
Over the past several decades, the recurrence of mass shootings resembles a revolving door, one that some have tried to stop, but it has continued turning. Now high school students, feeling not enough has been done to protect people from gun violence, are ready to not only stop the cycle but to break down the door.
For Izzy Weinbergage, a 14-year-old who traveled from Philadelphia to march in D.C., it was all about wanting to make a difference: "Someone needs to stand up, and if we all stand up together, then change will happen."
There was also a reoccurring theme as to why some of the students were marching: they said they just want others to be safe.
"I want to protect children," 11-year-old Destiny Clark said. Though still a child herself, her focus remained on other students, wanting to help and protect them from gun violence. "It just needs to stop and it's bringing a bad reputation to America … We're trying to have these marches for people so we can stop [school shootings], but it's not going to stop because people are just going to keep doing it unless everyone comes together as a whole nation and we all just stand up for [gun control]."





For some students, too young to recall the massacre at Sandy Hook Elementary in 2012, active shooter drills have always been a part of their education. But for others, like ten-year-old Maddie Humphreys, the drills serve as a reminder of what could happen in her classroom.
"I get really scared because they don't say that it's a drill," Maddie explained. "They say 'this is your principal and it's a lockdown.' In my head, I'm thinking, 'oh my gosh, what if it's real' or 'what if I don't get to see my mom or my dad again?'
The time when younger students are assumed to be unaware of gun violence has passed, and some of the students on Pennsylvania Avenue made it clear that they have been listening and watching the failures of older generations and will no longer tolerate it.
"Us students have to speak up for ourselves," said 14-year-old Sophia Bailey. "We're just students, but we try and help whenever we can."
Fourteen-year-old Maya Koenig echoed similar statements, saying, "If no one else is going to do anything, it might as well be us."
Gun policy has already begun to change under the pressure Parkland students and others are placing on the government and businesses. Congress has appropriated money for Center for Disease Control to investigate causes of gun violence, President Trump has proposed a ban on bump stocks, Florida adopted new gun control laws, and some businesses, like including Dick's Sporting Goods and Walmart, have implemented new regulations, restricting gun sales to minors. Some changes are already happening, but Parkland students have made it clear that they are willing to wait for more comprehensive changes.
"This march is just the beginning of a movement that will last a very long time," said Rebecca Schneid, a student at Marjory Stoneman Douglas High School and survivor of the Parkland shooting, during a speech. "We understand that this is a marathon and that we'll be fighting for years. We're just getting started, now we have to use our rights as voters to make things change."
---
The Pulitzer Center on Crisis Reporting recognizes and values the voices of students, knowing their point of view is important to add to the national conversation. In regards to gun control, the Pulitzer Center is working to put together a panel that will include student journalists and activists who are already speaking out and are passionate about making a difference. The panel will be a part of 'Beyond War: Causes of Conflict, Prospects for Peace,' in Washington, D.C. on June 2-3, 2018.
To find out more about the conference click here.
To read student reporting done in partnership with the Pulitzer Center click here.