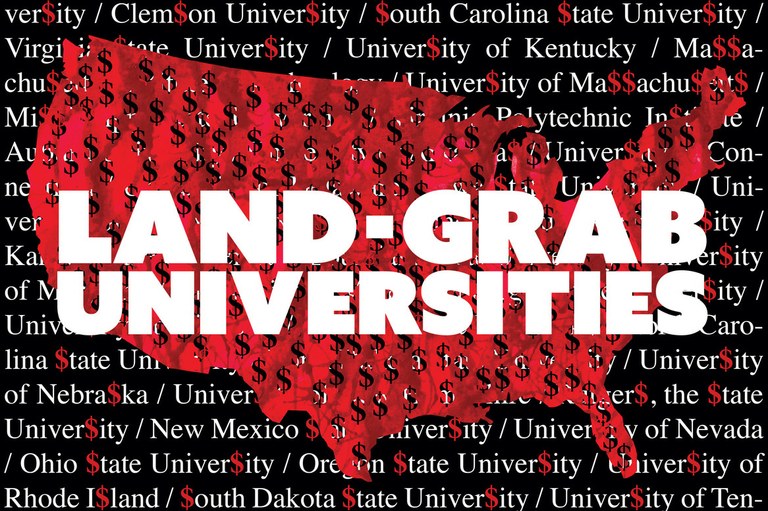 Texas Observer Editor-in-Chief Tristan Ahtone and University of Cambridge historian Robert Lee won the George Polk Award in the education reporting category for their Pulitzer Center-supported project, Investigating Land Grants to Universities, a two-year investigation into how American universities profited from the sale of millions of acres of land seized from Indigenous nations.
In 1862, President Abraham Lincoln signed the Morrill Act, which distributed public domain lands to raise funds for fledgling colleges across the nation. In its reporting for High Country News, Land-Grab Universities reveals that at least 12 states are still in possession of unsold Morrill acres as well as associated mineral rights, which continue to produce revenue for their designated institutions. In the wake of the investigation, students and faculty at campuses across the country demanded that institutions such as MIT, Cornell, and UC Berkeley find ways to right a nearly 160-year-old wrong.
The George Polk Awards have been distributed by Long Island University (LIU) since their foundation in 1949 in honor of George Polk, a CBS correspondent murdered in 1948 while covering the Greek Civil War. The awards, which place a premium on investigative and enterprising reporting that gains attention and achieves results, are conferred annually to honor special achievement in journalism.
A full list of this year's winners can be found here.
RELATED ISSUES

Issue
Indigenous Communities
Indigenous Communities

Issue
Land and Property Rights
Land and Property Rights