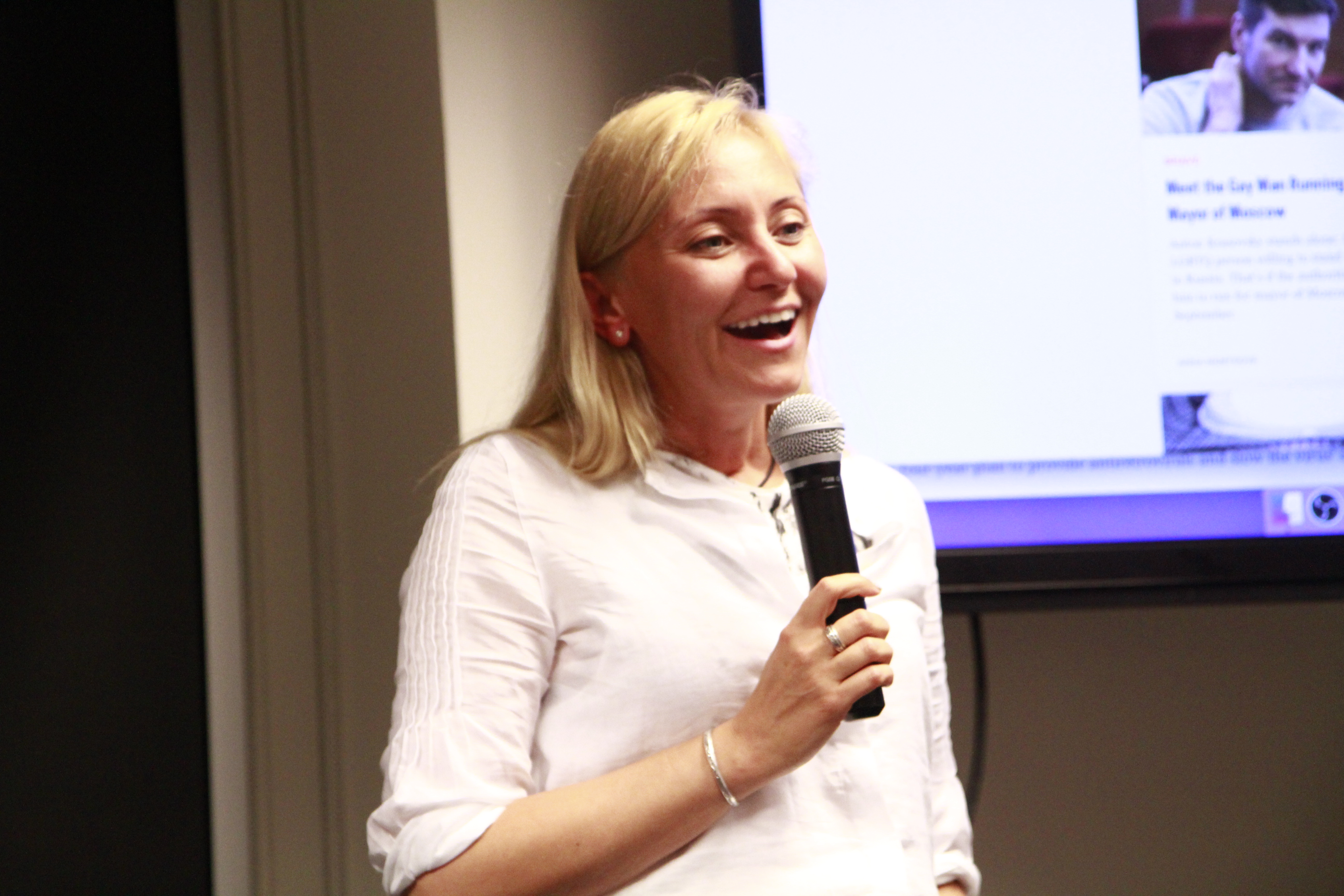 On June 27, as a part of the Talks @ Pulitzer series, Pulitzer Center grantee journalist Anna Nemtsova came to Washington, D.C., to speak about the underreported but growing HIV epidemic in Russia.
She began by telling the audience about Natasha, the woman who led her to begin reporting on HIV. "My stories are often personal, and this time I came to this project also because of a personal story, because a friend's friend, a 49-year-old woman, a pediatrician...She was diagnosed with HIV. And once you hear that diagnosis, you are sent (away) by your family doctors who do not want to have anything to do with you any longer," Nemtsova said.
To get the treatment she needed, Natasha went to the AIDS Center she was referred to by her family doctor. There, the doctor insisted she sign a document that would allow him to tell her family that her cause of death would be related to her HIV diagnosis, so she left immediately. She chose to refuse treatment and even deny to herself that she had HIV rather than live with the stigma.
Nemtsova said that Natasha "turned into an AIDS dissident–somebody who rejects the idea that she has the diagnosis." Nemtsova explained that "there are many, thousands and thousands of people in Russia who always find something online, some article by some doctor who says there are no AIDS."
AIDS dissidents never acknowledge to themselves that they have the disease, so they continue to pass on the virus and never receive the treatment they need. Now, Natasha is dying of cancer. It is unclear whether the cancer is related to her HIV-positive status, but she still regrets not receiving treatment.
Nemtsova's experience with Natasha drove her to report more deeply on the HIV epidemic in Russia. When Nemtsova was first covering the issue 20 years ago, she was working for The Washington Post in a Siberian city called Irkutsk. Now, Nemtsova covers Russia and the former Soviet states as a Moscow-based correspondent for The Daily Beast, Newsweek magazine, and The Fuller Project for International Reporting.
In 2012, she received the Persephone Miel Fellowship, a collaborative program between the Pulitzer Center and Internews. Via the Miel fellowship, Nemtsova reported on mass migration inside Russia. This year, with the help of another grant from the Pulitzer Center, she returned to Irkutsk, which is still struggling with the HIV epidemic she began reporting on years ago.
Over the years, Nemtsova realized that "women and women's stories are important to me because through a woman, through her story, you can tell a lot about the country, about the crisis, about domestic violence."
In Russia, reporting on undercovered issues as an independently-minded journalist is an uphill battle. "Today we journalists are often seen as foreign agents if we come from foreign media,"  Nemtsova said.
She went on to explain that "this era is the era of the information war...The HIV epidemic, it is one of the elements of this information war, and a lot of people fall victims of lack of information. They die as a result of the information war."
Nemtsova went through how the epidemic first came to Russia and has spread. For decades, heroin originating in Afghanistan has travelled through Central Asia, into Siberia, and eventually into the rest of Russia. When the opioid crisis first started to spread in Russia, people were unaware that using the same needle would lead to HIV infection so the virus spread quickly. Today, the opioid crisis continues to be a leading cause of the HIV epidemic as 49 percent of current cases originated from drug use.
When AIDS first began to spread through Russia, international organizations tried to help Russia combat the epidemic. Today, however, those organizations have largely been condemned as foreign agents and they are not able to provide as much help as they once did, Nemtsova said.
While the police and state officials turned a blind eye to the illegal drug trade, these international organizations abated the crisis by providing free condoms, free syringes, and opportunities for health education. In the absence of these organizations, there is little effort to educate Russians about HIV, and as a result, Nemtsova said, "the majority of Russians think that you can only get HIV through drug use or if you are homosexual, but this is not true–51 percent of more than 1 million HIV-positive Russians contracted the virus from heterosexual sex."
The epidemic is in urgent need of solutions. There have been more than 100,000 new cases of HIV each year for the last several years. Over 15,000 people officially died of HIV in 2017 alone, which is likely fewer than the actual number of HIV-related deaths because they are so underreported, Nemtsova said.
She noted that although the necessary solutions may seem straightforward and the need for reform is clear, the authorities are refusing to act. Nemtsova laid out a framework of the policy changes Russia needs to put in place to tackle the epidemic.
She explained that the state must finance more therapy because today less than a third of the nearly 1 million Russians infected with HIV are receiving treatment. To address the rampant drug abuse in Russia, she added that Russia should legalize methadone therapy, which was banned even though it has been shown to help drug addicts recover. 
Finally, free distribution of condoms would help limit the rate of sexual transmission, but she believes this is unlikely because many socially conservative state officials believe young people should not be told to use birth control. 
At the end of her talk, Nemtsova placed the Russian HIV-crisis into the context of the broader crises of the free press and democracy in Russia. Both the free press that could bring the HIV epidemic into the sphere of public discourse and the democratic mechanisms that could force the authorities to address it are under siege.
As she concluded Nemtsova said that "to understand Russia better, we need to think about the dynamic propaganda machine...Vladimir Putin has not pronounced HIV/AIDS a single time in his speeches." The Kremlin uses its hold on the press to limit public knowledge of the crisis, but as Nemtsova said, "HIV is free, and the problem is growing. There is no way to put up a propaganda defense against it."
She left the audience with one final question to ask themselves: "the Kremlin is watching," but "who watches the watchers?"