Pulitzer Center Update September 21, 2023
Journalism and Engagement for Impact: Introducing the Pulitzer Center's New Mission Statement
We are thrilled to announce the next phase of the Pulitzer Center's commitment to advancing high-quality, impactful journalism worldwide through our new mission statement: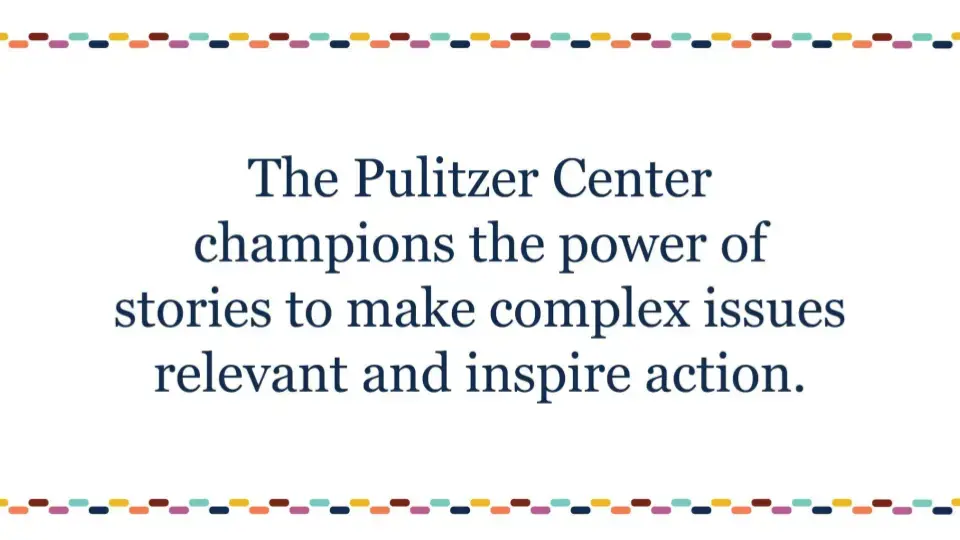 We believe in the power of stories to drive real-world change. We have a bold vision to become the venue for the world's most innovative and consequential global reporting, with journalism as the key element for mobilizing society through audience engagement programs.
Learn more about the Pulitzer Center's new mission and model →
In recent years, we have sharpened our attention on building journalistic capacity in key focus areas, from the environment and global health to human rights and artificial intelligence. The global network models we have pioneered through the Rainforest Investigations Network, the AI Accountability Network, and the newly launched Ocean Reporting Network provide journalists with training, resources, and collaboration opportunities to enhance the depth and reach of their reporting. 
These collaborative networks have spurred some of our most impactful work to date. Just last week, Nestlé announced that it would drop Brazilian beef company Marfrig from its list of suppliers. Its action followed an investigation by Rainforest Investigations Fellow Elisângela Mendonça that exposed Amazon deforestation linked to the collagen industry and leading brands like Nestlé. Another Pulitzer Center-supported report led the state of Maine to introduce a new law requiring law enforcement agencies to be more transparent about officer misconduct records.
"Journalism remains at the center of the Pulitzer Center's mission as we double down on our commitment to be a hub for innovative, high-impact reporting that connects local journalists and global networks," said the Center's executive editor, Marina Walker Guevara. "Success in our model are 'long tail' stories that engage communities and spark dialogue and action well beyond publication."
CEO and President Jon Sawyer reflected on the meaning of the new mission statement in his remarks at the New York event marking the new expression of the Pulitzer Center's values and goals:
"What this means to us is that stories—original, compelling journalism of the highest quality—are at the heart of what we do. Stories on complex issues, from human rights to global health to climate, that journalism done well is uniquely positioned to demystify and untangle. Stories made relevant, to the disparate audiences who engage with them around the world. And stories that inspire action, by helping readers and viewers see the value in getting engaged as active citizens themselves."
Our education and outreach work has also become increasingly global, while focusing on local communities and contexts. The International Education and Outreach program, launched in 2022, has expanded our engagement with audiences beyond the U.S., with an emphasis on regions where pressing issues demand attention: the Congo Basin, Southeast Asia, and Latin America. 
Audience-centered journalism and engagement
Our mission now extends beyond raising awareness and enhancing public understanding of underreported issues. We are integrating audience engagement directly into our model from the outset of our projects. This approach focuses on who tells the stories, who we reach, and how we tell the stories. We will combine audience research and contextual understanding with journalism, education, and outreach to foster public engagement and create more powerful narratives on critical issues. 
To achieve this, we have established an Engagement team at the Pulitzer Center, led by Chief Engagement and Education Officer Flora Pereira. Moving forward, we will integrate engagement and impact strategies into our journalism model, and build on the capacity and significant expertise we have in our regional hubs in the Amazon, the Congo Basin, Southeast Asia, and the United States.
"We built a new mission that reflects our vision to build communities and to work with journalism in an interdisciplinary approach," said Pereira. "But we also chose a mission that is bold enough to push us forward. We are moving from experimenting to building a systematic approach for real impact, rooted in a more intense and intentional relationship with audiences."
We are also committed to strengthening our global and regional networks and partnerships. We actively collaborate with media outlets, civil society organizations, and academic institutions to amplify the impact of our journalism. Through strategic partnerships, we can extend the reach of our reporting, engage diverse stakeholders, and drive collective action toward sustainable solutions.
Mouhamad Alem, Chief Financial and Operating Officer, noted that "every story we have championed has been an opportunity for us to learn. This new strategic framework is forged from a deep reflection on past successes, and our dedication to charting a future that amplifies our impact." 
Read more about our plans from our CEO, Jon Sawyer → 
In the next few months, we will share more updates on our plans to implement this new mission and strategic framework. The Pulitzer Center remains uniquely positioned to bridge the gap between local and global issues, journalists, and audiences. We are also committed to sharing the insights, methodologies, tools, and replicable models that enhance the impact of journalism everywhere.
Our vision is that people and communities who actively engage with systemic issues will find solutions together. We hope you will join us in this mission.
Stay up-to-date on the Pulitzer Center's work → 
Learn about our impact →