Pulitzer Center Update December 6, 2022
Help Us Shape the Future of Journalism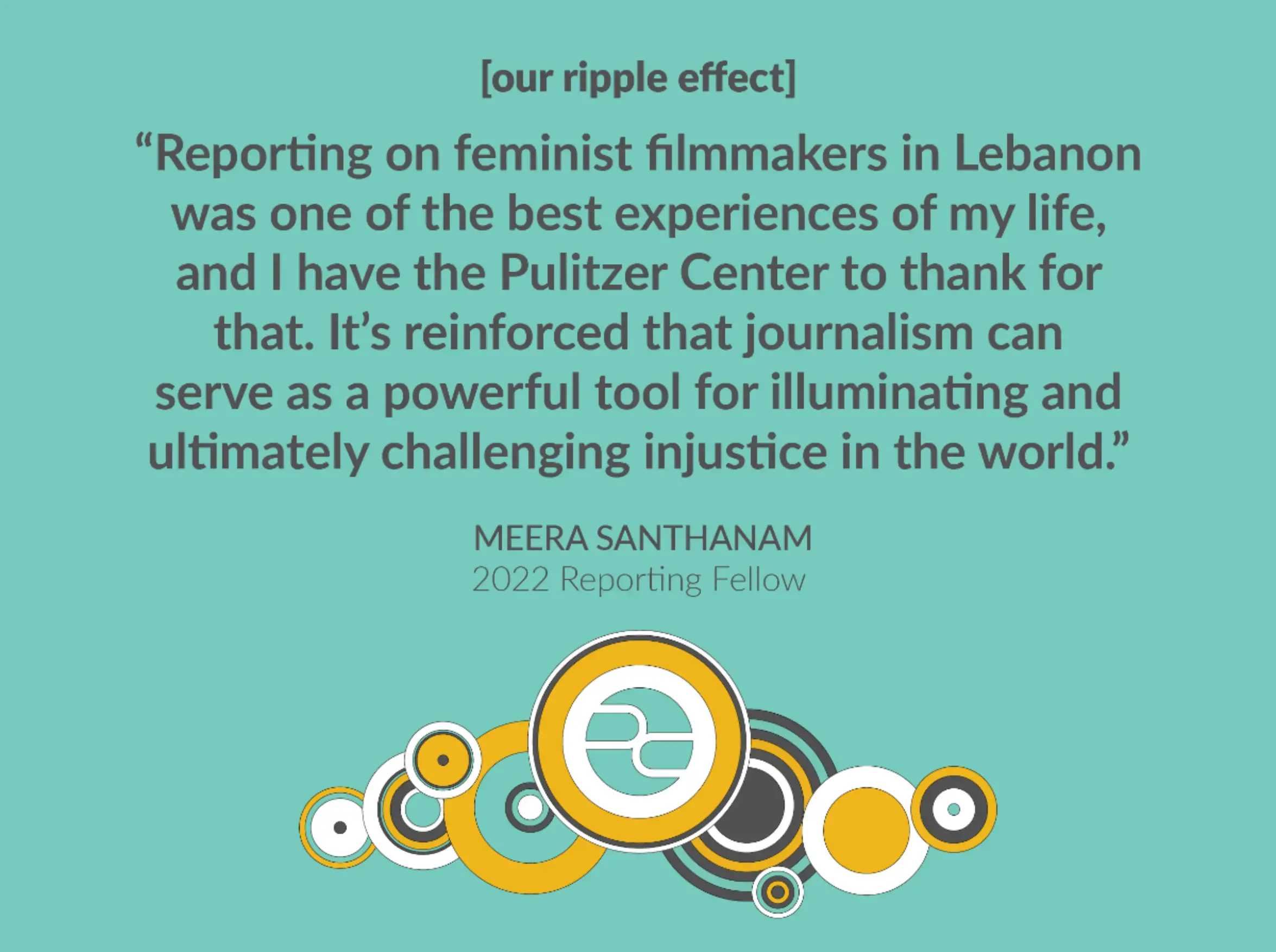 Pulitzer Center Reporting Fellowships empower university students and recent graduates ​ to tell stories that impact the world around them. The fellowships also help launch careers by building Fellows' confidence, creating networks, and developing journalism skills that will serve Fellows well, no matter the field they pursue.
This year, 68 Reporting Fellows from 40 universities covered topics related to global health, food insecurity and water shortages, Indigenous rights and the rights of women, the search for identity, migration and refugees, and the war in Ukraine. Some made discoveries close to home while others explored new territory in South Korea, the Philippines, Pakistan, Cameroon, Zimbabwe, Mexico, and Argentina. 
Our Campus Consortium Fellows came together for Washington Weekend in October. They questioned assumptions, shared their amazing reporting, heard from veteran journalist speakers, and took part in a D.C. scavenger hunt. Jana Rose Schleiss from the University of Missouri School of Journalism spoke for many when she said, "I am so happy and thankful for all the folks I got to meet and learn from. I feel so lucky to be a part of the Pulitzer Center family."
Several Fellows won accolades this year, making it possible for their stories to reach broader and more diverse audiences. Columbia University Fellows Gabriella Canal and Michael Fearon won a student Academy Award for their documentary Seasons, featured in The New Yorker. Imran Mohammad Fazal Hoque from City Colleges Chicago, a Rohingya refugee who escaped Myanmar and arrived in the U.S. after a perilous seven-year journey, won the Society of Professional Journalists' Mark of Excellence National Award.
 "My experience with the Pulitzer Center has had a profound effect on my career. I do not believe I would be in my present position had it not been for the opportunities, support, and guidance I received as a Student Fellow with the Pulitzer Center."— Kent Wagner, 2016 Reporting Fellow

Our Fellows are shaping the future of journalism. You'll now find Pulitzer Center alums at news outlets across the United States and the world, including ABC News Nightline, Black Voice News, CNN, The Groundtruth Project, InsideClimate News, Los Angeles Times, Milwaukee Journal Sentinel, NBC, National Geographic, The New York Times, The New Yorker, Politico, and USA Today.
The Pulitzer Center fellowship "is the reason why I have my job," says Kallie Cox from Southern Illinois University at Carbondale, now a reporter at The Charlotte Observer.
We're very proud of our Fellows and alums, the work they do, and the network they help create. Please help us make this transformational work possible for the journalists of our future!
Thank you,