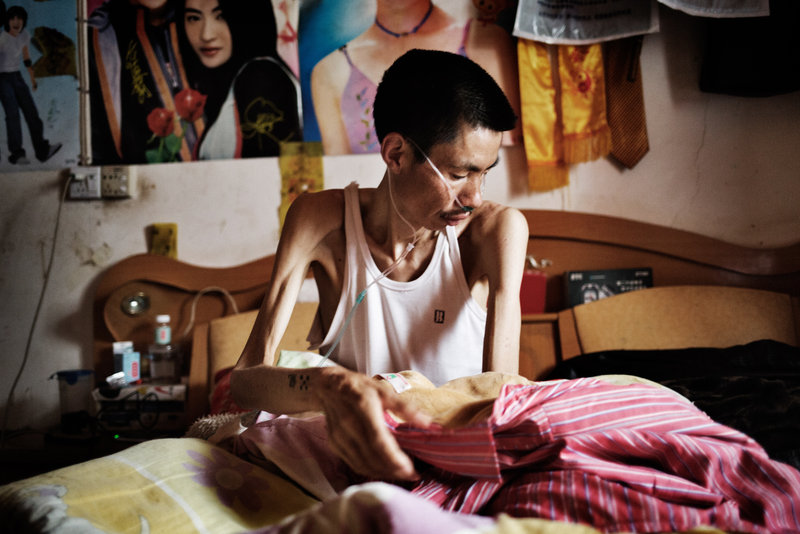 Photographer and Pulitzer Center grantee Sim Chi Yin is the 2018 winner of the Getty Images and Chris Hondros Fund Award. 
"I never got to meet with Chris but the values, intelligence, respect and integrity he brought to his work were exemplary. As the industry continues to change, it is important that keep faith in documenting the world we live in," Sim said in a statement to Getty Images. "I'm grateful for this injection of encouragement during a point in time when I'm at a crossroads in my life and my work as an independent photographer. This grant allows me to take more time to think about why I want to produce imagery and distribute them to consumers all over the world."
Sim's Pulitzer Center-supported projects include "Dying to Breathe," which looks at the health struggles of Chinese gold miners, "Beijing's Rat Tribe" with Ian Johnson, examining low-wage migrant workers who live in decomissioned nuclear bomb shelters, and "The Deadly War for Sand" with Vince Beiser, exploring how the world is running out of sand. 
"This year, we are thrilled to welcome Sim Chi Yin to the CHF family and to celebrate her photographic endeavors and compassionate pursuits. The CHF Board is particularly struck by the intelligence and rigor Chi Yin's embeds in her work," Chris Hondros Fund Board President Christina Piaia said to Getty Images. "Her keen sense and knowledge about the geographic locations, cultures, and subjects she covers are akin to Hondros' work and the immense preparation he undertook to learn not only on the current state of affairs, but the historical context of people, conflict, and regions he covered."
The Chris Hondros Fund will host a reception at the Aperture Gallery in New York on Thursday, May 3, at 6:30 p.m to present the Getty Images and Chris Hondros Fund Award. To purchase tickets, please visit www.chrishondrosfund.org/benefit.
The Getty Images and Chris Hondros Fund Award was created to honor Getty Images photojournalist and two-time Pulitzer Prize finalist Chris Hondros, who was killed on April 20, 2011 while on assignment in Misrata, Libya. This award celebrates Hondros' legacy by drawing attention to the ways in which photojournalism shines a light on shared human experiences. Established by Christina Piaia, Chris Hondros' fiancée, and with the support of his family, the Chris Hondros Fund advances the work of photojournalists who espouse his legacy and vision. The Fund sponsors fellowships, grants, and exhibitions to raise awareness and educate the public about the work of photojournalists.
Read the full announcement on the Getty Images website. 
RELATED ISSUES