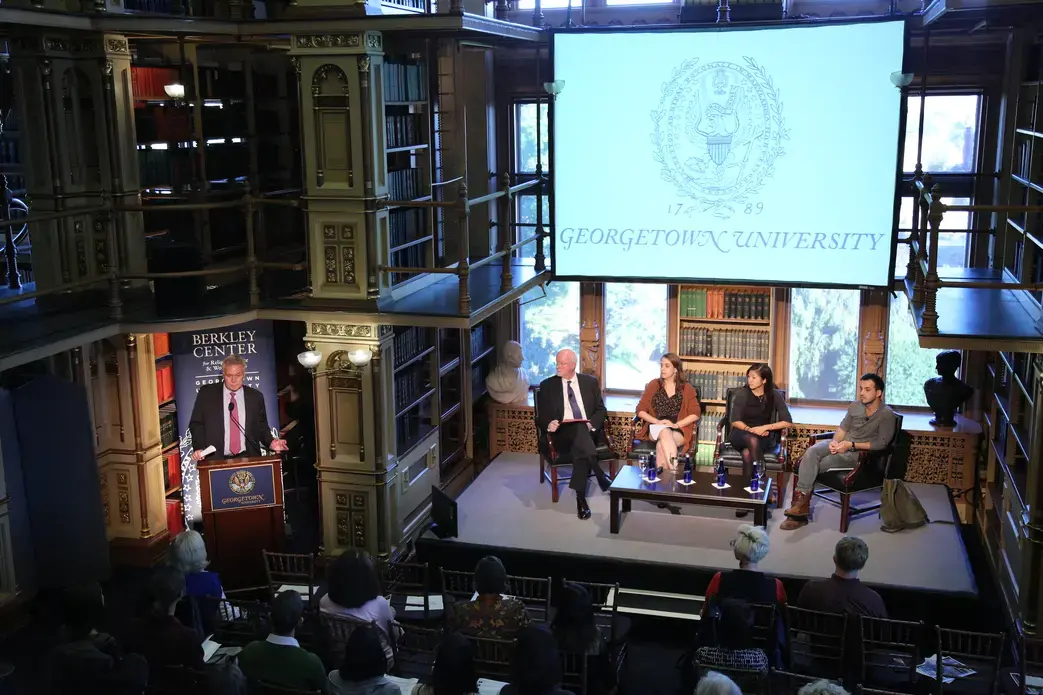 Pulitzer Center Executive Director Jon Sawyer makes opening remarks at inaugural Campus Consortium event at Georgetown University. On stage (left to right) are Shaun Casey, director of Georgetown's Berkley Center for Religion, Peace & World Affairs, and Pulitzer Center journalist grantees Robin Shulman, Alice Su and Ben Taub. Image by Phil Humnicky, courtesy of Georgetown University. Washington, DC, 2017.


On Wednesday, October 18, 2017, "From the Front Lines: The Global Refugee Crisis" kicked off the new partnership between the Pulitzer Center and Georgetown University and its Berkley Center for Religion, Peace, and World Affairs in Washington, DC.
Pulitzer Center journalist grantees Robin Shulman, Alice Su and Ben Taub took the audience on a journey from the United States to Canada and Germany, from Niger to the Mediterranean Sea, and shared the stories of some of the millions of individuals who are migrants and refugees around the world.
Shulman's reporting led her to Toronto and an exploration of Canada's refugee resettlement program that allows private citizens to sponsor Syrian refugees. Shulman shared the story of one family and the support they received, quoting one person she profiled as saying that the process restored her belief in humanity after everything she had seen.
Su explored the relationship between immigrant and refugee communities in Germany, with an overlay of religion. In talking to refugees, Su discovered they frequently did not want to be talked about solely as Muslims and refugees. Taub examined the intertwined worlds of African migrants and smugglers along ancient trade routes across the desert to the sea, with time spent on a Doctors Without Borders rescue boat.
Read more about their reporting and their conversations with the greater Georgetown University community in an article written by Andrew Wallender, an undergraduate student in Georgetown College, majoring in American studies and minoring in journalism and Arabic. Wallender works at the Berkley Center as a design assistant.
The Pulitzer Center-Georgetown Campus Consortium partnership is made possible with support from the Henry Luce Foundation. The "From the Frontlines" event is part of a larger initiative by Georgetown University to focus on refugees and migration, following Pope Francis' call in September 2017 to "Share the Journey."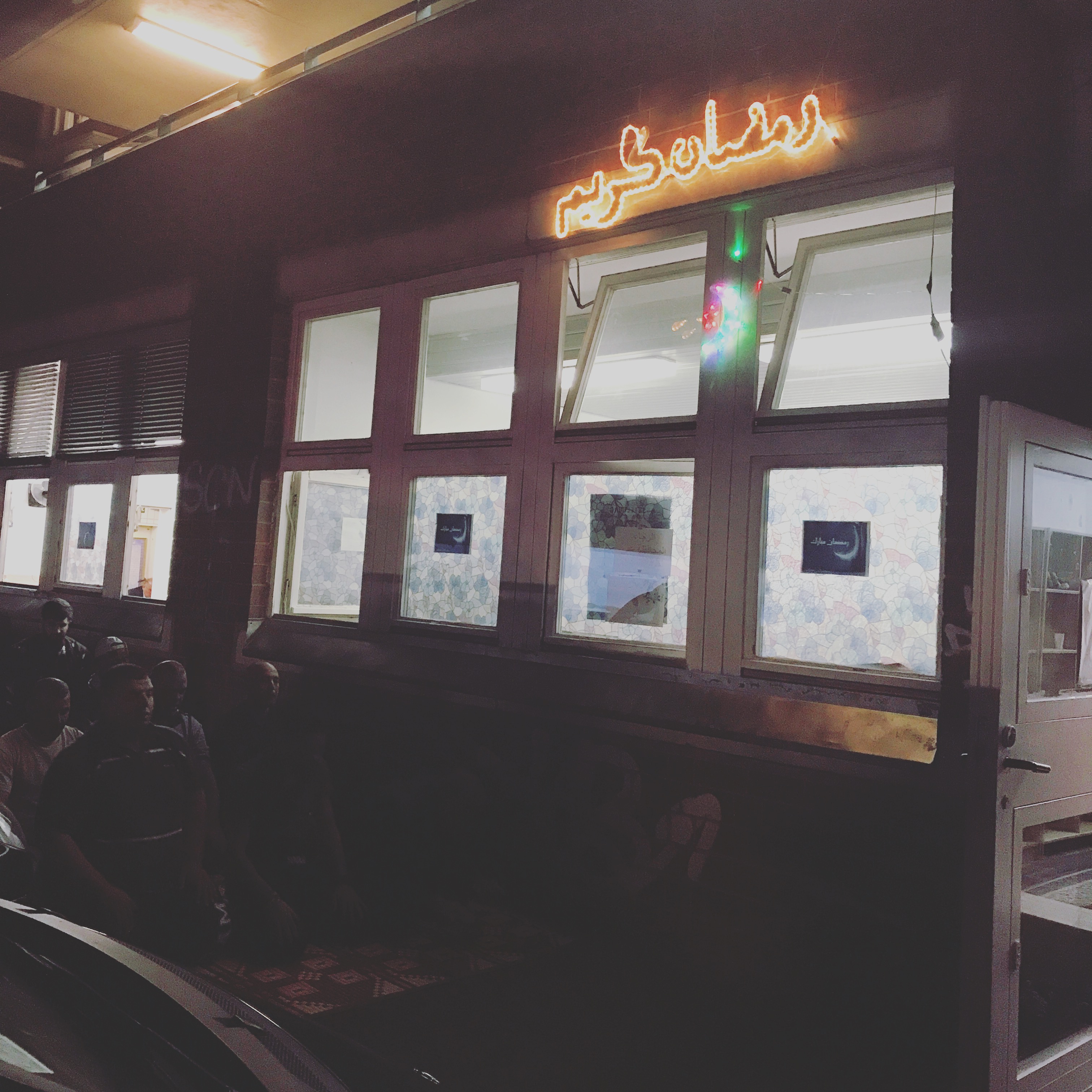 How are newly arrived refugees interacting with preexisting Muslim, Christian and other religious...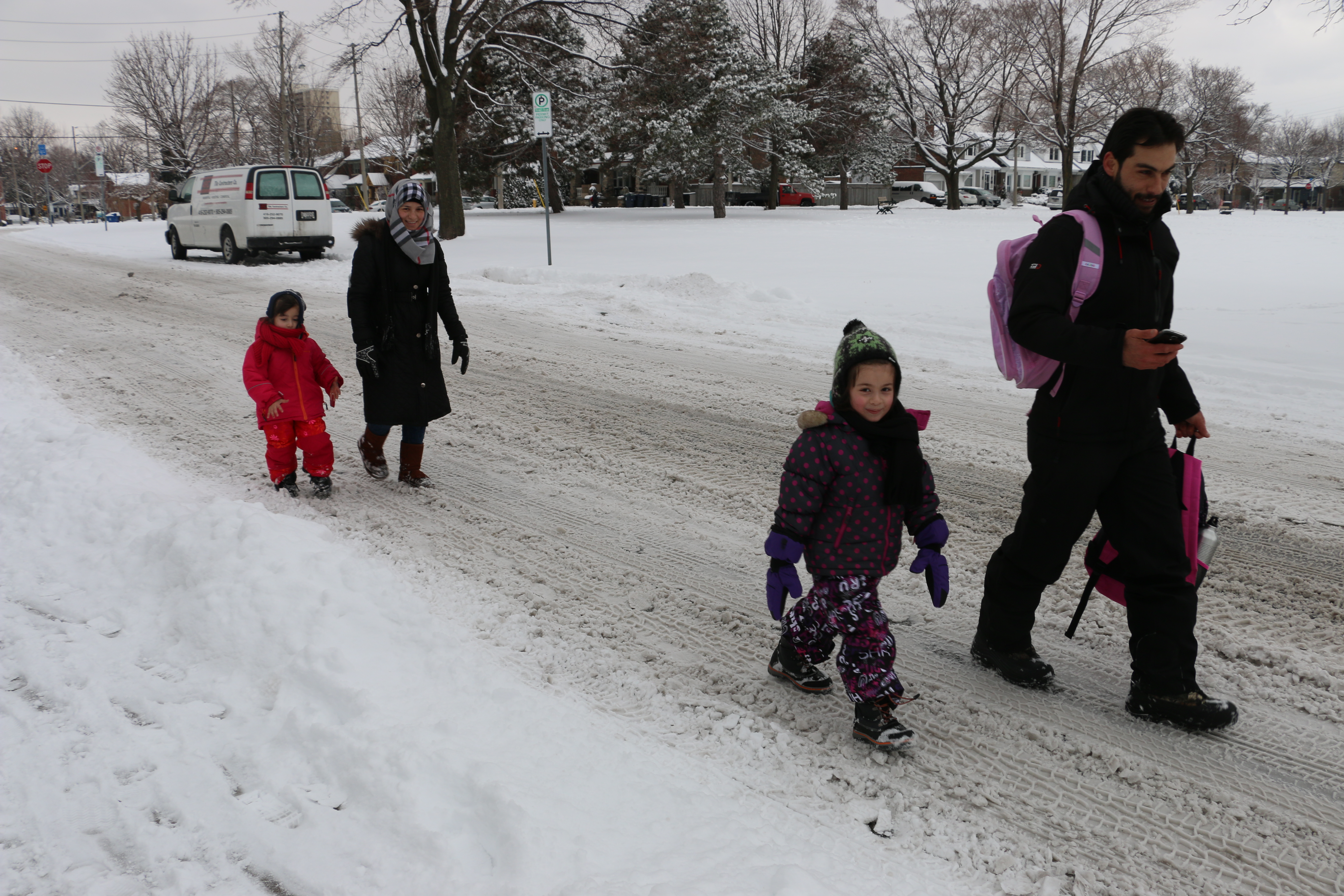 Most countries fostering an influx of Syrian refugees are seeing a backlash. Canada is riding a wave...
RELATED ISSUES

Women

Issue
Migration and Refugees
Migration and Refugees

Religion