Pulitzer Center Update September 2, 2021
Frequently Asked Questions: Refugees and Asylum Seekers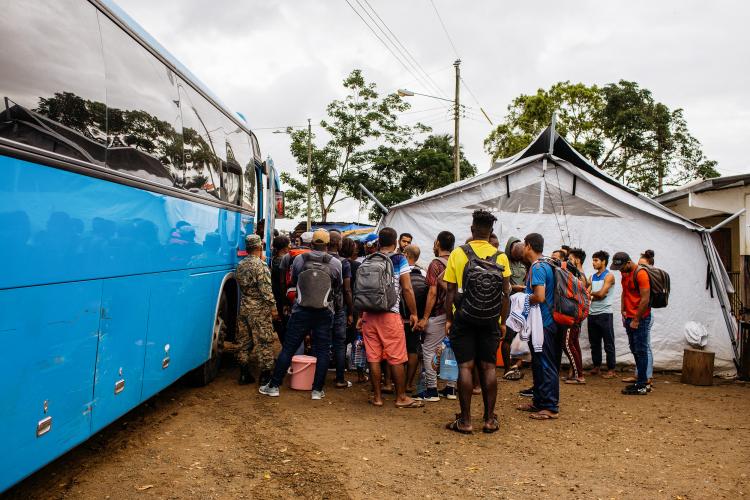 As part of his 2021 Cox Legal Fellowship with the Pulitzer Center, Zhiwei Hua spoke about the status of refugees and of asylum seekers in the U.S. context with adjunct law professor Aleksandar Cuic, Milton A. Kramer Law Clinic Center, Case Western Reserve University School of Law. Hua is a Case Western law student who spent the summer supporting legal research for the Pulitzer Center through the Squire Patton Boggs Foundation program.
From the interview and additional research, Hua created the following Frequently Asked Questions (FAQs) to augment our Migration and Refugee Issue portal and to provide greater context for reporting related to migration, refugees, and asylum seekers, especially in the U.S. context.
What is a refugee and what is an asylee?
A refugee is a person who is unable or unwilling to return to his or her country of nationality because of persecution or a well-founded fear of persecution on account of race, religion, nationality, membership in a particular social group, or political opinion. An asylee generally is any foreign national physically present in the U.S. or arriving at a U.S. Port of Entry (POE) and may seek asylum. Applicants for refugee status are outside the United States, whereas applicants seeking asylum are either within the U.S. or arriving at a POE. Those seeking asylum must apply within one year from the date of their last arrival or establish that an exception applies based on changed or extraordinary circumstances.
For more information on the definitions, go to the official website of the Department of Homeland Security: https://www.dhs.gov/immigration-statistics/refugees-asylees
Cuic suggests that the better way to look at them is not in terms of the definition, but in terms of how they are classified. People are classified as refugees before they come into the United States by the United Nations High Commissioner for Refugees (UNHCR) or other authorities. Those classified as refugees have met the definition while they were overseas. In contrast, asylees are required to appear in the United States physically, and then file the application to show that they have been persecuted in the past or have a well-founded fear of future persecution. At this moment, authorities start determining whether these asylees meet the standard.
Do asylees, like refugees, comply with a quota each year?
President Joe Biden on May 3, 2021, reversed himself and said he would allow as many as 62,500 refugees to enter the United States during the next six months, eliminating the sharp limits that his predecessor Donald J. Trump imposed on those seeking refuge from war, violence, or natural disasters. Cuic says that there is no maximum number for immigration judges to grant asylum in the United States.
(See related New York Times story)
Is there a difference between the procedures for refugees and asylees?
Procedure for refugees: You must receive a referral to the U.S. Refugee Admissions Program (USRAP) for consideration as a refugee.
Every year, immigration law requires that Executive Branch officials:

(1) review the refugee situation or emergency refugee situation.
(2)project the extent of possible participation of the United States in resettling refugees.
(3) discuss the reasons for believing that the proposed admission of refugees is justified by humanitarian concerns, grave humanitarian concerns, or is otherwise in the national interest.
Following consultations (discussions) with Cabinet representatives and Congress, a determination is drafted for signature by the president. The Presidential Determination establishes the overall admissions levels and regional allocations of all refugees for the upcoming fiscal year.
No refugees may be admitted in the new fiscal year until the Presidential Determination has been signed.
If you receive a referral, you will receive help filling out your application and then be interviewed abroad by a U.S. Citizenship and Immigration Services (USCIS) officer, who will determine whether you are eligible for refugee resettlement.
Your case may include your spouse, child (unmarried and under 21 years old), and in some limited circumstances, other family members. There is no fee to apply for refugee status. The information you provide will not be shared with your home country.
If you are admitted as a refugee, you must apply for a Green Card one year after coming to the United States. To apply for permanent residency, file Form I-485, the Application to Register Permanent Residence or Adjust Status.
Procedure for asylees:
You must come to the United States. To apply for asylum, file a Form I-589, Application for Asylum and for Withholding of Removal, within one year of your arrival to the United States. There is no fee to apply for asylum.
USCIS and the Executive Office for Immigration Review (EOIR) have implemented a Uniform Procedural Mechanism (UPM) for the filing and processing of Form I-589, Application for Asylum, and for Withholding of Removal. Under the UPM, USCIS will send your Form I-589 to EOIR if you previously received a Form I-862, Notice to Appear (NTA), that was not filed and docketed with EOIR or that was filed and docketed with EOIR either shortly before (within 21 days) or after you filed your Form I-589 with USCIS.
You may include your spouse and children who are in the United States on your application at the time you file or at any time until a final decision is made on your case. To include your child on your application, the child must be under 21 and unmarried.
You may apply for a Green Card one year after being granted asylum. To apply for a Green Card, file a Form I-485, Application to Register Permanent Residence or Adjust Status. You must submit a separate I-485 application packet for yourself and, if applicable, for each family member who received derivative asylum based on your case.
How about permission to work in the United States?
Refugee: As a refugee, you may work immediately upon arrival to the United States. When you are admitted to the United States you will receive a Form I-94 containing a refugee admission stamp. Additionally, a Form I-765, Application for Employment Authorization, will be filed for you in order for you to receive an Employment Authorization Document (EAD). While you are waiting for your EAD, you can present your Form I-94, Arrival-Departure Record, to your employer as proof of your permission to work in the United States.
Asylee: To apply for employment authorization, you must file a Form I-765, Application for Employment Authorization. You cannot apply for permission to work in the United States at the same time you apply for asylum. You may apply for employment authorization 365 calendar days after you file your complete asylum application.
What is the asylum policy enacted by Biden?
On February 2, 2021, Biden issued an Executive Order outlining a multi-pronged approach to managing migration from Central and North America. The order directs an interagency team to prepare a "Root Causes Strategy" to address the underlying factors leading to migration and a "Collaboration Management Strategy" to enhance protection and create more legal migration avenues for those in need of protection.
The executive order announces the administration's intention to terminate Asylum Cooperative Agreements between the United States and Northern Triangle countries (El Salvador, Honduras, and Guatemala). These agreements allow the United States to remove certain migrants seeking asylum at U.S. borders to Northern Triangle countries, where they will have to seek protection. On February 5, 2021, the United States withdrew from its agreement with Guatemala.
In addition, Biden revoked many of Trump's executive actions in this executive order. The revoked executive actions include Executive Order 13767, Proclamation 9880, Presidential Memorandum of April 29, 2019, Presidential Memorandum of April 6, 2018, and Presidential Memorandum of April 4, 2018.
For more information and details about the Executive Order, see: https://cmsny.org/biden-immigration-executive-actions/#regional-framework-asylum
What are the impacts of the Biden policy?
Cuic believes the biggest impact of Biden's policy is in the immigration court system. In the last two months, the Biden administration overturned a few immigration cases related to asylum that the Trump's administration dealt with that were considered somewhat too restrictive.
U.S. Attorney General Merrick Garland on June 16, 2021, overturned two cases decided by the Trump administration's Justice Department that made immigrants fleeing domestic or gang violence in their home countries generally ineligible for asylum in the U.S. In the first case, then-Attorney General Jeff Sessions had ruled in 2018 that domestic and gang violence are forms of private criminal activity generally not covered by asylum laws. In the second case, then-Attorney General Bill Barr in 2019 had stated that membership in a family—such as one being targeted by a gang or drug cartel—also generally couldn't qualify someone for a grant of asylum.
The June 16 decisions return U.S. asylum processing rules to pre-Trump standards. "These decisions involve important questions about the meaning of our Nation's asylum laws, which reflect America's commitment to providing refuge to some of the world's most vulnerable people," Associate Attorney General Vanita Gupta wrote in a memo to the Justice Department's Civil Division.
Regarding law versus policy, Cuic mentions that immigration law has not changed since 1997. The fundamental statute that we have in immigration law has been the same for 25 years. While a president may desire changes in the law, it is Congress that must pass new immigration legislation. For instance, Biden sent an immigration bill to Congress as part of his commitment to modernize the immigration system on January 20, 2021.
For more details about this bill, see: https://www.whitehouse.gov/briefing-room/statements-releases/2021/01/20/fact-sheet-president-biden-sends-immigration-bill-to-congress-as-part-of-his-commitment-to-modernize-our-immigration-system/
(See related Wall Street Journal story)
Will the Biden policy be better?
Cuic considers that the Trump administration's restriction was so draconian that it was designed to not give people asylum. While the more restrictive policy controlled asylum fraud to a certain extent, it made it more difficult for credible claims to surface, adding extra hurdles and harming the immigration system.
One example cited is the Trump administration's Migrant Protection Protocols (MPP) program. On January 25, 2019, the Department of Homeland Security announced the implementation of MPP, also known as the "Remain in Mexico" program. Under the MPP, asylum seekers who attempt to enter the United States at the U.S.-Mexico border can be sent to Mexico and made to wait there for the duration of their U.S. immigration court proceedings.
Once in the MPP, asylum seekers face months or even years in dangerous, destitute, health, and life-threatening conditions while awaiting court decisions. Only 4 percent of asylum seekers in MPP succeed in being represented by an attorney. Less than 1 percent have been granted protection in the United States.
In contrast, Biden's Executive Order issued on February 2, 2021, directs the Department of Homeland Security secretary to review and determine whether to terminate or modify the MPP program and consider a phased strategy for individuals who were subject to the program to safely enter the United States. On January 20, 2021, the Department of Homeland Security had already suspended MPP.
(See related Human Rights Watch story)
Editors' note: The U.S. Supreme Court in August 2021 refused to block a lower court ruling ordering the Biden administration to make a "good faith effort" to restart the "Remain in Mexico" program. Three justices dissented. The impact of this decision is yet to be determined.
RELATED ISSUES