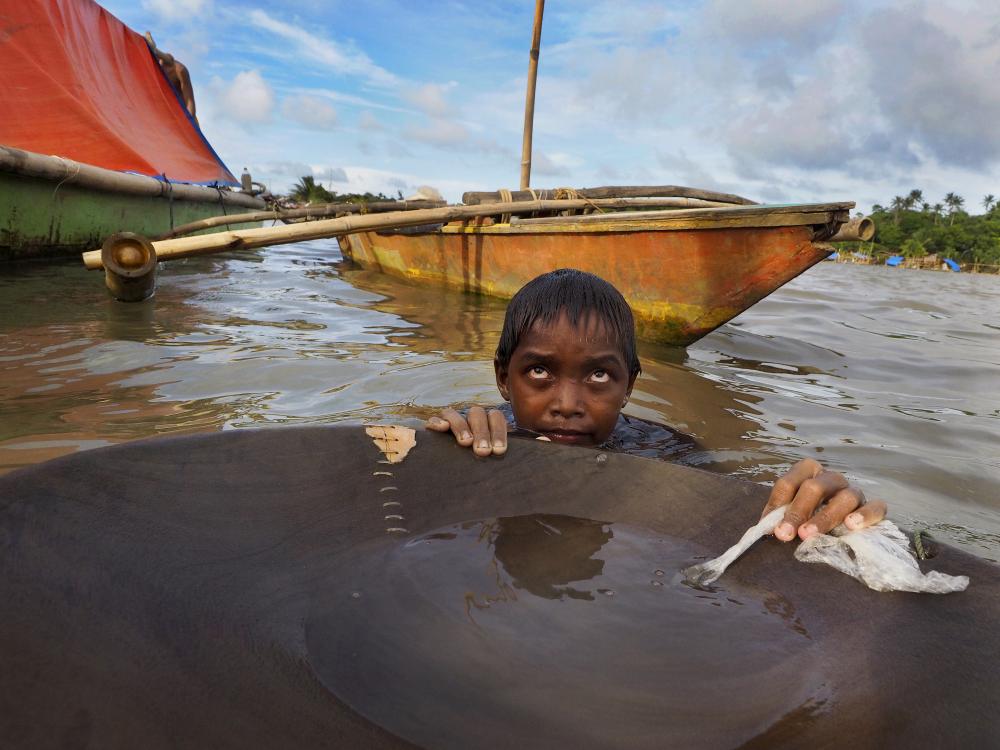 This year's Emmy for Outstanding Investigative Journalism in a Regularly Scheduled Newscast was awarded to Pulitzer Center grantee and two-time Pulitzer Prize winning multimedia journalist, Larry C. Price, in collaboration with PBS NewsHour for the newscast "Hazardous Work: Diving into the Philippines' Dangerous Underwater Mines."

"Hazardous Work" uncovers the risks young men face in compressor mining and is part of Price's long-term reporting project on the health risks of child labor in gold mining in the Philippines, Indonesia and Burkina Faso.

Justin Kenny, foreign affairs and defense editor at PBS NewsHour, accepted the award during the 36th Annual News & Documentary Emmy Awards on behalf of Price and the Newshour team, which included Richard Paddock, a contributing editor at the Center for Investigative Reporting.

"Special thanks to Larry Price," Kenny said as he accepted the award. "We just wouldn't be here without his amazing photography and trusting us to tell his story."

"I'm so grateful to be a part of this family who still believes in foreign affairs [and that] long-form stories belong in a nightly newscast every night," Kenny said.

In a recent interview with his hometown paper, Dayton Daily News in Ohio, Price elaborated on the reporting that earned him the Emmy.

Price explained the danger of the underwater mines he reported on as well as the results brought forth by the reporting.

"After it was broadcast, the Philippine parliament passed a law that explicitly bans this underwater mining, and they cited the NewsHour piece. Sometimes it takes having that human connection. It's very rewarding to be part of a story that potentially can save lives. That's what makes it worthwhile to me," Price said.

Price said that he was "stunned" to be nominated. "I feel like I struggled and worked hard to make the transition from still photography to video, and make the necessary adjustment and develop the skill set...the video realm isn't for the faint of heart."

His motivation behind reporting on these dangers was clear: "I don't try to make people comfortable, but I try to make them uncomfortable. That's the essence of making the human connection. From the comfort of your living room, it's a reality check on the real world, and it's not pretty out there," Price concluded.