Pulitzer Center Update October 26, 2017
Diversity in Media Panel Sparks Conversation at Howard University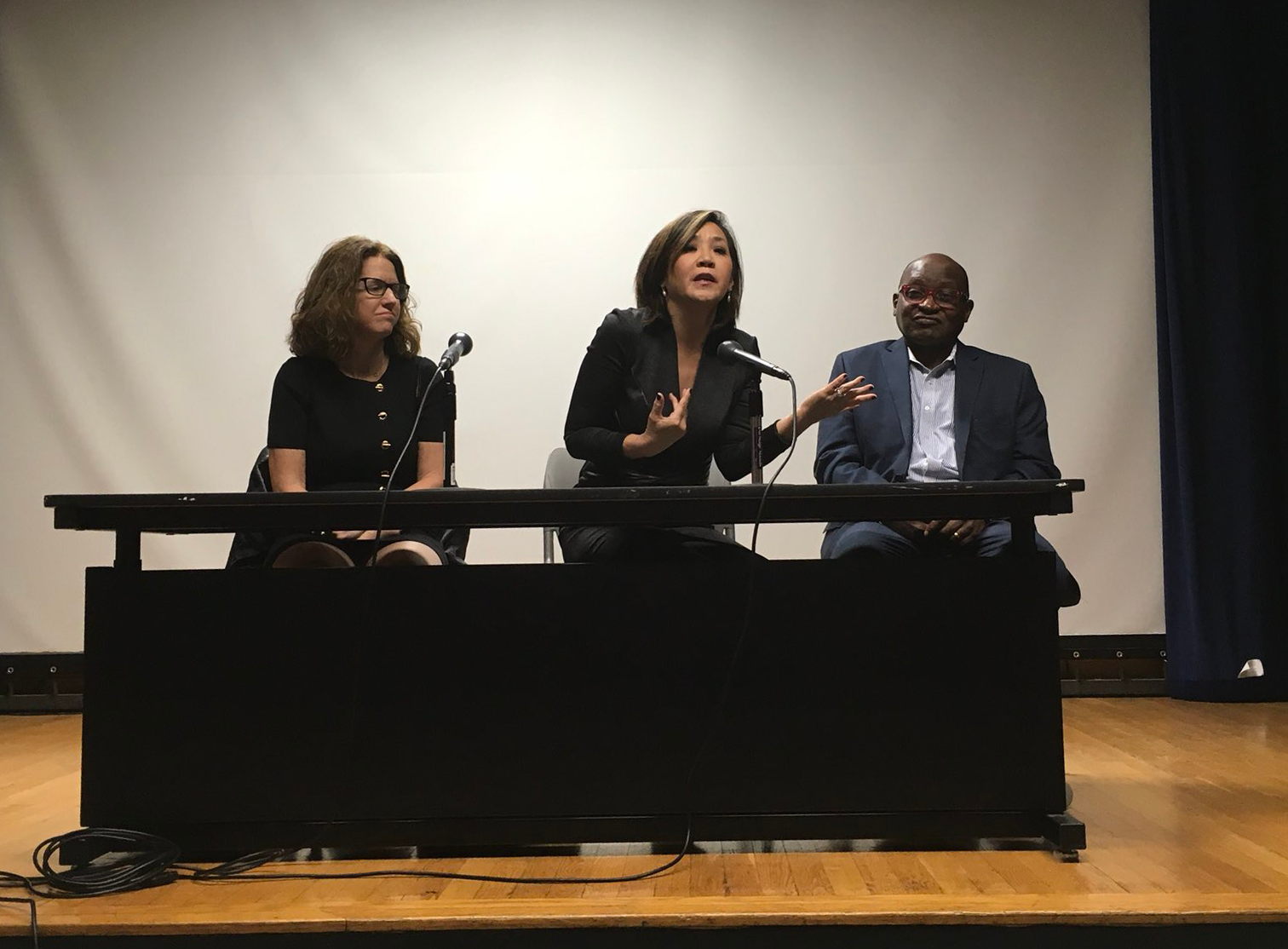 On Thursday, October 19, 2017, students and faculty of Howard University gathered for a panel discussion on the role of diversity in media. The conversation, moderated by Gracie Lawson-Borders, dean of the Cathy Hughes School of Communications at Howard University, marked the start of Howard's partnership with the Pulitzer Center's Campus Consortium program and highlights the Center's dedication to engaging with students on the campuses of historically black colleges and universities.
Pulitzer Center executive director Jon Sawyer opened the event saying, "We're not going to succeed in engaging the broad audiences we seek if we don't ensure that our journalists are as diverse as the public we seek to serve. We have to do a better job at surfacing those voices."
The panelists for the event included Joie Chen, former anchor at Al Jazeera America and CBS News; Terry Samuel, deputy managing editor at NPR; and Laura Zelenko, head of standards, diversity, talent & training for Bloomberg News. Each offered their own unique experiences and perspectives regarding diverse voices and their contributions to the media landscape.
A common sentiment throughout the discussion was how long diversity has been a topic of conversation in newsrooms across the country. "We often talk about [diversity] as something lacking and something that's desired and a problem to be solved," said Samuel, "But when you're doing this work, you want to tell stories and what happens when you lack diversity is [that] stories don't get told [and] important stories get told inaccurately."
Chen told several stories about her own experiences working as an Asian-American journalist. She recounted the variety of stories that she covered at CNN and Al Jazeera and how the diversity amongst her colleagues drove her to reshape her overall journalistic thought process. "It changes your coverage. It changes what kinds of stories you tell. It changes what voices you reach out to. It changes your thinking about 'How do I look at that story?'"   
For Zelenko, the key to promoting diversity was about accountability. She recounted how Bloomberg designed her position to work with managers to follow-through with diversity efforts. "Over the time that I've been at Bloomberg, we've made a lot of progress but like most news organizations, we're stuck." said Zelenko, "We're going team by team, bureau by bureau, coverage area by coverage area, to make sure that our managers are accountable for understanding the importance of this initiative."
The discussion continued past the panel's official end as the panelists mingled with the audience and chatted with students at a reception.