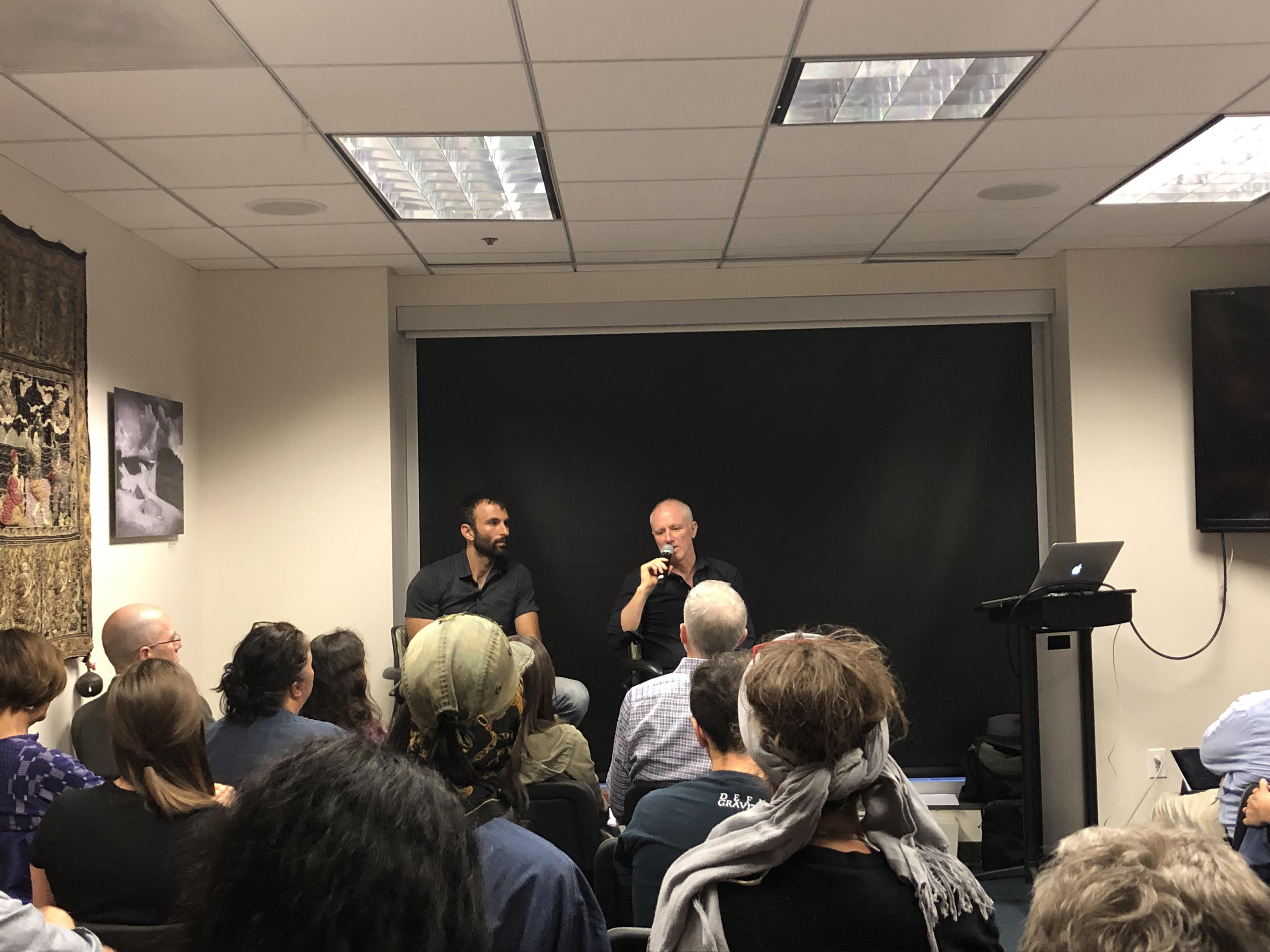 Award-winning photographer Patrick Brown wrestles with the ethics of photographing human trauma. For his Pulitzer Center-supported work, Brown focused on the Rohingya, an ethnic Muslim minority in western Myanmar who fled to Bangladesh in the wake of state-sponsored violence. 
In October 2016, Myanmar authorities launched a crackdown, attacking Rohingya villages and burning houses, coercing 87,000 Rohingya to seek refuge in Bangladesh. The number of Rohingya fleeing Myanmar for Bangladesh, according to UNHCR, reached 500,000 in late September 2017.
"There's nothing 'clean' about ethnic cleansing; it's systematic murder," Brown said at the beginning of his Talks @ Pulitzer event on June 3, 2019. Attendees spilled out of the room and stood by the walls as they watched Brown scroll through his photographs and comment on what he saw.
Brown won the 2019 FotoEvidence Book Award with World Press Photo for this photography. The award provided him the opportunity to publish No Place on Earth, his book focused on the Rohingya refugee crisis, which many in the audience bought after the talk.
As part of his coverage, Brown photographed the bodies of Rohingya refugees laid out in a boat in which they were trying to flee Myanmar after it capsized near Cox's Bazar, Bangladesh. The wind speed in the storm that day, Brown said, had been upwards of 125 mph. Dead children's bodies lay coated in blood. Around 100 people had been on the boat before it capsized; there were only 17 survivors. 
"It was torturous," Brown said of the conditions the Rohingya people had to endure.
Many of Brown's photographs focused on the deaths of children in the crisis and then the loss of innocence for those who survived. He showed the audience photos he took of two drawings by children: one with several stick figures bleeding from their sides, another illustrating Myanmar military surrounding and attacking a group of homes.
Children started drawing these "horrific scenes," Brown said, and, without knowing the terminology to describe systematic violence, the children drew pictures of systematic violence they had experienced.
Brown moved through the slideshow of his photos, including one of a teenager who was lying sideways across a bed, only a stub left of one of his arms. Brown described what he called an "intense" story of escape and survival by the teenager was injured fleeing a village with his uncle before finding medical care and refuge in Bangladesh.
"The refugee camp [in Bangladesh] is the size of Copenhagen, more densely populated than Manhattan," he said. "I want people to realize how lucky we are."
He showed portraits of women who he described as "incredibly strong individuals" who survived brutal attacks on themselves and the murders of family members. He stopped on a photo of a woman's side profile, her eyes dreary and resigned. He described that she told how she had an AK pointed at her head and bamboo machete placed at her throat as male members of her family were beheaded and thrown onto a fire. 
He showed a portrait of another woman, who he described as a "superhero" and whose story he said is integral to No Place on Earth. He said he told her that her photo would go on the Internet, reaching people around the world, and asked if she had any objections to this. She responded that she had nothing to hide. "I committed no crime, the crime was committed against me," Brown remembers her saying. 
Brown spoke about his ethical dilemma in documenting such levels of human suffering. He said we must constantly question and reevaluate our place as journalists and photographers in relation to others' stories.
"You're taking this person to the worst day of her life...would I have photographed the women in this room in the same way if this story had been done in the West?" he asked.
After Brown's talk, Pulitzer Center journalist grantee Jason Motlagh who reported with Brown on the Rohingya, including the Pulitzer Center-supported Rolling Stone reportage, joined Brown for a Q&A discussion with the audience. One audience member asked why this crisis — and others like it — are not constantly publicized in our media.
"These are non-white, stateless people on the other side of the world," Motlagh said, positing part of the reason.
The discussion shifted to the role of social media in advancing the agendas of oppressive authorities. "It's hard to overstate how weaponized social media has become," Motlagh said. "The idea that images, words are lies…can dehumanize, trivialize, the worst things possible."
RELATED ISSUES

Issue
Migration and Refugees
Migration and Refugees

Women