Pulitzer Center Update November 16, 2018
DCPS Students Celebrate 2018 Study Abroad Photography Contest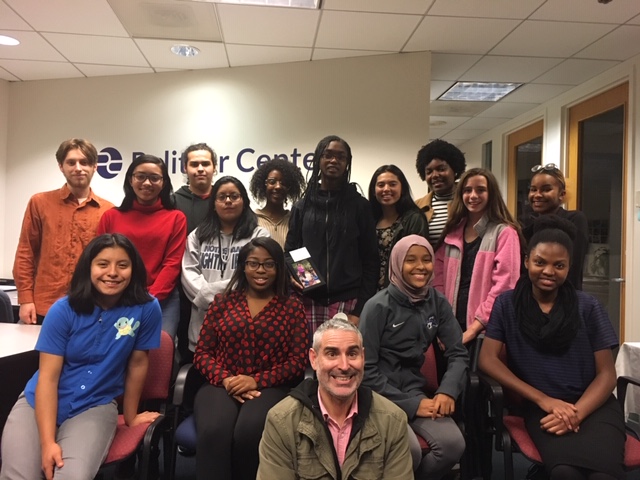 Twenty finalists from the third annual DC Public Schools (DCPS) Study Abroad Photography Contest, whose photographs tell stories from Senegal to Spain, celebrated their work with award-winning photojournalist Louie Palu as part of a reception at the Pulitzer Center office on November 7th. From the finalists, seven winning photographs were selected by Pulitzer Center staff as winners. Their photographs are featured below.







The photography contest was developed by Pulitzer Center three years ago to support the DCPS Global Studies department's study abroad program for DC 8th and 11th graders. The free program gives select students the opportunity to learn about culture and community service in a foreign country over the summer. Prior to their trips, students learned how to document their experiences through a Pulitzer Center lesson plan based on two projects, the Out of Eden Walk and Everyday Africa. Students were then invited to submit a photo to the contest that represents an important moment from their trip, along with a caption that provides context and explains why the photo is meaningful to them.
At the reception, many finalists shared the stories behind their photos, receiving praise and feedback from Pulitzer Center staff, reception guests, and Palu. Sierra Johnson, a student at Woodrow Wilson High School who traveled to Dujiangyan, China, shared a photo of a busy street where community members often gather to dance. She said that the photo reminds her to reflect on the cultural differences she noticed during her time abroad.
"This picture brought back the most memories of standing there," Johnson said. "The community is so interactive. Here in the U.S., you don't really get that unless it's organized, but for them, it's an everyday thing."
Other students also chose to highlight the culture of countries they had visited through their photographs. A reception guest asked about a photo of a woman creating string from alpaca wool, complimenting its vibrant colors. The photographer, Duke Ellington School of the Arts student Cristin Pearson, shared that she had chosen the image because it showed an important aspect of Peruvian culture, namely the use of colors and art to express emotion.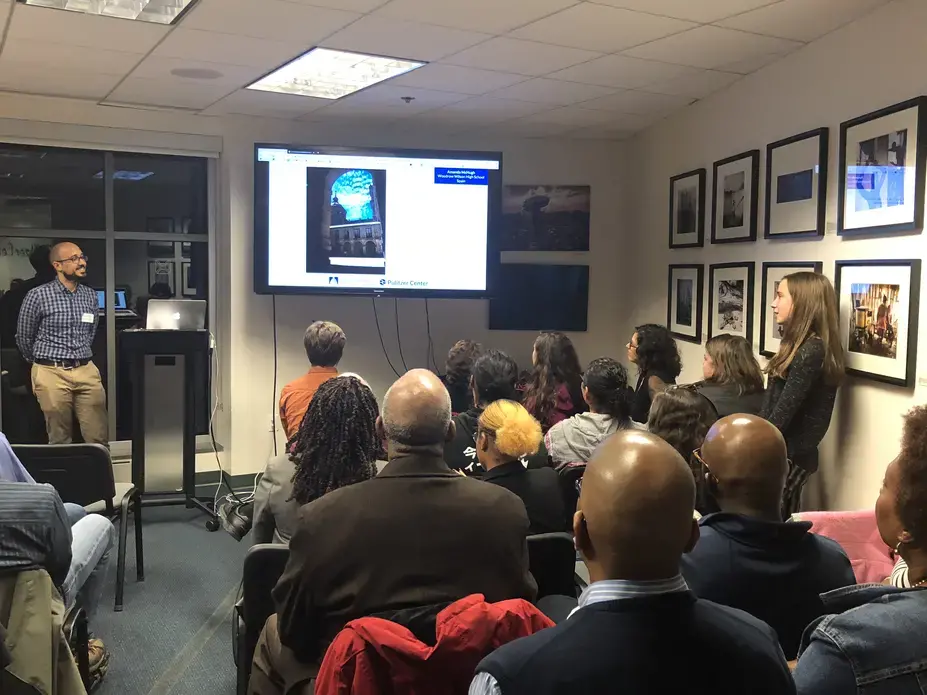 Amanda McHugh, a Woodrow Wilson High School student who traveled to Spain, shares the story behind her photo of the Real Monasterio de San Lorenzo de El Escorial. Image by Hannah Berk. United States, 2018. 


Following the discussion, Palu began his presentation by showing a video that documented his experiences as a reporter in Ukraine. When a student asked him whether he had ever felt threatened while reporting, Palu replied: "If you're genuine and doing something that's good, I never had any problems in any place. Be honest and never lie, and you'll always be okay."
Palu also touched on the importance of empathy when photographing sensitive moments.
"Sometimes you try to prepare yourself but sometimes you can't," he said. "I think it's really important to talk about those things and come together as a community like this."
The son of two Italian immigrants, Palu cited his parents' experiences escaping war and working blue-collar jobs in Canada as his inspiration for documenting social-political issues through photography. "I never would have ever dreamed in the furthest chance that I would have a press card with National Geographic and I would be here," he said, gesturing to the room.
Palu concluded the event with one last pearl of wisdom for students looking to make their way into the photojournalism world: "If someone's negative, turn them off—and always work hard."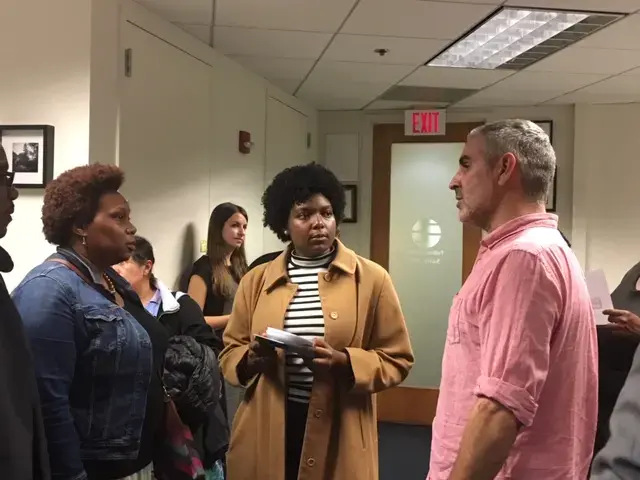 Work by the 20 finalists, whose names are listed below, can be viewed in the slideshow below. For more information on the photography contest, or to set up a journalist visit to your class, email [email protected].
First Place: Sydney May (Duke Ellington School of Arts)
Second Place: Tie; Hanan Kadir (McKinley Technology High School) and Cristin Pearson (Duke Ellington School of the Arts)
Third Place: Jackson Fox-Bland (Woodrow Wilson High School)
Fourth Place: Tie; Netitia Mack (Ballou High School) and Logan Walker (Duke Ellington School of the Arts)
Fifth Place: Samuel Bautista (Duke Ellington School of the Arts)
Finalists: 
Jessica Amaya (Bell Multicultural School)
Yennifer Amaya (Roosevelt High School)
Josi Belinga (Benjamin Banneker Academic High School)
Omolade Ejiko (Brown Middle School)
Karla Garcia (Duke Ellington School of the Arts)
Maria Garcia (McKinley Technology High School)
Makayla Herrington (Duke Ellington School of the Arts)
Sierra Johnson (Woodrow Wilson High School)
Amanda McHugh (Woodrow Wilson High School)
Camille Pratt (Woodrow Wilson High School)
Ingrid Tchouamo (Roosevelt High School)
A'mari Weathers (Duke Ellington School of the Arts)
Gabrielle Wells (McKinley Technology High School)