"As a journalist, I get curious about a topic and think there's something there that needs to be known, needs to be shared," photojournalist Tomas van Houtryve said to students, parents and staff from DC Public Schools on Monday, October 3, 2016. "My main job isn't to present my opinion, but to find out the truth of what is going on."

The students had gathered at the Pulitzer Center office with their teachers, families and van Houtryve for a reception celebrating their entries to a photography contest hosted by the Pulitzer Center in summer 2016. The contest, which was open to all students who participated in the school district's summer study abroad program for 8th and 11th grade students, called for photos and captions that captured important moments students observed while immersed in their assigned countries. Contest winners were then invited to a reception with photojournalist van Houtryve, who has received three Pulitzer Center grants for reporting. His work has appeared in National Geographic, Foreign Policy, Blink and galleries throughout the world.

Van Houtryve smiled knowingly at the students as he described his reporting process, and they proudly smiled back. As part of the contest, students were also tasked with demonstrating the observation skills and curiosity that van Houtryve described.

Nearly 400 students traveled to 14 countries as part of the inaugural year for the district's study abroad program. They studied language, culture and service learning while engaging with Spanish, French and Mandarin-speaking communities across Africa, Asia, Central America, Europe and South America. The Pulitzer Center developed a pre-departure lesson plan for students and the travel ambassadors leading their trips that introduced observation and photography skills practiced by professional journalists. Students learned about slow reporting and caption-writing from National Geographic Fellow Paul Salopek's Out of Eden Walk. They explored photography techniques and curation skills with Peter DiCampo, co-founder of the Everyday Africa project. They investigated projects from Pulitzer Center grantees who had reported from the countries they would be visiting. They were then tasked with capturing images representing what struck them and/or surprised them as they engaged with a new place.

Twenty-five students submitted photos and captions to the DCPS Study Abroad Photography contest, and each submission demonstrated a focused intention to communicate an important moment through language and image.

School Without Walls senior Emma Morris captured a government building in Barcelona, Spain, draped in a banner reading, "Refugees welcome."

School Without Walls senior Fatima Fair accompanied her black and white image of a person trekking along a beach in Costa Rica with a caption that demonstrated the observation and interview skills she had applied on her trip: "Volunteers for Wider Caribbean Sea Turtle Conservation Network site in Limon, Costa Rica walk the beach 7.1km every night to search for nesting mother sea turtles in order to gather and protect the eggs before a poacher finds them. These volunteers help protect and preserve Costa Rica's amazing marine life."

Images submitted to the contest captured clay-making in the Dominican Republic, graffiti in Belgium reading "Policy Change for Orlando," children biking along the beaches of Senegal in between their exams, wild horses in Ecuador, and much more. When asked at the October 3, 2016, reception about how they chose their photos, some students said that they selected images that reflected significant experiences and personal connections from their trips. Others endeavored to capture elements reflecting the culture of their study abroad destination. Duke Ellington High School senior Olivia Trice explained that she chose to submit a portrait of the woman that she lived with in Senegal in order to communicate the deep relationship they cultivated on the trip. "A host mother to me and a village mother to all, Bernadette resides in the small village of Palmarin, Senegal," she wrote in the photo's caption. "She's taken so many of the village kids under her wing, it's almost impossible to tell which are her biological children."

As van Houtryve concluded his presentation for the October celebration at Pulitzer Center's office, one parent asked, "To those that are attracted to what you're doing, what could you share with them that would give them a start in this career?"

"Look at the stories close by in your community that need to be reported," he said. "As far as photography goes, practice timing. Practice composition. And ultimately for me, the best photography requires gaining access. Talk to people. Usually what stops us is our own shyness."

The students took that advice to heart. At the conclusion of the event, they warmly and confidently approached van Houtryve to take photos and ask for additional career advice.

The slideshow above captures the ten photos that were selected by Pulitzer Center staff as finalists in the competition. Below are the names all students that submitted to the competition. Click here for a full slideshow of all submissions.


2016 DCPS Study Abroad Photography Contest Contributors:

Aniya Awkard, McKinley Technology High School
Iguazu Falls, Argentina

Dezeraie Blount, Cardozo Education Campus
China

Timara Broadnax, Duke Ellington School Of The Arts
Barcelona

Ife Calhoun, School Without Walls
Dominican Republic

Lauren Dawkins, Benjamin Banneker Academic High School
Dominican Republic

Erica Dugué, School Without Walls
Belgium

Fatimah Fair, School without walls
Costa Rica

Asher Friedman-Rosen, Woodrow Wilson High School
Ecuador

Karreone Goddard, Bell Multicultural Campus
Beijing

Saige Gootman, Wilson High School
Ecuador

Glenn Hall, School Without Walls HS
Barcelona, Spain

Jennyfer Jimenez, School Without Walls
Belgium

Alexandra Diaz Merida, Oyster-Adams Middle School
The Mediterranean Coast

Emma Morris, School Without Walls
Mediterranean Coast

Cameron Noel, Duke Ellington School of the Arts
Peru

Torin O' Brien, Alice Deal Middle School
Ecuador

Voyttina Savoy, Phelps Architecture, Construction and Engineering High School
Costa Rica

Sarah Ruiz, School Without Walls
Ecuador

John Schadegg, Deal Middle School
Paris, France

Liam Sims, Woodrow Wilson High School
Peru

Kyriea Smith, McKinley Technology High School
Ecuador

Christa Starghill, McKinley Technology Senior High School
Ecuador

Teodoro Topa, Woodrow Wilson High School
Senegal

Olivia Trice, Duke Ellington School of the Arts
Senegal, Africa

Contact us at [email protected] if you'd like support setting up a photography exhibition connected to global reporting in your school.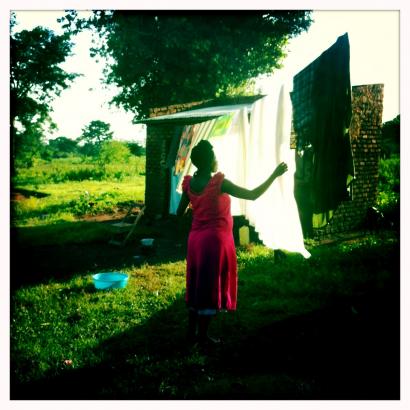 The Pulitzer Center is proud to partner with the Everyday Africa initiative and its founders, and...
RELATED ISSUES