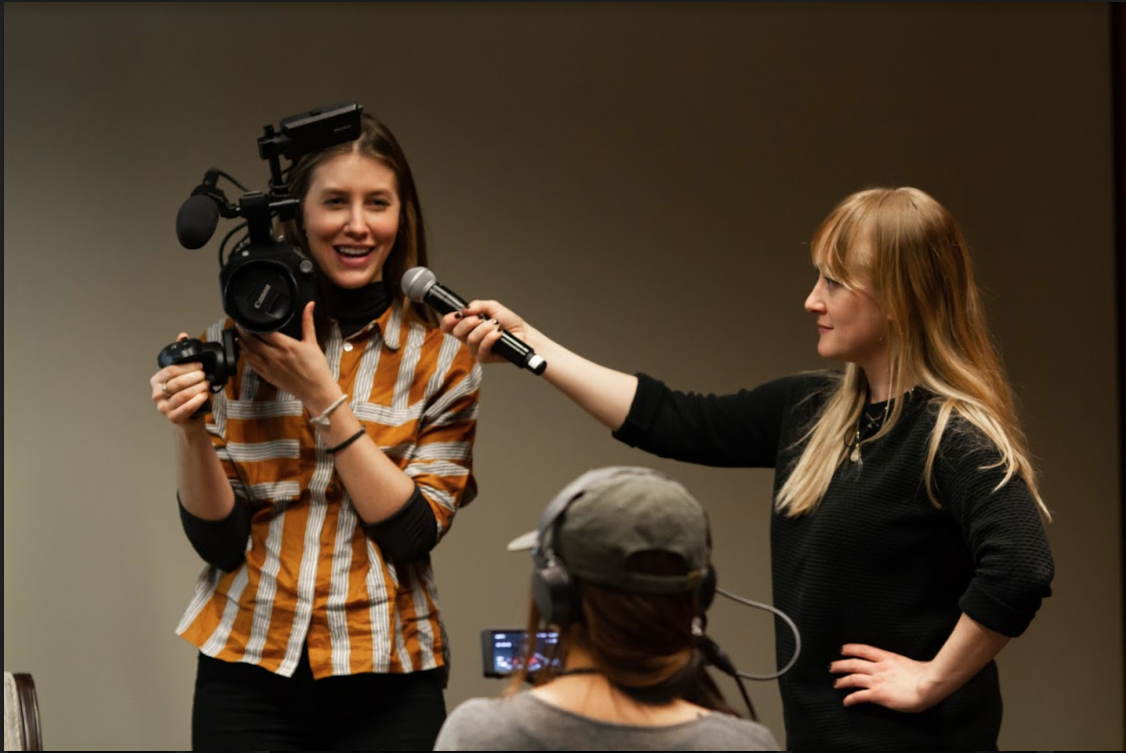 On Thursday, December 13, 2018, 85 middle school students from Achievement Prep and Creative Minds public charter schools in Washington, DC gathered at the Carnegie Endowment for International Peace to watch the story of a boy—not much older than they were—unfold on screen. 
Ibraheem Sarhan was starting high school in Winnipeg, Canada—but several years ago, a bombing had killed his mother and four siblings and left him seriously injured.  In We Became Fragments, a Pulitzer Center-supported short documentary produced by Lacy Jane Roberts, Luisa Conlon, and Hanna Miller for The New York Times Op-Docs, Ibraheem recounts his story as he struggles to adapt to life in a new country with his father.
Many of the students knew there was a war going on in Syria, but all were astonished by the scope of the Syrian refugee crisis.  About five million Syrian refugees have had to flee from the country because of the war, said Carnegie Endowment for International Peace scholar Frances Brown.  "Think of all the people in Washington, D.C.  That's like seven Washington, D.C.s," she continued as jaws in the audience dropped.  
Brown recounted her experience conducting research in the Middle East as a Fellow with the Carnegie Institute for International Peace, contextualizing the conflict in Syria in terms the middle schoolers could digest.  She and Jocelyn Anderson Soly, Creative Director at the Carnegie Institute, spoke about their jobs and encouraged the students to think creatively about the kinds of work they might be interested in pursuing—from researcher to graphic designer to filmmaker.  
After the screening, We Became Fragments filmmakers Luisa Conlon and Hanna Miller asked the students about moments that stood out to them.  Many students referenced a scene in which Ibraheem plays soccer in his crutches, refusing to let physical constraints slow him down.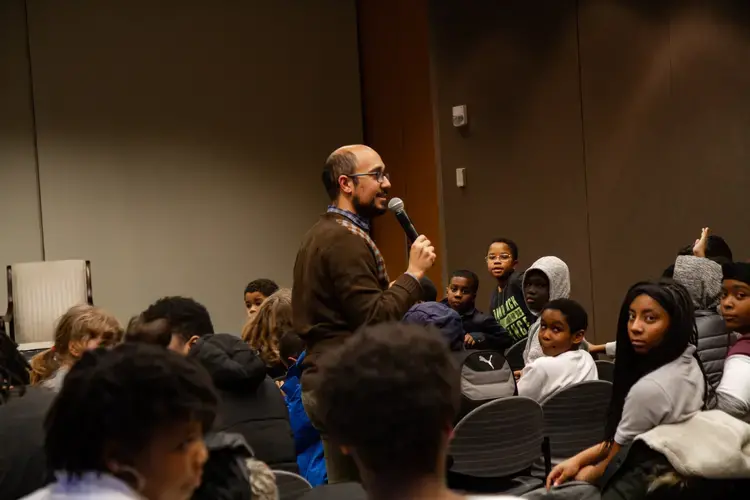 "Does anyone remember the name for the news footage of Ibraheem in the hospital?" asked Fareed Mostoufi, Senior Education Manager at the Pulitzer Center.
"Found footage!" a student cried enthusiastically. 
Mostoufi had visited both schools prior to the screening to teach students about visual storytelling methods, and to introduce students to reporting on the human impacts of ongoing war in Syria. 
Miller and Conlon talked about how they made the documentary: filming in Ibraheem's high school, physical therapy in a hospital, Ibraheem praying in his room.  With the help of a student volunteer, they demonstrated how they might film someone getting ready for school, using tracking shots, wide shots, and closeups.
A volunteer student helps the filmmakers demonstrate a scene breakdown. Image by Claire Seaton. Washington, D.C., 2018.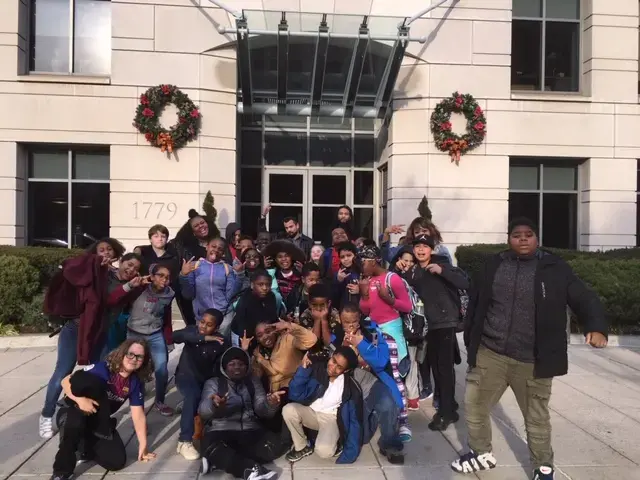 Students from Creative Minds Public Charter School pose outside of the Carnegie Endowment for International Peace in Washington, DC after a Pulitzer Center-supported field trip to screen the film 'We Became Fragments' and introduce students to visual storytelling skills. Image by Fareed Mostoufi. United States, 2018.

Back in school, the students reconnected with Conlon and Miller to plan audio and visuals for short documentaries about major changes in their lives. Students wrote short scripts about moving for the first time, discovering a favorite hobby and the experience of losing a family member. Using graphic organizers, they then brainstormed visuals that they could pair with each line from their stories. 
"My life changed when my dad was locked up," a student at Achievement Prep wrote as the beginning of her script. She chose to pair the line with a close-up image of handcuffs.
She continued, "The judge gave him 50 years and he is already 50, so I know I will never see him again. When it happened, I felt alone and that I hated everybody. Now I am still sad, but I know there is nothing I can do." These final three lines were paired with a close-up of a gavel hitting the table, an action shot of the writer crying and writing, and then a final shot of the writer walking away from the camera.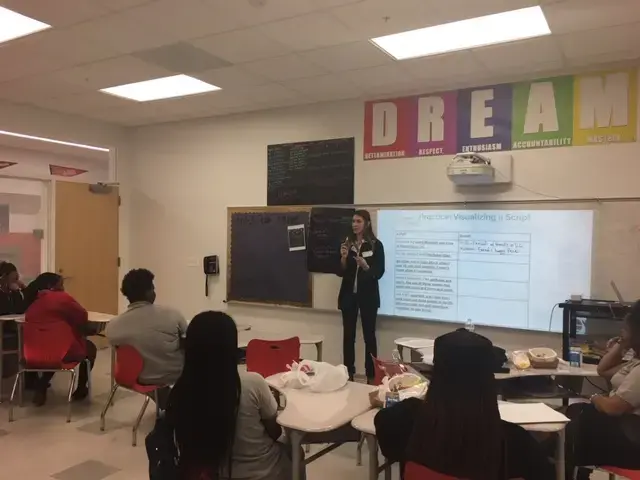 'We Became Fragments' filmmaker Hanna Miller works with students to brainstorm images that they could pair with lines of a script about an important change in the life of Pulitzer Center Senior Education Manager Fareed Mostoufi. Miller emphasized how important it is for journalists to carefully select images that honestly support a subject's story. Image by Fareed Mostoufi. United States, 2019.
Miller and students at Achievement Prep Public Charter School devise the final images they plan to use to support the script for a short film. Image by Fareed Mostoufi. United States, 2018.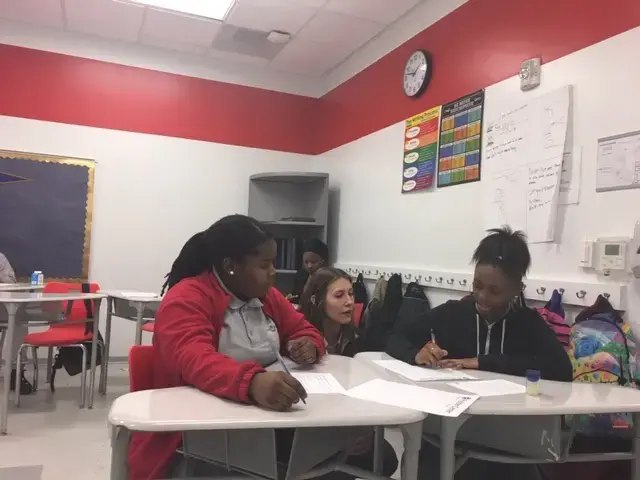 Seventh grade students from Achievement Prep Public Charter School work with Pulitzer Center grantee Hanna Miller to write the scripts for original films describing important changes in their lives. The students used the film 'We Became Fragments,' which Miller co-produced, as the inspiration for their scripts. Image by Fareed Mostoufi. United States, 2018.


On this field trip, students got another glimpse of the world outside their city: one in which global conflict can lead to bad things happening to kids. Students also left the experienced better equipped to connect to these global stories, and to use visual storytelling skills to communicate their own stories to the world.
This field trip and accompanying workshops were supported by the D.C. Commission on the Arts and Humanities, which receives support from the National Endowment for the Arts. The program was also supported by the DC Arts and Humanities Education Collaborative.