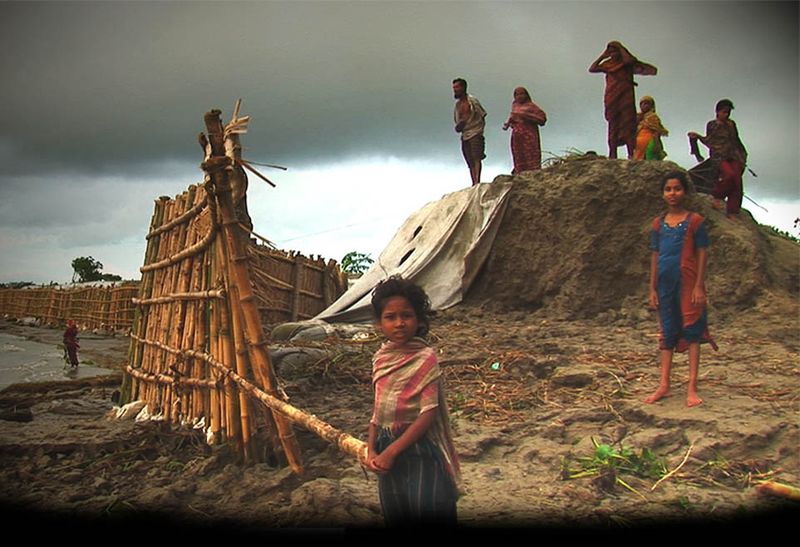 Peter Sawyer, Pulitzer Center
Image from Steve Sapienza and Glenn Baker's Easy Like Water project on floating schools in Bangladesh
From the women who spend hours daily fetching water to political battles over international rivers to melting icepack and rising sea levels, the water issue affects us all, and we all contribute to it.
Worldwide, 1.1 billion people lack reliable access to safe water that is free from disease and industrial waste. And 2.6 billion do not have access to adequate sanitation facilities. The result is one of the world's greatest public health crisis: More children under fourteen die every day from waterborne diseases than do from HIV-AIDS, malaria, and tuberculosis combined.
Mark your calendar for a special Pulitzer Center presentation at the Environmental Film Festival in honor of World Water Day, the official UN-designated day for water issues. Get your fill of water knowledge by checking out DOWNSTREAM, the Pulitzer Center's new gateway portal launched last week.
March 23, 2010
4:00 p.m.
Carnegie Institution for Science
Elihu Root Auditorium
1530 P St., NW
Free of charge, reception to follow.
Space will be limited. RSVP: [email protected]
Part of a series of water-related events surrounding World Water Day, the screenings will include selections from Pulitzer Center grant recipients Jennifer Redfearn, Glenn Baker, Steve Sapienza and the Common Language Project. Selections from the work of noted filmmaker Hedrick Smith will also be shown.
Jennifer Redfearn, Steve Sapienza, Glenn Baker and Hedrick Smith along with Water Advocates and Water Lines President David Douglas will be present for the screening. Pulitzer Center Executive Director Jon Sawyer will introduce and moderate a forum in which the filmmakers will discuss their work, continuing into an evening reception during which all are invited to join the conversation.
Correction: The original post incorrectly stated that the total deaths from water and sanitation related disease is "more than the toll from HIV/AIDS, malaria, and tuberculosis combined." The statement is true only for children under 14, not adults (see Safer Water, Better Health (WHO) and The Global Fund to Fight AIDS, Tuberculosis and Malaria). Corrections were made August 27, 2010.
RELATED ISSUES