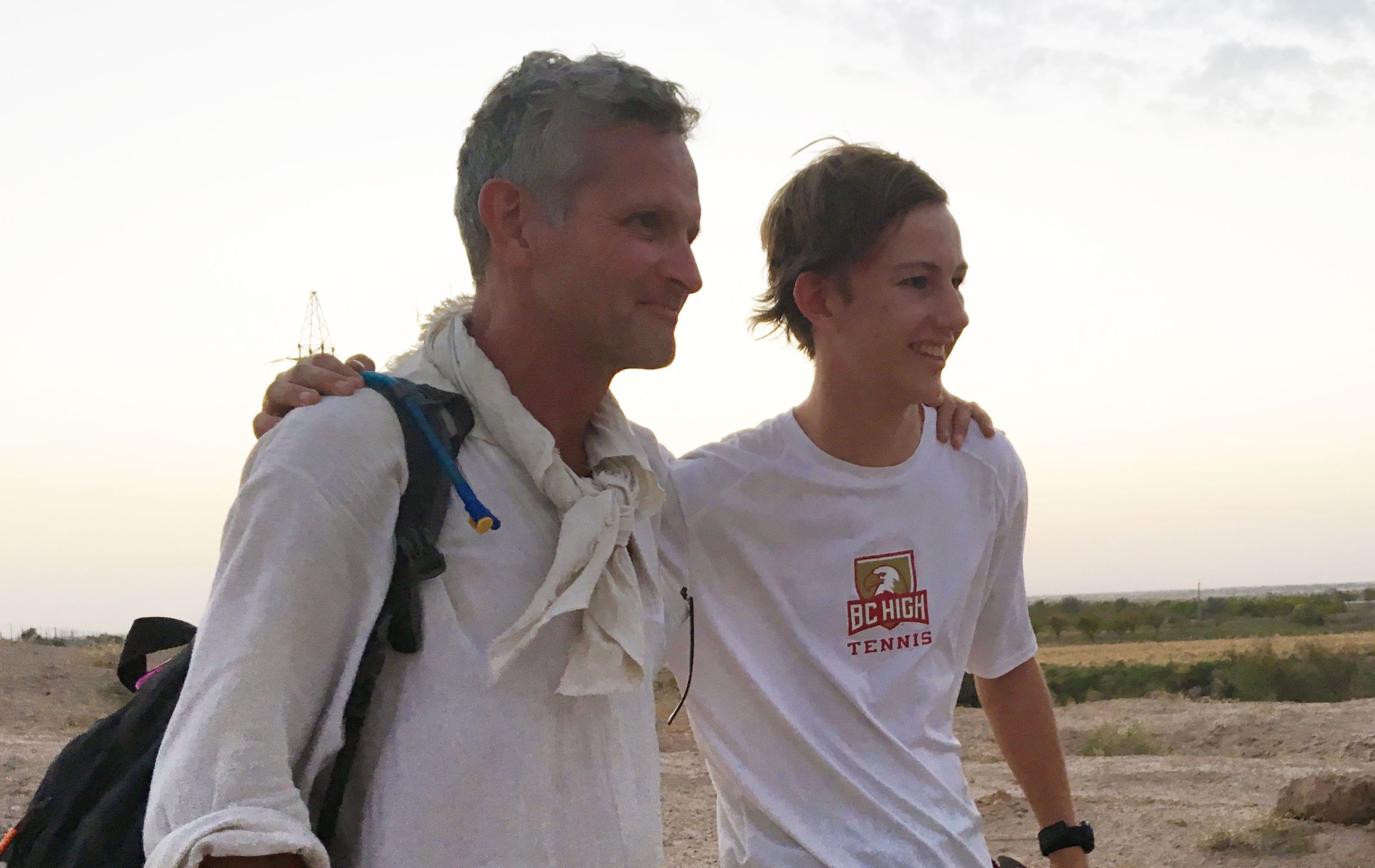 We found him next to an apricot tree behind a tea house in a village outside Bukhara, where he'd slept the night before on a bed under the open sky, his donkeys Haram and Mouse tethered nearby. Improvised lodgings negotiated delicately when he'd arrived not 12 hours earlier, a stranger on foot. A peculiar nomad traveling eastward towards Samarkand.

For Paul Salopek, a National Geographic Fellow and veteran foreign correspondent, it was just another night, one of more than a thousand that came before as he walked out of Ethiopia, through the Levant, into Central Asia. One of many thousands to come on the path across East Asia, over the Bering Strait, and southward through the Americas to the southern tip of Chile. His journalism project, the Out of Eden Walk, seeks to slow readers down. While so many of us careen ever faster through the world, Salopek walks. He lingers and looks closely. He follows the footsteps of human migration around the world.

The Out of Eden Walk is so daunting it can almost seem like a joke. To many on the trail, like perhaps his current Uzbek host, it doubtless is. For Salopek, it is a kind of calling.

The Pulitzer Center on Crisis Reporting, where I am education director, has been a partner of the walk from its earliest days. The Center supports journalists with travel grants so that important stories can find life — stories like the critical press of global climate change, the catastrophic upheaval of forced migrations, and the slow and deadly squeeze of chronic food and water insecurity. A ten-year exploration of our common past, viewed slowly through the fractured lens of the present, the Out of Eden Walk is a global issues lesson that cuts across geography and time. It crosses boundaries. It is the uber project, a thundering statement about what foreign correspondence can be.

For Boy Scout Nick Fahy, as with so many other students who learn from the Walk through resources and training offered by the Pulitzer Center and Harvard's Project Zero, the Walk is both a beguiling story to follow and a powerful example to emulate. If we can't join Salopek on the trail, we can still apply the techniques of the Walk to our daily lives.

Except that on this clear, dry morning in southern Uzbekistan, Nick, who lives in Milton, Mass., actually did join the Walk. Nick's slow-journalism essay about poverty and inequality in south Boston won the top prize in a contest the Pulitzer Center held last spring in collaboration with the Philmont Scout Ranch, in northern New Mexico.

The ranch draws some 17,000 scouts (including a few young women who are Venturer scouts) to its 137,000 acres every summer. As they hike the backcountry in crews of twenty, they learn the basics of wilderness survival. And for the past two years, they have also practiced slow journalism, chronicling their experiences longhand in journals, swapping stories around the campfire at day's end.

Though Salopek isn't on a quest to prove he can survive on a Boy Scout's rations — when possible he'll eat a cooked meal of kebabs washed down with cherry juice and sometimes he even sleeps in a hotel with running water — his project's ideas and methods are a natural fit for outdoor activities like scouting.

Last August, Nick hiked some 50 miles at Philmont over a six-day period. The experience primed him for the adventure at hand, an intense plunge into the walk somewhere between Bukhara, an ancient Silk Road city, and the western edge of a desert named for its red sands.

So here we were in the unlikeliest of spots, the backyard of an utterly random tea house, readying the donkeys for a hot day of travel, observed with amusement by the tea house's servers and some kids from the neighborhood who rode up three-deep on a dirt bike. Joining us were Salopek, his local guides Aziz and Tolek, and Aziz's two teenage children, Ekhson and Lola, who had come down from Tashkent with their classmate Yasmin and their grandmother Salomad. For two days we would form a caravan.

Our ages spanned some 40 years and there were six languages between us. Some wore hiking boots, some wore high-top sneakers, some wore Keds. Our steps were light as we set out the first morning. Passing Ladas honked greetings to our oddball crew, likely the first of its kind that anyone had seen on the back roads of this closed and wary former Soviet state.

You can still make out the Silk Road if you use your imagination. It is traversible even now, connected at 25-kilometer intervals by massive, domed caravanserais, trading posts and rainwater wells that sustained the merchants and artisans who made a living along its route for thousands of years. Over these two days in southern Uzbekistan we found not silk but rather a cotton road, endless fields of a crop designated by the Soviets to be Uzbekistan's national contribution to the industry of the USSR. The Soviet Bloc is gone but Uzbekistan still languishes in what Aziz called a cotton cage, sapping the country's waterways to slake the fields. Workers toiled at the harvest, heads and mouths covered to protect themselves from the sweltering sun and choking dust, looking up as we passed to shout inquiries and greetings.

Together we walked all day, trading observations about the people and things we passed, talking about music and books. Yasmin had written Coldplay lyrics on her backpack: "Death and All his Friends. Lost? Lost!" Aziz observed the 40th anniversary of the forming of U2. We plodded along a divided highway, cotton haulers rumbling past, tufts of it drifting across our path like little tumbleweeds. We consulted farmers and took a side road that followed a canal. We rambled through towns, drawing the attention of schoolchildren, and their sometimes less-friendly elders.

"There is a beauty to this," Nick wrote in his notebook. "The openness of the land leaves room for the vastness of the sky. Jack Nicholson was right. We live in a world that has walls. But they are not the walls of a nation, the walls of security, but rather the walls of our consciousness, the walls that ride up against us as we walk down Fifth Avenue in New York, or down the streets of a certain suburb of Boston…
They are the literal and figurative walls which narrow the sky above us, which prevent us from staring at one end of the horizon where it converges with the earth and tracing it across the sky to the other end uninterrupted."

At second day's end, the red sand desert. We walked along the edge of the Kyzyl Kum until we reached a magistral, one of the large canals that sustain the cotton fields and choke the Aral Sea. Salopek found a large pipe that spanned the waterway — maybe we could scramble across — but Tolek quickly squashed the notion of leading the two heavily laden donkeys across such an awkward bridge.

Salopek nodded at Tolek and turned to us. "For you, the walk ends here," he said. We called a taxi from the side of the road as Salopek made camp next to the magistral, another day in the Out of Eden Walk setting with the reddening Uzbek sun at our backs.

We guests of the Walk will knock the dirt from our shoes and head home. Salopek, Tolek and Aziz continue. Tomorrow, a caravanserai. In a few weeks, Samarkand. Then the routes become fuzzier, the scale barely comprehensible. Nepal, India, China. Siberia. These epic distances will pass by in the same manner as our two-day walk in the Uzbek countryside: day by day, step by step.

Nick, Yasmin, Ekhson, Lola and I were fortunate to tag along for a short time. The conceptual walk invites millions, but Salopek's own journey must be small and inconspicuous, a tiny expedition rather than the funky parade we formed for 48 hours. Few will have the opportunity to join Salopek on the trail. But that is why he writes, and why his storytelling and that of so many other international reporters matters. Good journalists must be everywhere.

And that in turn is why the Pulitzer Center has devoted resources not just to travel grants but also to an education program that reaches thousands of students, from elementary through university. The Out of Eden Walk and projects like it are the ultimate textbook, electrifying students with a stream of great storytelling on the human face of contemporary issues that matter. Paul and others like him walk the earth to bear witness, record and interpret. Through their work we all walk along, together.
RELATED ISSUES