Pulitzer Center Update June 18, 2018
BU and JHU Student Fellows Prepare for Global Reporting Projects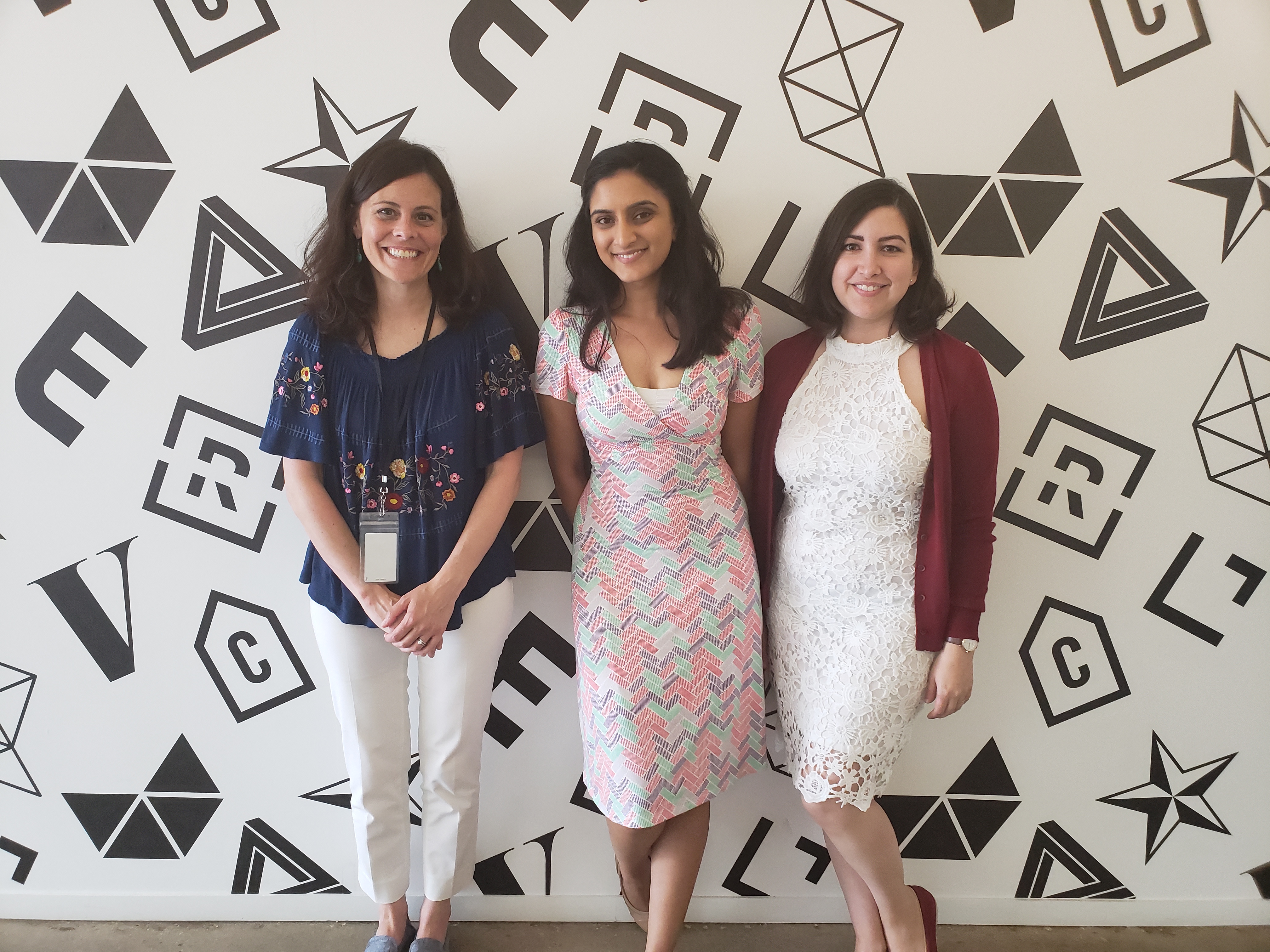 As many of our 2018 student fellows prepare to embark on Pulitzer Center-supported reporting projects this summer, three fellows traveled to Washington D.C. to learn more about the art of global storytelling and what it means to be a journalist.
In partnership with Johns Hopkins Bloomberg School of Public Health and the Boston University School of Public Health and College of Communications, these fellows spent two weeks at the Pulitzer Center researching their projects, taking part in journalism workshops, and visiting several news outlets in D.C.
Arianne Henry, a recent graduate from Boston University School of Public Health will report from Ethiopia on feminist movements that aim to empower women in the face of physical and sexual abuse. Divya Mishra, a rising third-year Ph.D. candidate at the Johns Hopkins Bloomberg School of Public Health, will travel to Greece to report on unaccompanied minors who are seeking asylum in Greece. Flaviana Sandoval, a master of science journalism candidate at Boston University College of Communication, will investigate the deterioration of the health system in Venezuela with a special focus on the decrease in organ transplants.
While in D.C., Mishra, Henry, and Sandoval met with Pulitzer Center staff to cover topics ranging from journalism ethics to interview techniques. They also visited the offices of Huffington Post, The Washington Post, NPR, National Geographic, and Vox. Editors gave generously of their time to discuss their journalism careers and shared tips on reporting in the field, working with fixers, multimedia production, and self-care while reporting on tragic or difficult subjects.
The fellows also participated in "Beyond War: Causes on Conflict, Prospects for Peace," a special conference showcasing Pulitzer Center reporting on conflict transformation and peacebuilding.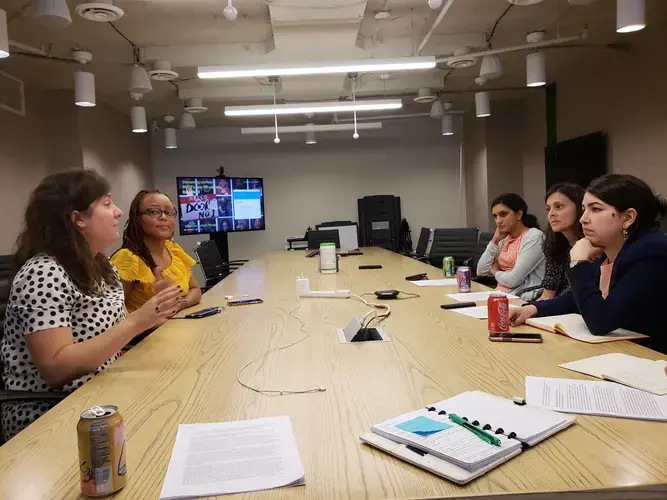 A session led by Lauren Weber, a public health policy reporter, Nick Baumann, senior enterprise editor, and Kenya Downs, podcast producer, of Huffington Post focused on pre-reporting research and tips for recording video and audio in the field. Downs, a podcast producer, reminded the fellows that multimedia components in a story shouldn't be an afterthought and that smartphones are a valuable tool for journalists hoping to pack light while still gathering visual content.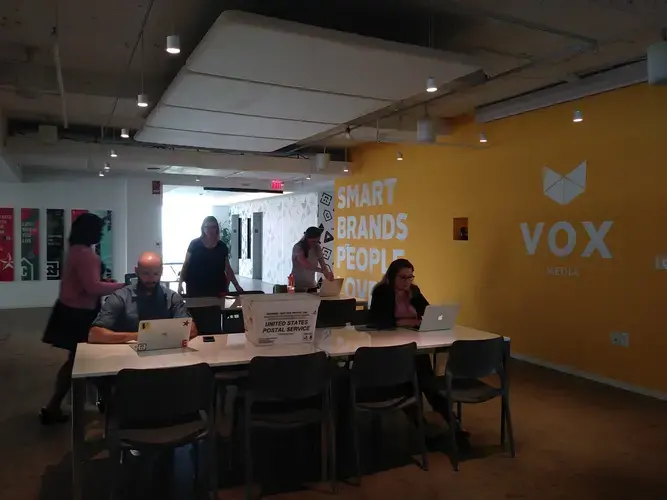 At Vox, health and science editor Eliza Barclay offered advice about telling complex health to large audiences and highlighted how her reporters work with graphics and video teams to tell every angle of a complex issue.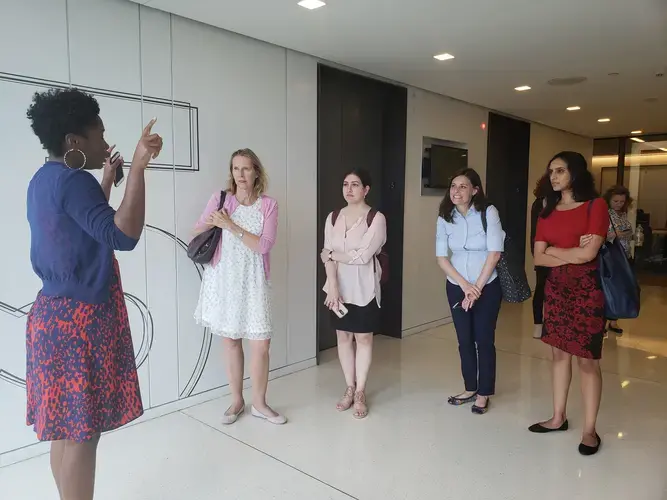 After a tour of NPR, the fellows talked to science reporter and editor Rhitu Chatterjee, Science Desk senior editor Maria Godoy, and Goats and Soda editor Marc Silver and discussed ways to connect global stories to local audiences. Recalling the many proposals he's received, Silver stressed the importance of pre-travel research and building strong relationships with editors.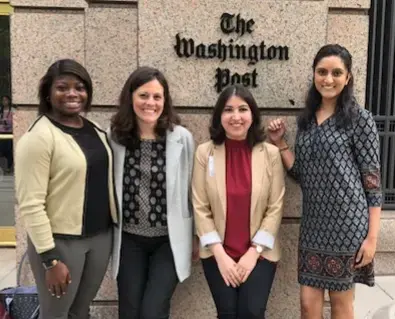 Tracy Grant, managing editor at The Washington Post, led the fellows on a tour of the newsroom and spoke about how the newspaper has evolved to adapt to today's global, digital-focused mediascape. The Post is still more dedicated than ever, she said, to seeking out reporters who can craft in-depth stories through a variety of mediums.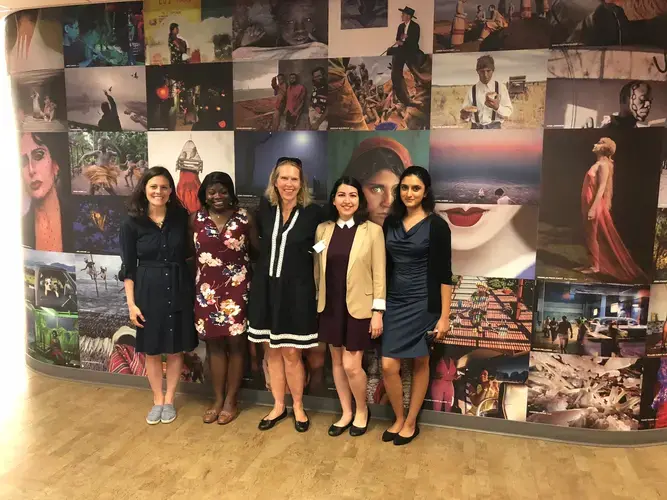 At National Geographic, Director of Photography Sarah Leen, photography editors Sadie Quarrier, Molly Roberts, Jennifer Samuel, and James Wellford, and business coordinator Breann Birkenbuel, walked the fellows through their storyboarding process, discussed how to craft compelling visual narratives, and sent them on their way with sound advice on how to make a good pitch.